Budget laptops are still a thing in 2018 but they are far better than the budget laptops of 3 years ago. An example of an exceptional mid tier laptop is the Acer Aspire E 15 E5-575G-57D4 which is also just known as the Acer Aspire E 15.
It's a solidly built laptop and this year it gets a performance upgrade to make it among the best mid range laptops of the year. There's not much of a design change except a few incremental updates like USB-C. This is a proper laptop for students and for any medium-heavy user who's looking for a sub $500 laptop.
It's not the thinnest laptop or lightest laptop in this price category but it still looks relatively cool with a fingerprint free matte black finish. I'ts plastic all round and weighs 5.3 pounds(2.4kgs). It's still very portable.
It spots a 5.6″ 1080p HD LCD display. 1920 by 1080 resolution. The picture quality is brighter sharper than it's predecessor but the viewing angles are still a problem. I was kinda hoping they would fix that with an inexpensive IPS display but oh well………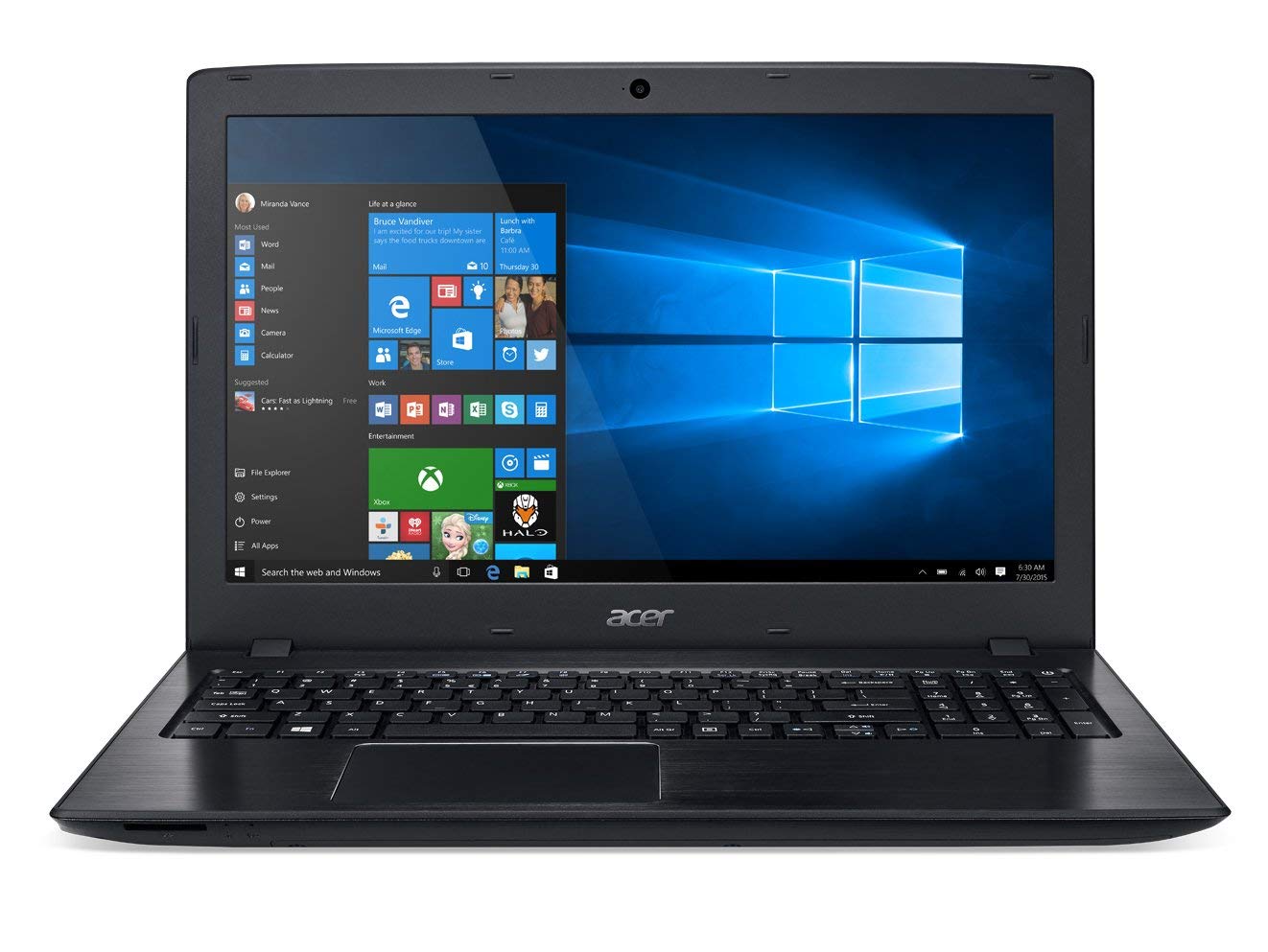 Connectivity is on point as usual with two USB 3.0 ports, one USB 2.0 port, a HDMI port and a Memory card reader slot. The the upgrade; the USB-C which makes this laptop future proof. Speaking of future, Acer made the strange decision of sticking with the Optical drive even as most other companies are getting rid of this old fashioned technology.
It also spots a 256GB SSD which is great news for speed but not so great news for storage. But it's definitely worth the amount you're paying for this laptop.
Intel Core i5-7200U processor clocked at 2.5GHz that can run up to 3.1GHz with Turbo Boost Technology is the CPU of choice in this laptop. A significant upgrade from lat year's core i3. 8GB of DDR4 RAM is double what we had last year as well.  And the performance speaks for itself. Resource intensive applications like Adobe premier and games are running fairly smoothly but it's not quite at the level of a pro machine.
Both the memory and RAM can be upgraded via the panel at the bottom.  There's an extra SATA port whenre you can install an additional SSD and 2 DDR4 SO-DIMM slots for extra RAM. At best, the memory can be upgraded to about 1TB and the RAM to about 32GB.
All these upgrades coupled with extended battery life make this a solid 2018 mid tier laptop that I highly recommend for students and medium-heavy users. Pro users might want to look elsewhere.
Also Read: Google Home Mini Review!