Infinix S4 is the company's 5th generation of the S series of these incredible budget smartphones. With a lot of emphasis on the cameras, especially the selfie cam, this is set to have a lot of people excited.
The main emphasis at the launch event was about the selfie camera that's embedded in a tear drop notch at the front.
Design and Display.
With a glass body,  the phone surely does look and feel more than it costs. They are calling it a 2.5D glass body. At the front,  we get a 6.2″ IPS display with an impressive pixel density of 1520 x 720 pixels. It also gets up to 500 nits of brightness so I'm guessing it's g=enough for comfortable out door use.
The tear drop notch at the front houses the coveted selfie camera. There are visible thin bezels all round and a size able chin at the bottom.I don't have the screen to body ratio figure yet bit it looks good. Definitely an improvement from the S3.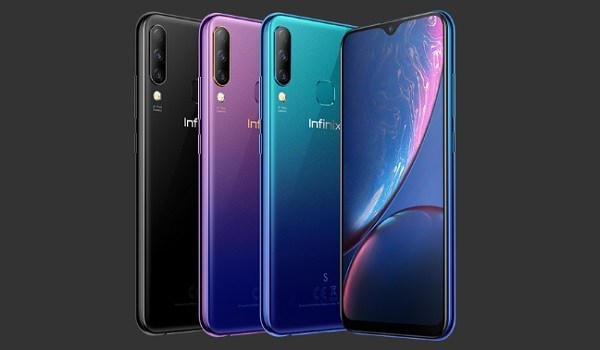 The 19:9 aspect ratio shows this is going to be a tall one. I'm excited because it means it's more comfortable in the hands and it'll be less likely for me to drop it.
The back of the phone looks great in either black, blue or purple. I think it goes without saying that I'll go with the black one. At the back,  there are three cameras, a quad LED flash and a perfectly positioned fingerprint scanner.
Camera:
There are a total of four cameras on this one. It's become a modern day smartphone standard to have three cameras at the back. At the back, there's a triple Triple 13MP + 8MP + 2MP camera system. I'm not sure what type of sensors they are but I'll let you know as soon as Infinix sends me a unit for a full review.
One of them is a 120 degree wide angle camera which is great for group photos and landscape photography. They are not clear about the other but I suspect it's a depth sensing camera for portrait mode and better shallow depth of field.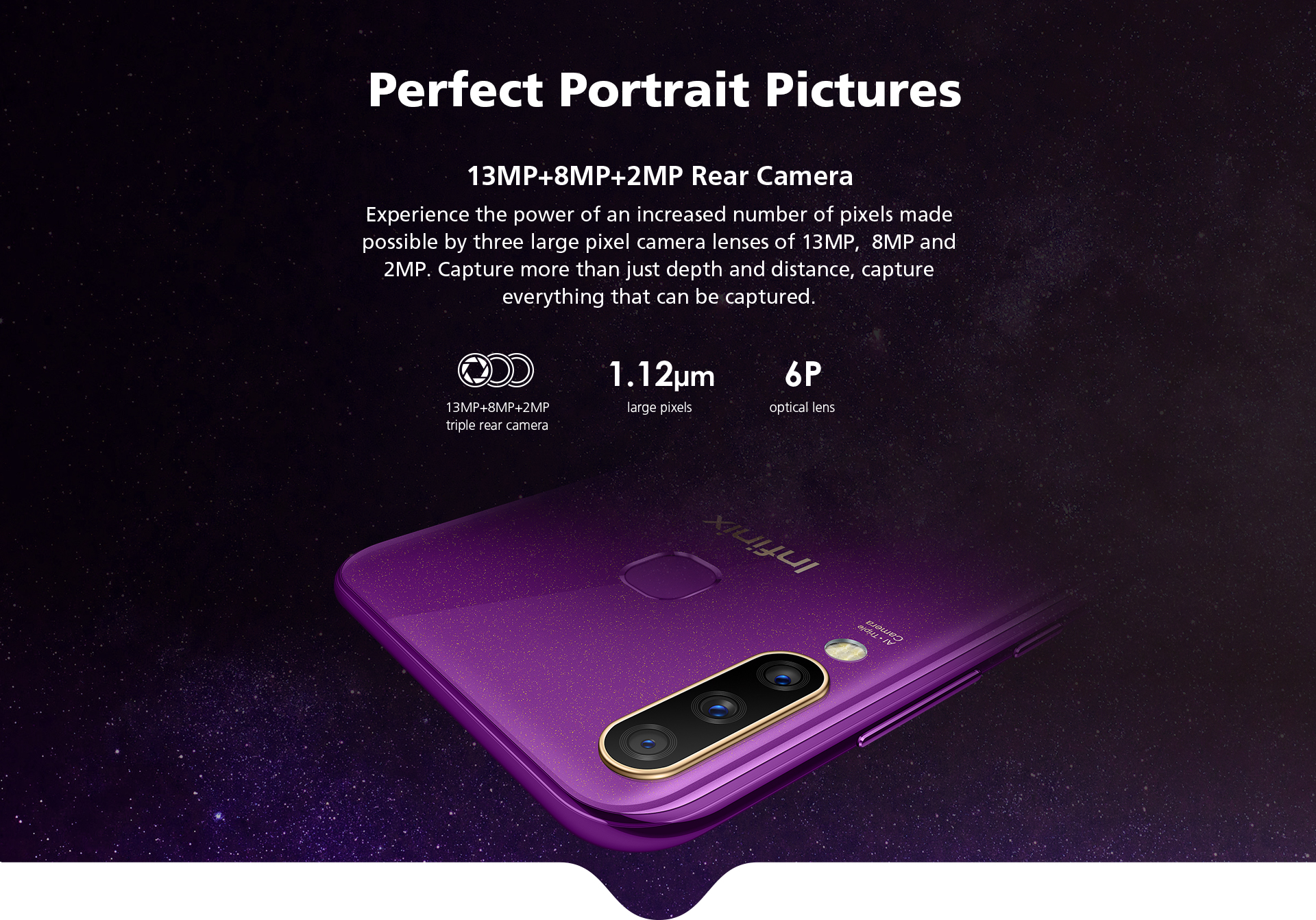 The selfie camera, which basically sells this phone, is a 32MP sensor with f2.0 Aperture. It's not the widest selfie camera but we're told it's packed with AI to help enhance your selfies.  Both the front and back cameras are capable of recording video in 1080p @ 30fps.
I expect a slight improvement with these cameras but I honestly hope they can tone down on over exposing photos. That has been my problem with Infinix in the past and I hope it will not continue with these new phones. I'll only know when I get my hands on the phone.
Memory:
Infinix s4 has not been very generous with memory. There's is a 3GB/32GB variant and a 6GB/64GB variant. Fortunately both of them can be expanded with a Micro SD card up to 128GB.
If you're planning to buy a n SD card for video recording, make sure you get one with a decent write speed so that you can shoot comfortably at 1080p without chocking the memory card. Also make sure you but a reasonably big memory card.
Performance:
The phone is running XOS 5.0 skin on top of Android 8.0 which is very impressive fr a low budget smartphone like this. While you get all the cool featured of Android 8.0 I still think XOS need to be improved to make it lighter and smoother. Personally,  I prefer when the skin is as close to stock Android as possible. . . but oh well!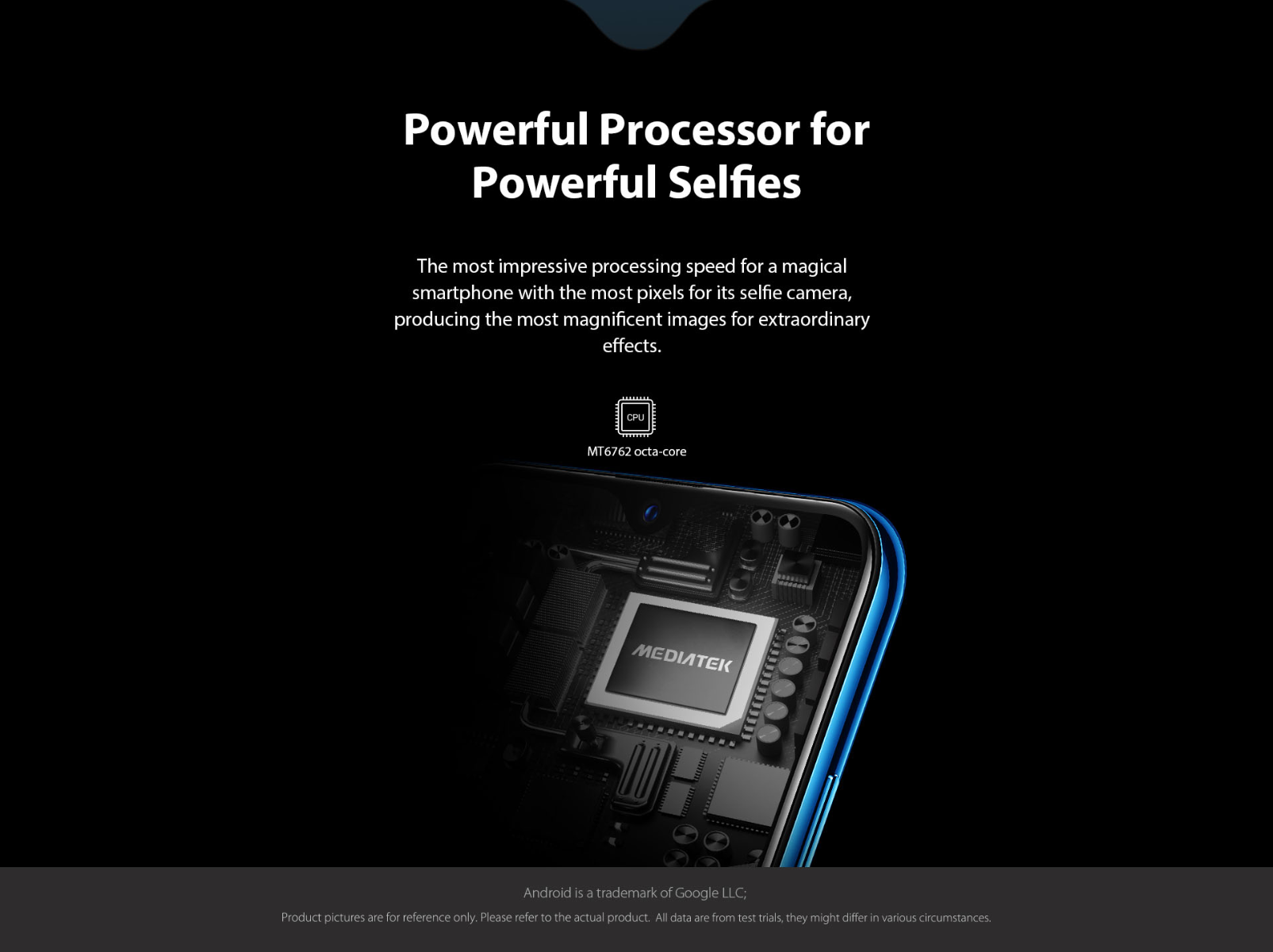 Everything is running on the Mediatek Mediatek Helio P22 octa core processor. For this price, I gotta hand it to Infinix, that's good. But I still have to get the device in my hands to give you a full verdict on the specs.
All The Other Things
I like the fact that Infinix S4 tries to be a good low budget smartphone instead of copying the high end smartphones so much and loosing its identity. I like the fact that they Keep the FM Radio,  the headphone jack and expandable storage.
This phone has Bluetooth 5.0! Can you believe that! Even some mid range and high end smartphones still have Bluetooth 4.2
The Micro USB port is a let down but I can afford to let it slide because low budget smartphone buyers might shy away from USB 3.0 It's still a relatively new technology.
I love the bold move of going with glass design although that gives you more reason to want to put a case on your phone.
Conclusion:
This is obviously way below the standard of the smartphone I'm typing this article on (iPhone XS Max) but, for the Ksh 15,000 price it starts at, I suspect you'll get real value for your money. I had actually forgotten how much value you can get for this price until I looked at this Infinix S4.
I'll need to get my hands on this phone to fully test it and make a video review for you guys if you want me to. Let me know down in the comments section.
Watch: Samsung Galaxy Watch Review