Xiaomi's latest Mi band is the Mi Band 3. The successor to the very successful Mi Band 2 it comes packing a lot of improvements. I've had mine on my wrist every single day for the last 2 weeks, I've been taking notes of my experiences and here we are…
This is one of the easiest gadgets to recommend because of it's ridiculously low price, and just the fact that there are improvements to the previous one,  it's a major thumbs up.
Design
First the design has been revamped;  and this has been a continuous process since the first Mi Band that had no display at all and we had to rely on the app for all the control and information. Then Mi band 2 was released with a 0.4″ OLED display with a capacitive button to perform a few functions.
The Mi band 3 has a much bigger 0.78″ that's now a full touch screen. This rings more functions directly to the band and reduces the need to control it from your phone. That's convenient during workouts and fitness exercises.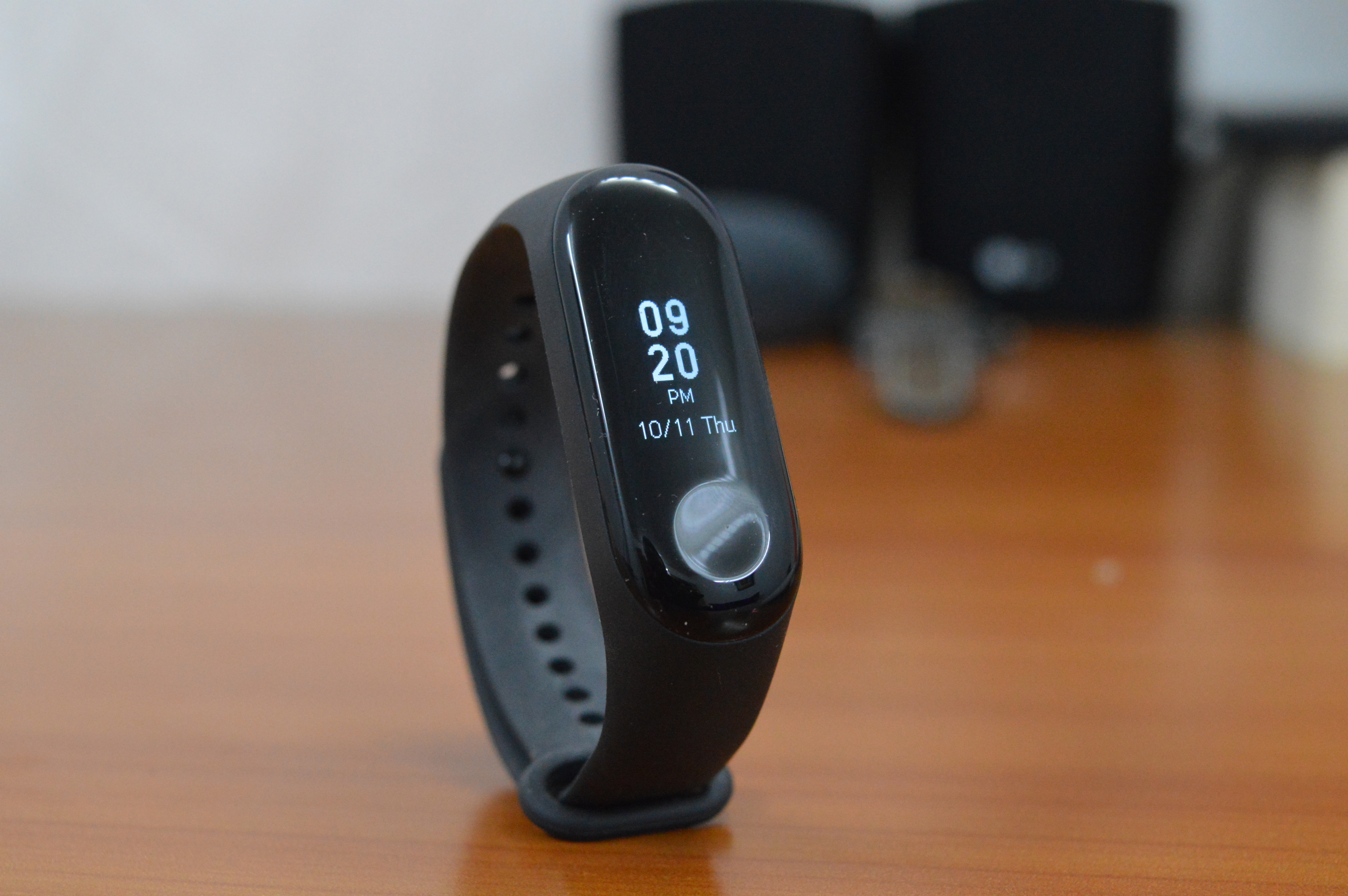 The fact the it's bigger means you cannot use use your Mi Band 2 bands with this one. Despite the OLED display, everything is still in black and white but legibility is better on the Mi band 3 due to the bigger display and the higher resolution. It's now 128 by 80 compared to 72 by 40 in the Mi band 2.
And this helps a lot with legibility. I found it much easier to read stuff on this new Mi band even when I was jogging or swimming and I just needed to have a quick glance, everything is legible immediately.
The only issue I had was that it doesn't get bright enough to be used outside and  I found myself straining a bit especially when it's bright and sunny outside.
This is probably by design to save your battery which lasts a really long time. We're talking weeks here; I'm getting more than 2 weeks already on the same charge. It's an improved 100mAH battery.  I've had it on continuously, connected to my phone via bluetooth , tracking my walks, jogging, me sleep, my heart rate….everything! And the first charge I put in 2 weeks ago is the same one I'm using right now.
That for me, is one legitimate reason to choose a fitness band like this one over a smartwatch, if the main thing you're looking for is a fitness tracker. That's a whole other video I'll be doing so you better subscribe if you haven't.
The band is now 5ATM water resistance certified. That basically means you can take it up to 50M under water and it will withstand that pressure. I'm that not comfortable around water,  but I've had my band on in the shower, I've gone swimming once and I literally never take it out at the tap. Sometimes when I'm very sweaty I take it out and wash it. Nothing has happened to it so far. It also helps that it has rubber-silicon bands which of course will get 0 damage in water.
The design is pretty solid all round. The build quality is a major GO from me. It looks good in the hand. Doesn't scream tech product on my hand! It's really light and comfortable in my hand; i take it with me to bed so that it tracks my sleep and it's still extremely comfortable. No complains at all!
Functionality
With that great and improved design, comes improved functionality. Fitness tracking is what this band was made for and just like the previous band, you need to download the Mi Fit app and sign in to your  if you haven't already.
The band has been tracking my steps and activities with remarkable accuracy. It also automatically detects my sleep and it can tell for how long I had deep sleep and for how long I had light sleep. It can tell when I'm awake in the middle of the night even when i don't leave my bed.
And the whole idea here is to track these activities over a period of time and build a pattern for you. Then it also has a heart rate monitor which tracks your BPM on request or you can set it ti automatically get your heart rate in intervals you'll set through the app.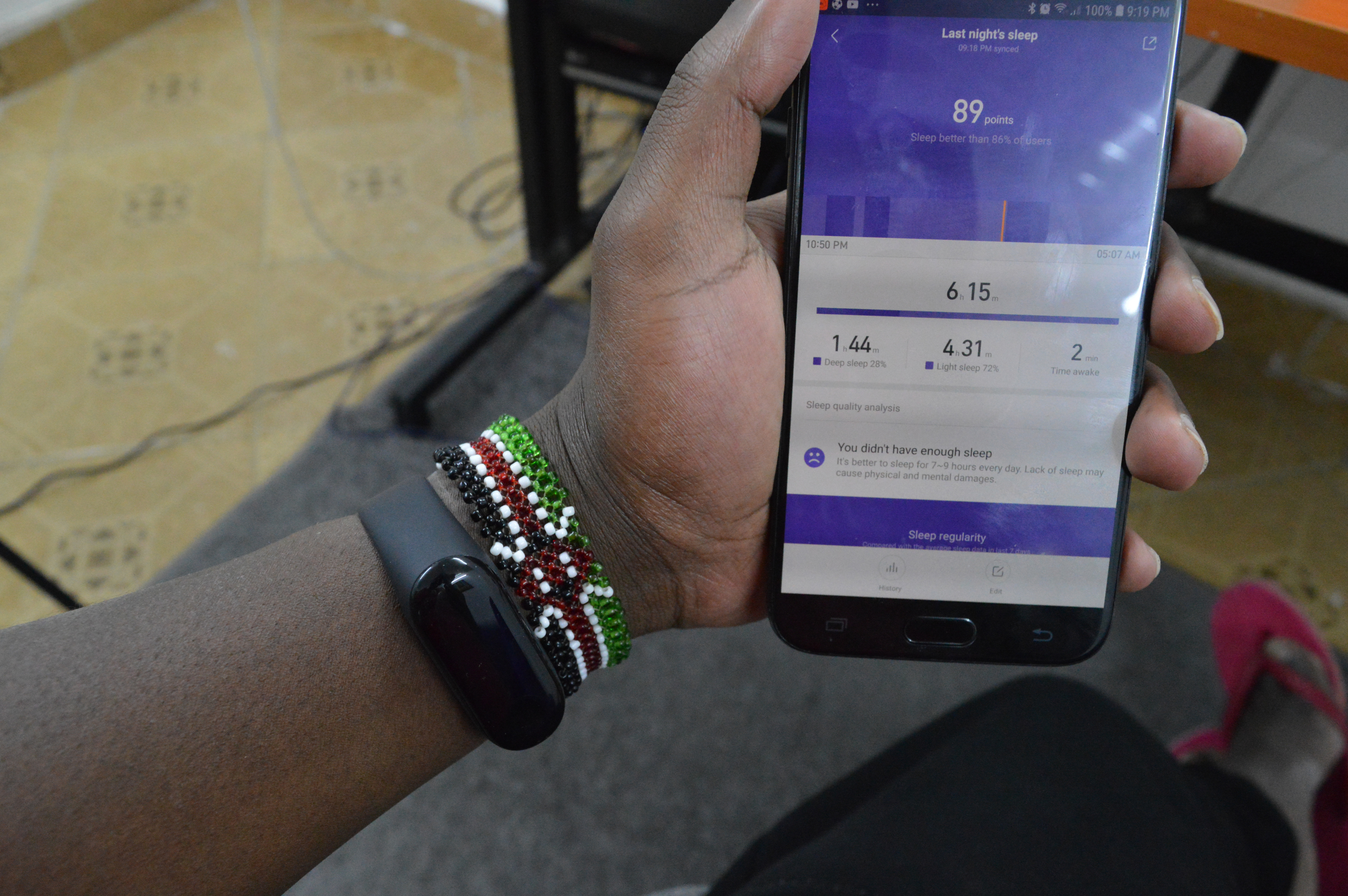 For some reason, mine didn't automatically track my hear rate  and also when I wear the band with the monitor itself on my outer wrist, it rarely gave me a reading; it just kept giving me an error.  I tried it with someone else with lighter skin and it worked.
But then when i wear it the other way around, with the monitor directly on my pulse, I got consecutive readings.  Not sure if that's about my pulse or my dark skin;  because you know the hear rate monitor uses light to illuminate on your veins and capillaries then it's able to take readings based on how your blood is flowing.  Maybe the same issue we hand with the Mi band 2 is still here.  Let me know if ou had this experience in the comments sections below.
There are also other extra functions that I found really useful.  There's a stop watch, a calendar,  new watch faces…….and these are made possible by the new navigations thanks to the all-touch display. You can scroll up or side ways through the menus;  and use the button to start actions, go back and wake up the device.
There's a 'find my device'  function on both the band and the app on the phone. So you can find either with the other in case you misplace one of them.
The Mi band three can also display notifications from your phone ;  from text messages,  whatsapp,  and other applications that you give permission to. I turned most of these off immediately after testing tham since I can't do much with the notifications anyway.  The only thing I left on was alerts for incoming calls which I found useful.  I can see who's calling from the band, turn off the ring tone or even reject the call from the band without taking it out of my pocket. I found this very convenient in meetings, or on dates where you can simply see see who's calling when the band vibrates and you can just check without touching your phone.  Classic clandestine move!
Xiaomi Mi Band 3! Conclusion:
Xiaomi Mi band 3 has been a revolution for me.  I love the way it collects accurate date and sends it back to the app for safe keeping and to give you a better visual representation of all the data it's been collecting.
It's a great fitness and activity tracker and totally worth that $30 you're paying for it. Don't be afraid of buying the Chinese one;  as soon as you connect it to the app and chose your location,  it will automatically update the firmware to English.
Let me know if you have bought the Xiaomi Mi Band 3 whether it's for the first time or it's an upgrade from the Mi band 2. What's your experience?