Artificial intelligence and machine learning is a concept we can no longer hide from at least in 2018 and the foreseeable future. You no longer need to watch a movie to see someone talking to a robot to be amazed;  you can actually talk to Google assistant on your phone and give it instructions.
Google assistant has been built into our phones for a while now and now Google is taking this a notch higher by providing extremely affordable and 'hard to ignore' smart speakers. First we had the original Google home, then when Amazon started selling the Alexa powered Echo dot at $50,  it was time for Google to respond with the Google home mini.
The Google home mini got really popular before Google decided to also make the Google Home max, a much bigger, louder and more powerful smart speaker.
Google Home Mini: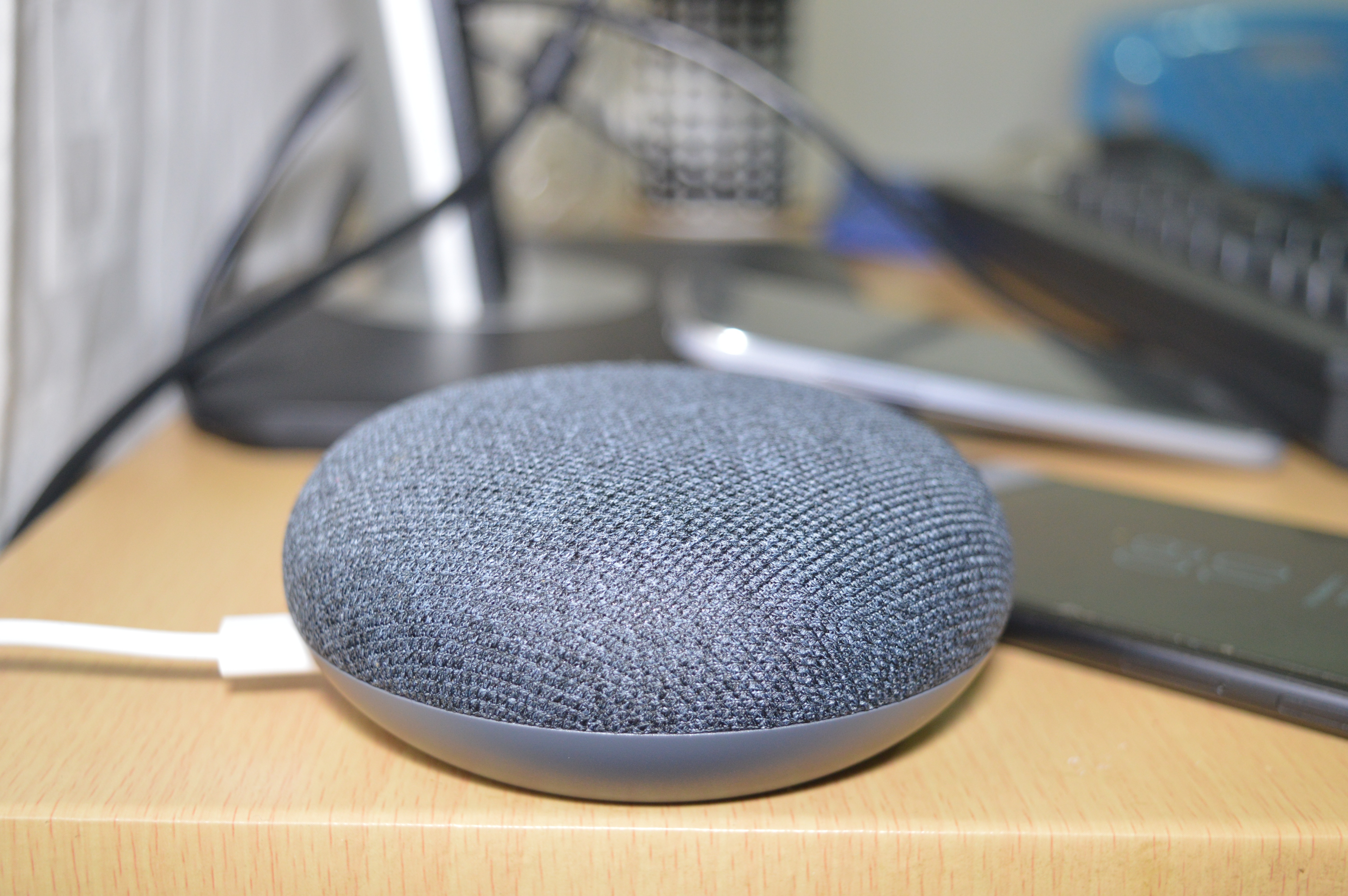 This Google home mini is a small round, doughnut sized smart speaker with fabric on top and plastic at the bottom. It has touch sensitive volume buttons under that fabric for increasing and reducing volume. It has a mute button to mute the microphone and a micro USB port; I have no idea why Google chose micro USB over usb C.
So this mini speaker, like the other two is powered by Google assistant and it can do all the things the original Google home can do. The only thing it doesn't do as well as the other two, is sound great. Don't get me wrong,  it does produce some high quality music but because it's a small speaker, it doesn't get as loud as the other two.
The Speaker:
There's only one speaker inside this home mini unlike the original google home  that has several speakers facing all direction, ot the Google home max that has 2 sub woofers and two tweeters that get stupid loud. Google claims this single speaker in the home mini fires sound in 360 degrees but let's be real;  there's only one direction a single speaker can direct sound to. But like I said, the sound coming out of this speaker is really good. Not too loud,  but good. Good enough for your office or kitchen or even your bedroom.
Google Assistant:
So on top of being a good speaker, it's smart. This smartness is powered by Google assistant; the most advances smart assistant to date; and it does things like take voice commands for music, setting reminders, giving you information about your calendar, the weather……Seemingly most of the stuff Google assistant on your phone does.  
And I get this question a lot: Chris, I have Google assistant on my phone, why do I need a Google smart speaker?  PROS:
It's a speaker, and a great one at that. It's better to be playing music from your smart speaker than through your phone because it obviously sounds better and you'll also save your phone's battery.

The assistant on the speaker is more advanced and can do a lot of extra stuff the one on your phone cannot do.

Google home is a shared device. The speaker can be controlled and personalized by more than one person unlike you phone that's private. So you can have different members of a household link their Google account to the same speaker and the speaker can detect different voices and respond differently depending on who is giving it commands and asking it questions.  E.g Call Dad!

Google smart speaker is better at controlling your other smart electronics that Google assistant on your phone. Like smart bulbs.

You can have a couple of these smart speakers interconnected in your house. One in the kitchen, one in the living room, one in the bedroom and you can send a command from any speaker to any other speaker in the house and also send broadcast messages
CONS:
The mute switch is confusing at first because it's a switch and not a button. And you can already mute the Google home mini microphone using your voice. So when you do that,  you can't un-mute it with your voice it because it can't hear you. But the switch is already on 'un-mute' so you kinda have to mute first even though it's already on mute, then you can unmute it. It should have been a button.

No headphone jack on this mini speaker that you can connect to other bigger and louder speakers. So you either need to buy Google home max or …..PRO TIP: Get a chromecast audio and connect it to the bigger speakers,  then set your Google home music output to the chromecast. You're welcome!

It's not portable. As small as this speaker is,  it's not portable because it doesn't have built in battery. This means it has to be plugged into a socket at all times so that limits it's mobility. You'd think with a speaker this small, you'll be able to move around with it and carry it to the bathroom or on a picnic ….but No. It's gonna have to stay in your house or office.
But if you can look past these cons, then you'll be looking at possibly one of best tech invetions of out time: artificial intelligence. Here are some of the things Google home can do:
Hey Google,