At some point in your gaming career with Roblox, you'll need a boost to enjoy your gaming experience. Luckily for Roblox, it's quite possible to get this done. You can buy Roblox Gift cards from Amazon
With Roblox Gift cards, it's the easiest way to load up on credit for Robux or Premium subscription. This can be done through different sites such as Amazon, Target, and more.
For this, you'll buy a digital card and once you receive it, you will redeem it in your Roblox account. Here is how to go about it.
How To Buy Roblox Gift Cards From Amazon
To get started, go to Amazon and log in to your account if you have not logged in yet. On the homepage, search for Roblox Gift Cards and there will be a few options to choose from.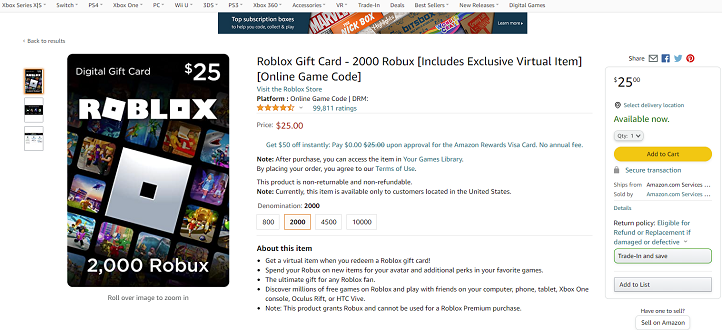 Choose the gift card you would like and select the amount of Roblox that you would like to purchase. Once ready, click on Add to Cart, proceed to checkout, and click on Place Order to confirm your purchase.
Check your email to get your code and redeem it in your in-game account. And that's how you go about it.
In case of any questions or inquiries, please leave a comment below.