When switching to your new smartphone, you might want to move your Whatsapp conversations and chats with you to your new device. You can transfer your Whatsapp messages to your new smartphone easily using readily available and third party tools.
Transfer Using Google Drive Back Up and Restore
If you are moving to another Android device, this is easy. You're probably already backing up your Whatsapp messages to Google drive. If not, you need to backup Whatsapp to Google Drive. Then sign in to your new Android phone using the same Google account.
Make sure you don't start Whatsapp on your new phone before installing Google Drive. Once you have google drive signed in, start whatsapp. It will detect a back up and ask you to restore from back up. All the Whatsapp data you backed up from your old device will be downloaded to your new phone.
Transfer Whatsapp data Using SD card
Google drive is the easiest method but sometimes there are challenges with space. The 15GB of free space allocated might not be enough.  In this case, when backing up your Whatsapp data, you can have it backed up to your phone's SD card which generally offer more storage.
Then make sure you put the SD card in your new phone before starting Whatsapp for the first time. When you start Whatsapp, allow it to Restore from the back up it will automatically detect in the SD card.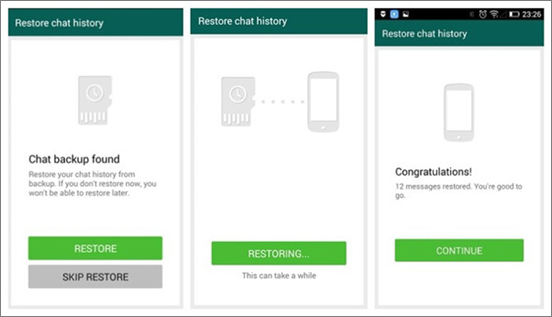 Transfer Whatsapp Messages Using a PC:
You probably don't have an SD card in one or both of your smartphones. Use your old smartphone's internal memory as your Whatsapp backup destination. Then connect the phone(old) to your PC via a USB cable.
Dig into your phone's internal memory with your PC and look for a folder named 'WhatsApp / Database.' In this folder, find the latest update file.  Update files will have a name that looks something like : msgstore-2013-05-29.db.crypt
Copy that file to your PC memory. Now connect the new phone, and send that file to your new Android phone's internal memory. You can now start Whatsapp for the first time and it will detect the back up file in it's internal memory and ask you to restore from that back up.