Ever since Google docs came to the Google Ecosystem, it's been my favorite document processing tool. It totally replaced Microsoft Office for most of my needs. So many features and possibilities.
While PDF remains a popular document format, there's a huge shift to ePub format primarily designed for eBooks. The ePub format makes your eBooks compatible with Google Play book, Kindle and other eBook services.
There are great established tools for creating ePUB eBooks like Adobe Stanza and Calibre. But you can also make one straight from your browser using the cloud based Google docs. It's free and painless.
How To Create an ePUB eBook With Google Docs
Finish writing the contents of your desired eBook in Google docs. Or you can even import an existing Microsoft word document into Google Docs. If your document is already in PDF format, you can convert it to word and import it into Google docs.
Then as soon as you're done with editing and alignment and everything is in place, you can export the Document as an ePUB eBook.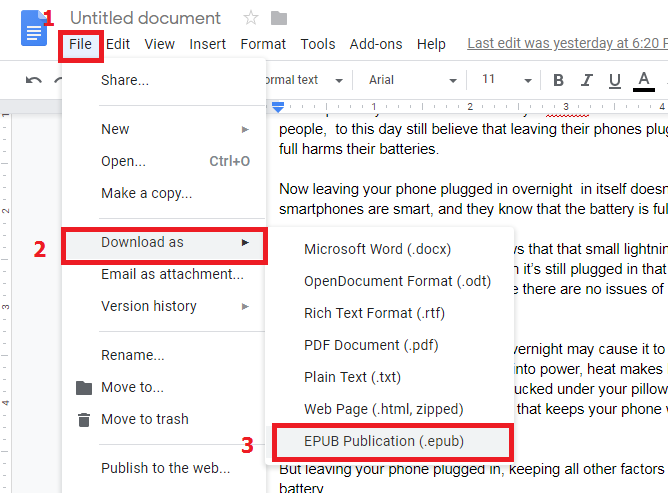 Click on File, then click on Download as, then select EPUB Publication (.epub). The document will be saved on your computer as an ePUB eBook document. That's how to make eBooks with Google Docs.
You can now upload your eBook to the eBook sharing platforms like Google Books. ePUB document format is preferred for eBooks because it's responsive to different devices,  their designs and aspect ratios.
Kindle does not take ePUB file format but you can convert your .ePUB to .MOBI format that is used on Amazon's Kindle.