For users of the Google Pixel Tablet, having the ability to determine the last time their device was connected to a dock can be highly beneficial.
Whether you're a tech enthusiast curious about your usage patterns or a user seeking to troubleshoot potential connectivity issues, understanding how to access the docking history of your Google Pixel Tablet is a valuable skill.
In this article, we'll guide you through the process on how to see when your Google Pixel tablet was last docked.
Also Read: How To Remove Screen Lock PIN On Google Pixel Tablet
How To See When Your Google Pixel Tablet Was Last Docked
Start by opening the "Settings" app on your Google Pixel Tablet home screen. Inside the Settings app, scroll down the left panel to explore the available options. Look for "Hub Mode" and tap on it to proceed.
Once you're in the Hub Mode settings, continue scrolling down until you come across the "Dock Settings" option.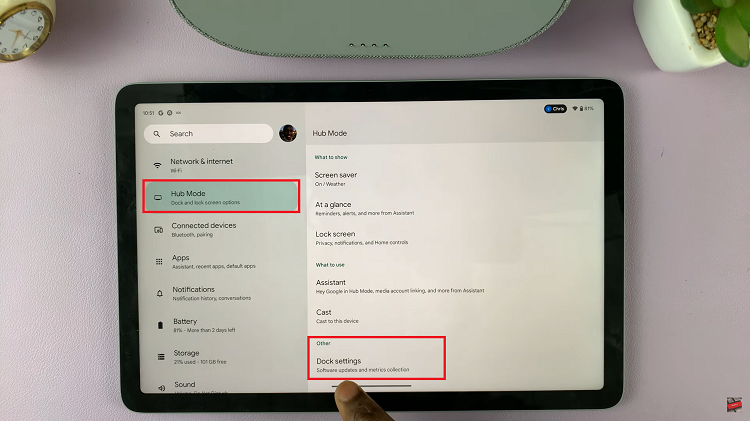 Upon selecting Dock Settings, you'll be presented with a list of settings related to docking your Google Pixel Tablet. Look for the specific option that provides the docking information you need.
In the Dock Settings menu, locate the entry labeled "Dock Connected Timestamp." This timestamp will display the exact date and time of your tablet's last connection to a dock. It provides valuable insight into when you last used your tablet in conjunction with a dock.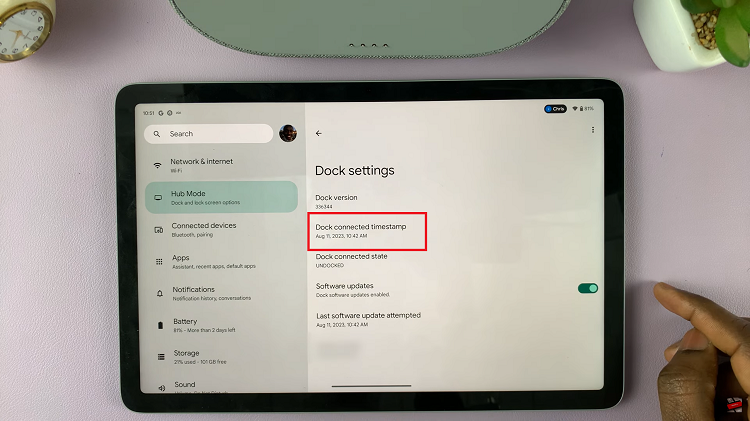 Knowing when your Google Pixel Tablet was last docked can help you keep track of your device's usage patterns and troubleshoot any potential connectivity issues.
Watch: How To Add Another Google Account To Google Pixel Tablet