Adding another Google account to your Google Pixel tablet can be beneficial for staying organized, managing multiple email addresses, and accessing various Google services.
Whether you're setting up a personal or work-related account, the process is straightforward and can greatly enhance your device's functionality.
In this article, we'll guide you through the process on how to add another Google Account to your Google Pixel tablet.
Also Read: How To See When Your Google Pixel Tablet Was Last Docked
How To Add Another Google Account To Google Pixel Tablet
To begin, navigate to the "Settings" app on your Google Pixel tablet. Once you're in the Settings app, scroll down to locate and tap on "Passwords & Accounts." In the Password & Accounts page, look under the "Accounts for that User" section and tap on "Add User."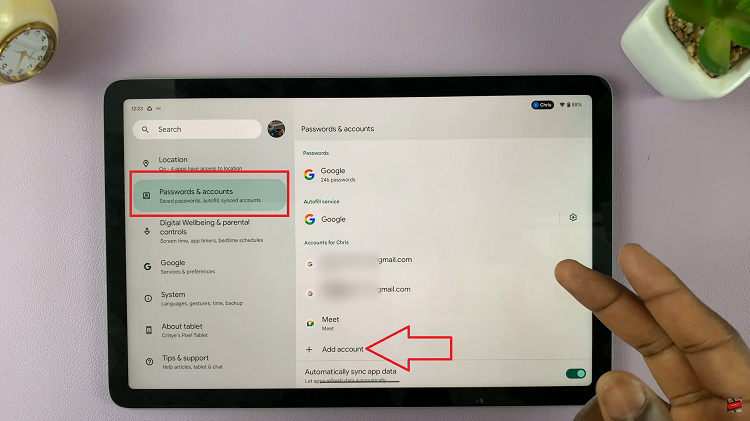 After tapping on Add User, you'll be presented with a list of options for the type of account you want to add. Since you're adding a Google account, select the "Google" option from the list.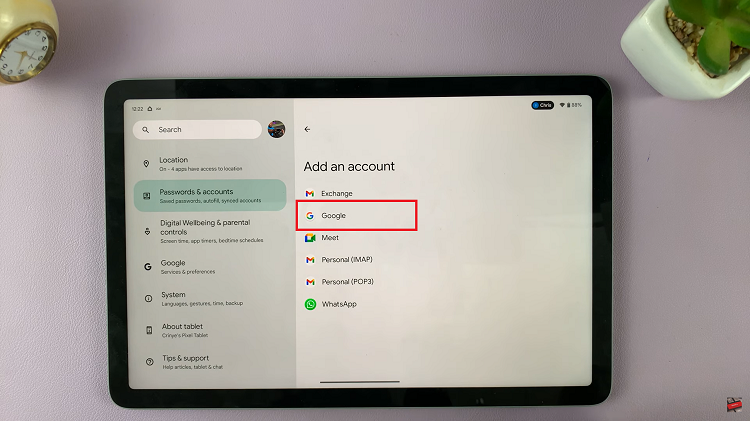 Before proceeding, you'll need to verify your identity. Depending on your device's capabilities, you can use your registered fingerprint or choose to enter a PIN.
Once your identity is verified, the device will guide you through the process of adding the new Google account. Follow the on-screen instructions, which may include entering your Google account credentials (email address and password) and configuring account-specific settings.
The tablet will take a few seconds to add the new Google account. Once the process is complete, you'll be taken to the Passwords & Accounts page where you should see the newly added Google account.
Remember that this process is not only practical for personal use but can also be useful for managing work-related accounts. With the ability to switch between accounts effortlessly, you'll have all your information at your fingertips.