Our personal devices house a wealth of sensitive information, ensuring the security of our devices is paramount. Screen lock methods, such as PINs serve as the first line of defense against unauthorized access.
However, there are instances when the need arises to remove or change these security measures. Whether you're looking to simplify your device's unlocking process or troubleshoot an issue, understanding how to remove a screen lock PIN on your Google Pixel tablet is a valuable skill.
In this article, we'll guide you through the process on removing a screen lock PIN on your Google Pixel tablet.
Also Watch: How To Remove a Google Account From Google Pixel Tablet
How To Remove Screen Lock PIN On Google Pixel Tablet
To start, open the "Settings" app, usually represented by a gear icon. Once you're in the Settings app, scroll down the left panel and select the "Security & Privacy" option.
Within the Security & Privacy settings, you'll find an option labeled "Device Lock." A drop down menu will appear presenting you with a list of currently activated screen lock sign-in options. Among these options, locate and select "Screen Lock PIN."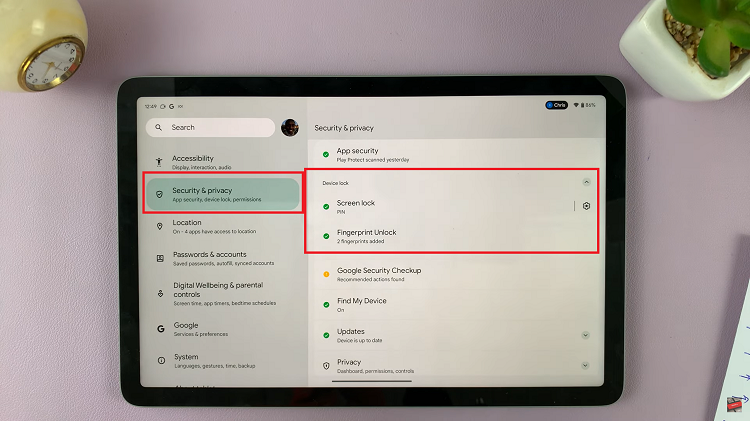 To proceed with removing the screen lock PIN, the device will require you to verify your identity. Enter the current device PIN that you've been using to unlock your tablet.
After successfully verifying your identity, the system will present you with a list of alternative screen lock options. From this list, select "None." This action will prompt a confirmation prompt to ensure that you intend to remove the screen lock PIN.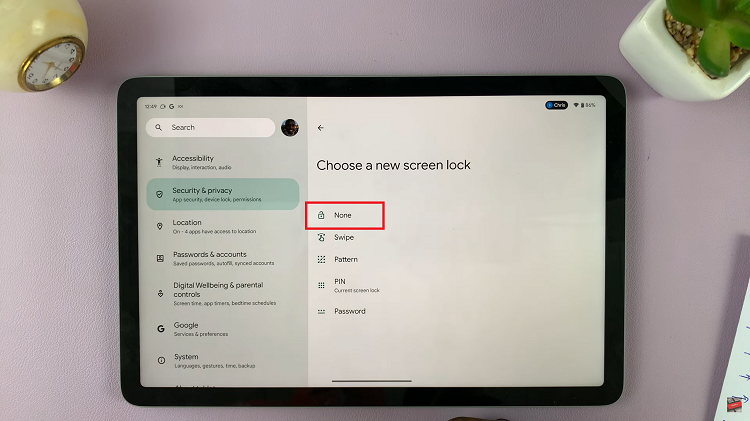 If you're certain about your decision, tap on the "Delete" button to confirm the removal of the screen lock PIN. Remember that removing the screen lock PIN can make your device less secure, so it's important to choose an alternative security method.
Watch: How To See When Your Google Pixel Tablet Was Last Docked