While Microsoft have finally added a native print to pdf feature in Windows 10, other operating systems like Mac Os and Linux have had the feature throughout the last decade. Windows 10 users are excited at the prospect of printing to pdf without installing third party programs or converting to XPS file format then trying to convert to Pdf.
We also realize that not everyone made the jump to Windows 10.  A lot of people stuck to Windows 8 while others are still running Windows 7 on their computers. The print to PDF feature should not be the only reason you are moving to Windows 10.  In this articles, I'm discussing how you can easily print to pdf on the operating system you're using right now.
Windows 10:
Just like I've mentioned,  Windows 10 has its own print to pdf functionality in the operating system.  This means you don't have to install, export, tweak or worry about anything.  Simply File > Print from any application that allows printing.  Under Printer,  choose Print as PDF and proceed to name and save your new PDF document.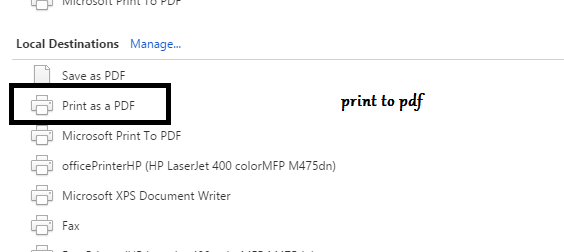 Print To PDF in Windows 8 and 7:
For Windows 7 and 8 which don't have Microsoft's print to pdf feature we have to find other ways of printing to pdf.
First of all, check whether the application you are using can print to pfd. For instance, Google chrome can print to pdf.  If you open a web page or document from Chrome, you can print to pdf from the File–>Print menu.  Microsoft office can print to pdf. On the print preview window select export to XPS/PDF.
Other applications like Firefox don't have their own print to pdf feature.  They rely on Microsoft's print menu which has only XPS document writer.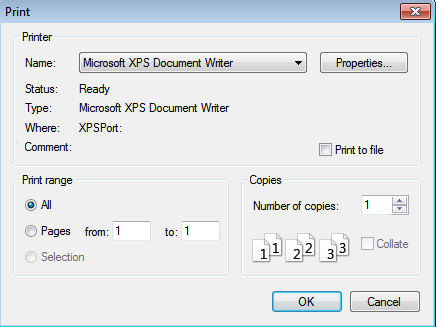 You would have to save the document in the XPS file format and find another application or online tool to convert it to pdf. For this reason, there is a need to install a PDF printer so that you are sure you can print to pdf from any application on your Windows 7 and 8 computers.
Also Read :  How To Edit PDF Files Without Adobe Acrobat
How To Install a PDF printer:
There are plenty of PDF printers you can download and install in your computer. PDF printer applications create a virtual printer in your print menu. When you want to print to PDF,  simply select that printer from any application.
Adobe acrobat has a PDF printer which will add the option to Microsoft's print menu.  But if you are looking for a free option,  CutePDF Writer should get the job done. It will integrate into the system's print menu and give you a print to pdf option from any application.