You might be studying and concentrating on your work and a phone call interrupts your time. The ringtone sometimes can be annoying and you'd like to mute the ringtone. Some Android phones don't have a physical button you can press to silence the call.
However, there are a couple of features that Samsung has introduced to their phones that can help with this. The features include flipping the phone to silence the call or using your palm to silence the call. The article will show you how to mute incoming calls on Samsung Galaxy A14 using the 'flip-to-mute' feature.
Watch: How To Show/Hide Caller ID Phone Number On Samsung Galaxy S23s
Mute Incoming Calls On Samsung Galaxy A14
One way to mute incoming calls is by enabling the 'Flip to mute' feature from the phone's settings. This can be done to most Samsung devices.
First, go to Settings on your device. Next, scroll down through the Settings page and tap on 'Advanced features'. Then, tap on 'Motions & gestures'. You'll find a couple of options that involve gestures on your device.
At this point, scroll through the options and find the "Turn over to mute" option. This option is enabled by default for most Samsung devices, but if not turned on, tap on the slider icon next to it to enable it. Once enabled, whenever you receive a phone call, you can simply flip the phone to silence that incoming phone call.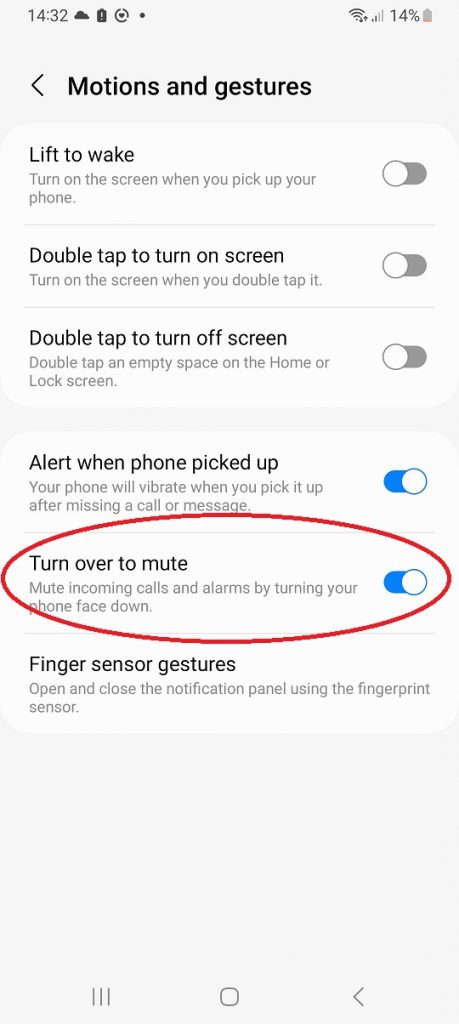 If you'd like to revert the changes or disable this feature, you can follow the above steps to successfully disable it. And that's how you mute incoming calls on Samsung Galaxy A14. Let us know in the comment section if you have any questions or suggestions. If you found the article helpful, consider sharing it with your friends.