When you have a case where the touch sensitivity isn't what it was before on your Galaxy A14, you have an option to increase touch sensitivity on your Samsung Galaxy A14.
You might find that the phone fails to recognize some touches on the screen. This mostly happens especially when you have installed a screen protector on your Samsung Galaxy A14, the screen sensitivity sometimes becomes a bit of an issue.
In the event that you're experiencing such a technicality, you might need to increase the screen sensitivity on your Samsung Galaxy A14 as a remedy to this.
Watch: How To Force Apps To Split Screen On Samsung Galaxy A14
Increase Samsung Galaxy A14's Touch Sensitivity
Go to the Settings app on your Galaxy A14.
Tap on Display. Scroll down and find Touch Sensitivity. Tap on the toggle icon next to it to enable the option.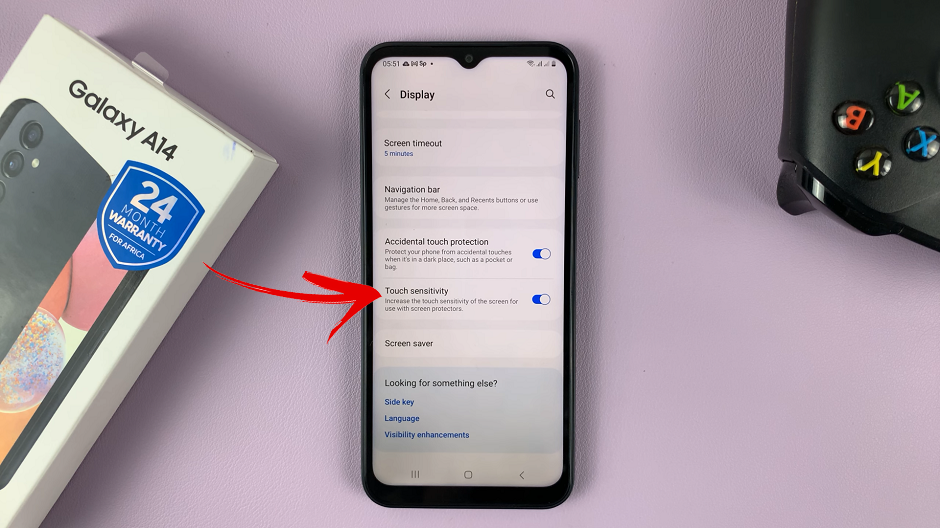 This will increase the touch sensitivity of your Samsung Galaxy A14. It should anyway.
If the touch sensitivity does not improve despite doing this, then you may be looking at something else entirely.
A Case Made For the Screen Protector
Screen sensitivity issues are ones that phone manufacturers warn against, because any alterations to the phone's screen may cause some problems. That said, this shouldn't discourage you from using a screen protector on your Galaxy A14.
There might still be a few things you can look into to troubleshoot, even with a screen protector. You should consider getting a thinner screen protector or one that is from Samsung. Especially the latter.
In dire situations though, none of these might work and it may even mean that you'll have to forfeit the screen protector altogether, or God forbid, replace the entire screen.
I'm not a bearer of bad news, so it shouldn't get this far. I sure hope not.
Read More: How To Delete Face Unlock Data On Samsung Galaxy A14