It is optional to hide rows while working on a Google sheet. If you choose to, one of the things this can do is give you a sharper focus of your work
Let us look at how to go about hiding these rows if you choose to.
How To Hide Rows In Google Sheets
Open the Google Sheets application and identify the rows you want to hide.
Select these rows by holding the Shift key and then clicking on the numbers on the left column of the rows.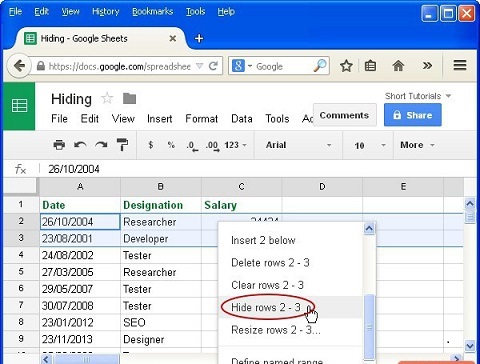 The data will get highlighted automatically. Now right click anywhere in the highlighted rows and from the displayed menu, select Hide rows 2-3.
2-3 are the first and last numbers indicating the rows you highlighted.
To restore the rows, as usual open Google sheets. There will be arrows above and below the hidden rows. Find them and position your cursor over one of them.
Click on one of the arrows and the hidden rows will appear.
Also read: How to hide Columns in Google Sheets