There are a couple of reasons why one would opt to hide columns while working on Google Sheets.
One reason could be they want to minimize the errors they make while entering data.
Another could be hiding them in order to get a sharper focus of their work or to easily compare data.

Below, we are going to look at 3 ways in which you can go about hiding columns.
How To Hide Columns In Google Sheets
One way would be to right-click on the alphabetical letter of the column you want to hide. Next, from the Menu that displays, click on the Hide Column option.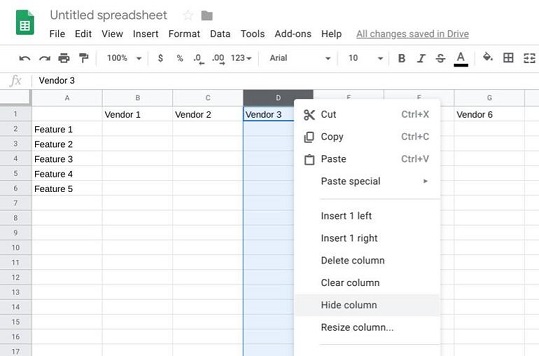 You can also use the Keyboard Shortcut where you click on the column you want to hide then press Ctrl+Alt+0 to hide it.

Another way would be to use the Help Menu where you select the columns you want to hide. From the Menu system, click on Help.
You can also hide your columns by clicking on Alt+/ for the Help Menu to pop up. A Search box will then appear, type Hide and click on Enter.
To Unhide the hidden columns, locate the 2 small arrows found on either side of your hidden column. Click on these arrows to unhide it.