Even in this digital age where everything can be done on our computers and smartphones, all the good things about coloring are achieved when you color physically on a piece of paper using crayons, colored pencils, marker pens, paint or other artistic media.
Very many adults and children around the world use coloring books to color. For children, coloring is a learning tool while for adults, there are serious mental health benefits associated with coloring.
Coloring books for children and adults are available for sale on Amazon and other websites. Google 'Coloring books' and you will see a ton of results showing you websites selling coloring books and others offering you digital coloring services.
If you are a beginner in coloring, or you just want to have a simple coloring book, you can make one your own or for your children using readily available materials. All you need is to collect coloring pages with line art you want into a single document. Here are some of the places you can get coloring pages.
Microsoft Office: Microsoft's office clip art utility found in Microsoft Word and Power point. Clip art images would make a good coloring book for kids. You can insert the clip art images in different pages or slides. Put each clip art in it's own page/slide.
If the clip art image is colored, make it black and white. Right click on it and select 'Format auto shape'. Then make the line color black and the fill color white. Do this for all the clip art images. Make sure the back ground of the pages or the slides is white. If need be, resize the clip art images. Now you have a coloring book ready for printing.
images.google.com:  Google's image search engine will give you plenty of coloring images with which you can make a coloring book. Go to images.google.com and search 'coloring'. The results will contain an endless list of coloring line images in black and white.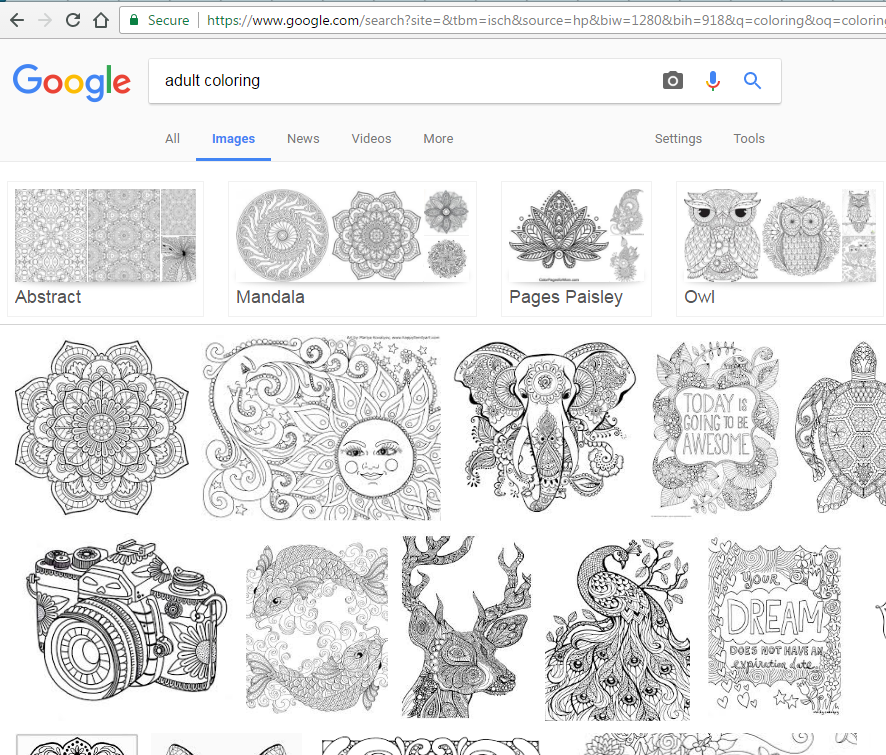 For an adult coloring book, search 'adult coloring'. Results will specifically contain images of pages from an adult coloring book. Choose the image you want, right click and Save As to save the image in a folder  on your computer. Do this for all the line art  images you want in your coloring book.
Then launch Microsoft word. Insert the images one by one into the word document.  Each image should occupy its own page. Resize the images as you wish. You now have a coloring book ready for printing.
Websites:  There are online coloring book websites that allow you to download their line art images on your computer. Websites classify printing pages into different genres like nature, cars e.t.c. so you can easily select what you like more. You can even find coloring pages on Pinterest.
Some websites have blocked the right click feature so that you cannot Save As. Simply print to pdf and you'll be able to print the image as a pdf document onto your computer.  If you have several pdf documents, you can merge them as one. Then you will have a coloring book ready for printing.
NB: You can not redistribute coloring images with copyrights. This tutorial simply shows how to use these images to make a coloring book for yourself.
Printing a Coloring Book:
This is the part where you will need some help. The ordinary printing paper that comes out of your home or office printer will not make a good coloring book. The paper is too light for coloring with crayons, colored pencils and marker pens and paint.
You will need to go to your local bookshop and ask them to print out your coloring book using harder paper.  70# text weight stock is fine for drawing with crayons and colored pencils. If you intend to use, marker pen and paint, use 100# paper.
While this will help reduce the bleeding, it will not stop it completely. I suggest adding an empty page in between coloring pages in your coloring book to avoid damaging uncolored pages.
At the bookshop or cyber cafe,  you can have your coloring book bound. The method you use to bind your coloring book will affect usability. If you want,  you can also make a hard cover for the book especially if it's a children's coloring book. Adult coloring books can have the softer cover.