If you're sharing your phone a lot, then you might find yourself needing to hide some apps that you don't want other people snooping around in. This is possible and very easy to do in the Redmi Note 10 Pro from Xiaomi.
Of course locking apps with touch ID or Face unlock also helps but it's next level when people don't even know the app exists on that phone. We will be using the App lock Feature for this.
How To Hide Apps
With the app already installed on your phone, go to Settings – Apps – App lock. The first thing you'll need to do is set up the App lock by tapping on 'Turn On'. and then setting a unique pattern to unlock locked apps.
You can either use the pattern you already use to unlock your phone or define a new one specifically for the App Lock. Put in the pattern twice to verify. Then tap on 'Next'.
You'll be prompted to sign in to a Mi account or create one. You can Skip that by tapping on 'Not Now' unless you're into it. Then you'll get options to set up fingerprint or Face unlock which you can skip for now.
The app lock feature will now be active and you'll see a list of apps that you can lock use the app lock feature. At the top, you can tap on 'Hidden Apps'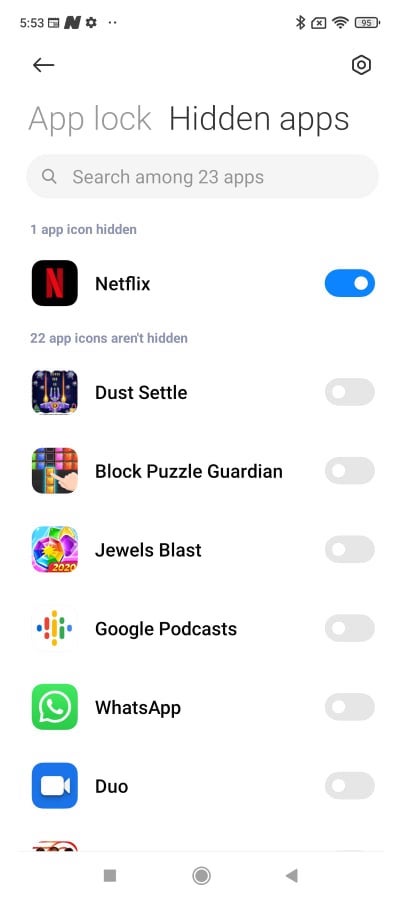 You can now turn on the Toggle button next to the app(s) you want to hide. The app icon will be completely hidden.
How To Open Hidden Apps
Hiding apps is one thing but surely when you want to use the apps, you have to open them. Luckily, the MIUI has done a good job with this be organizing all hidden apps into one folder that is hidden from the app menu and from the home screen.
Fun fact: MIUI will not let you screenshot the Hidden apps folder.
Simply find any empty screen real estate and reverse pinch on the screen with two fingers. This will prompt you to unlock the hidden apps folder via a pattern or fingerprint or Face Unlock. Once you do that, the hidden app icons will appear and you can now open you hidden applications.
How To Unhide Apps
When you no longer want to hide an app on the Redmi Note 10 pro you can simply go back to the App lock application.Then make sure you open the 'Hidden Apps' list and toggle off the button next to the app you want to unhide.