Flickr was originally designed as a photo hosting and sharing service. It's basically a cloud service like Dropbox but this is specifically designed for photos and video. Together with Google Photos, they are the most used photo sharing and management services.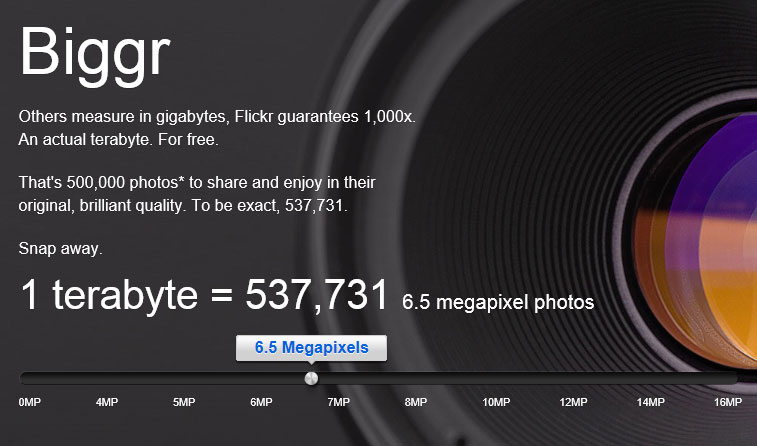 When it comes to space allocated in free accounts,  Flickr beats any other service.  A whooping 1 Terabyte of free storage space makes it the best candidate for a cloud based photo back up service. 1TB will house more than half a million high resolution photos, not mentioning videos.
This contrasts greatly with Dropbox and Google photos which offers 15GB for free which is shared with Google drive,  Gmail and any other Google service you use. Let's look at the other features of Flickr, and how to set up your Flickr account to be your photo/video backup service.
Set Up Flickr Account:
You can use Flickr on the web or you can download the Flickr app on your Android or iOS device. A Flickr account is free to set up. It's a Yahoo product hence you can easily sign in with your Yahoo account details. If you don't have a Yahoo account, set it up.
Change The Privacy Settings:
It's important to have your privacy settings right before you start uploading. Like I mentioned, Flickr was designed as a photo sharing service. So the privacy setting is public by default. There are also sharing tools that allow you to share your uploads on social media.
For a photo back up service, you need to restrict access from the public completely. You can grant family and friends access to some or all the photos in Flickr. To do this Sign in to Flickr and go to the settings page and make the necessary changes under 'Privacy and Permissions'.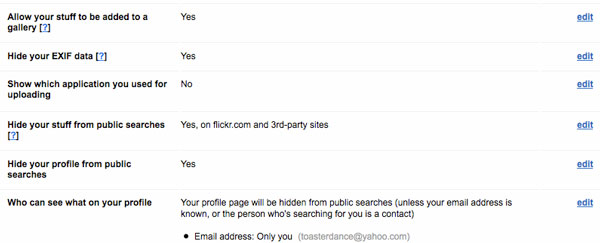 Also set your account's search visibility to 'hidden' so that people on search engines are not directed to your Flickr account.
Start Uploading:
On the web interface,  the Flickr website has an uploader. The efficiency of the web based uploader is said to be slow and exhausting because you cannot have automatic uploads. This was made worse when Flickr made the desktop uploader a paid option.
There are however alternative desktop uploaders that will send the photos in your computer hard drive to your Flickr account.
Flickr Schedulr is a good alternative for desktop uploads. It allows you to even schedule uploads so you can have it automatically upload when the bandwidth isn't very busy.
PhotoSync  synchronizes your Flickr account with a dedicated folder in your computer. Send photos to that folder nd they'll automatically be uploaded to Flickr.
FlickrSync for windows also uploads. This one uploads from multiple folders at the same time. The tool will create sets (folders) in your Flickr account.
The mobile apps can be synchronized with camera roll or any other folder whose photos you want uploaded to Flickr. You can set up the Flickr app to automatically upload ant new photos taken with your smartphone.
Pros of Flickr as a Photo Backup Service:
Flickr also preserves your local folder structure in the Albums view, which makes it easier to browse photos
Flickr does not compress the photos you upload neither does it compress videos. You can upload high resolution videos of up to 1GB each.
Like Google photos, Flickr has built in photo editing tools that let you tweak the appearance of photos.
The real bell ringer here is the amount of storage space at your disposal. Though it's ad supported the whole 1TB is free. You can pay a subscription to have an ad free environment.