If you're an active Facebook user, you probably have shared a lot of posts in text, photos, or videos on your profile. You might have come across moments whereby you accidentally deleted that important post and you later regret it. Worry not, you can retrieve that deleted post.
Facebook allows you to recover any deleted post on your account. In fact, you can only recover that post within 30 days from the moment it was deleted. If it stays more than 30 days, the post will be permanently deleted and cannot be recovered. Below are the steps on how to find all deleted Facebook posts.
Watch: How To Delete Instagram Private Messages
Find All Deleted Facebook Posts
To locate all your deleted posts on Facebook, you need to access the recycle bin o the Facebook application.
First, launch the Facebook application on your device and open your profile page. To access your Facebook profile, tap on your profile icon at the upper right of the screen then select your Facebook name.
Next, tap on the three dots next to the 'Add to Story' button. This will open up the profile settings of your account. At this time, tap on 'Archive' and select 'Recycle bin'. You can see all the Facebook posts that have been deleted. Afterward, you can choose to decide what to do with the deleted posts, either restore them to your profile, view the deleted post(s), or move the post(s) to the archive.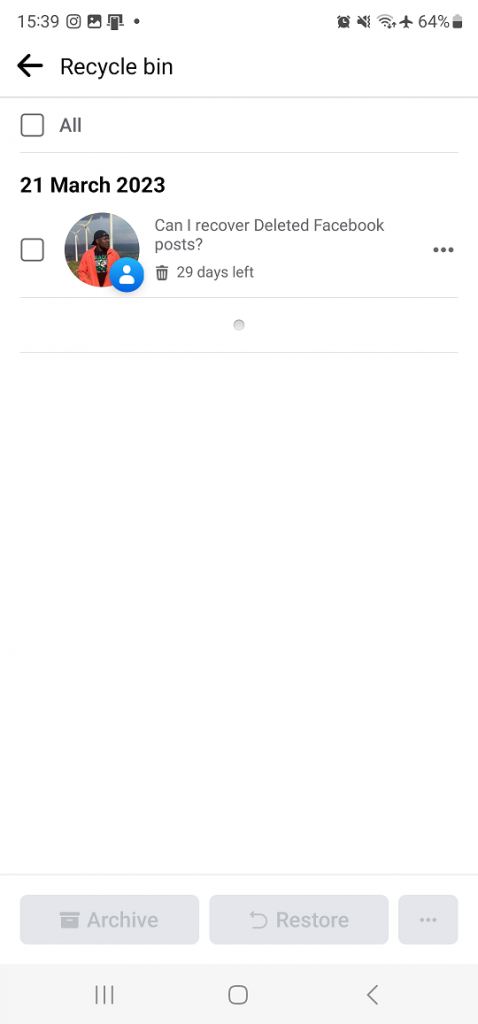 In conclusion, it's quite easier to find all deleted Facebook posts. Lastly, the posts can only be restored within the 30-day period. Let us know in the comment section if you have any questions or suggestions. If you found the article helpful, consider sharing it with your friends.