The Samsung Galaxy A24 is a versatile smartphone that seamlessly blends modern communication and everyday productivity.
With its array of features, it's not just a device for staying connected. It serves as a personal assistant, helping you manage your daily routine efficiently. One of the most essential features on any smartphone is the alarm function.
In this guide, we'll walk you through the comprehensive step-by-step process on how to set an alarm on your Samsung Galaxy A24.
Also Read: How To Install Samsung Calculator On Samsung Galaxy A24
How To Set Alarm On Samsung Galaxy A24
To begin, navigate to the "Clock" app and tap on it to open it. Once inside, locate and select the "Alarm" tab. In the Alarm tab, you'll find your existing alarms if you have any. To create a new alarm, tap on the plus icon situated in the top right corner of the screen. This will open the new alarm menu, where you can customize your alarm settings.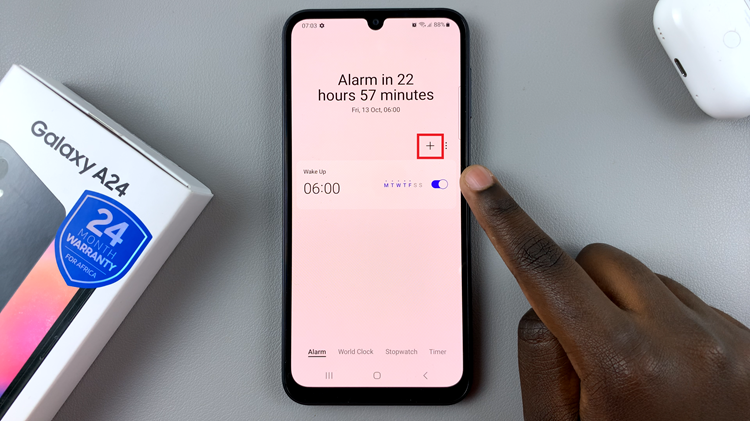 Now, it's time to set the specific time you want your alarm to go off. You can do this by scrolling through the hours and minutes using the scrolling digits on the screen. Ensure that you choose the right time to wake you up or remind you of your task.
If you want your alarm to repeat on specific days, select the "Repeat" options in the new alarm menu. You'll find various options, including weekdays, weekends, and specific days of the week.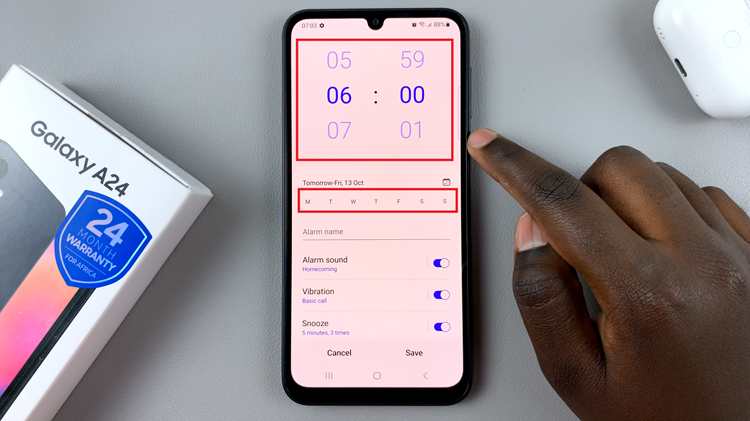 You can choose to add a sound with your new alarm. Tap on the "Alarm Sound" option. Pick from a variety of pre-installed sounds or even select your own from your phone's music library.
To further customize your alarm experience, you can adjust the alarm vibration. Tap on the "Vibration" option in the new alarm menu. Here, you can select from various vibration patterns to help wake you up in the morning or remind you of your task.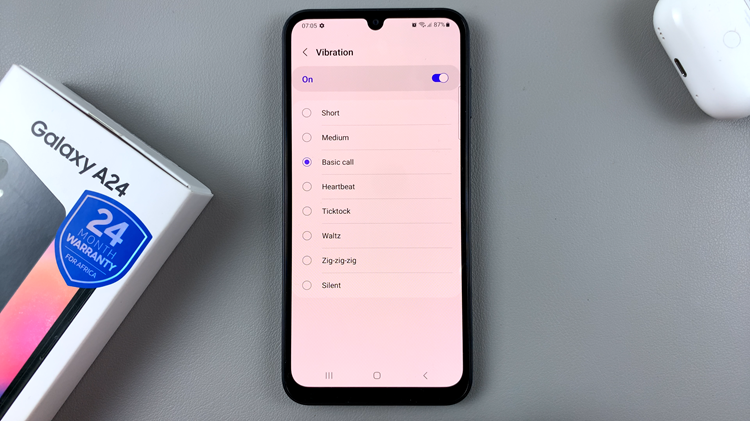 Once you've configured all the alarm settings to your liking, including the snooze settings and alarm name, tap on the "Save" button of the new alarm menu.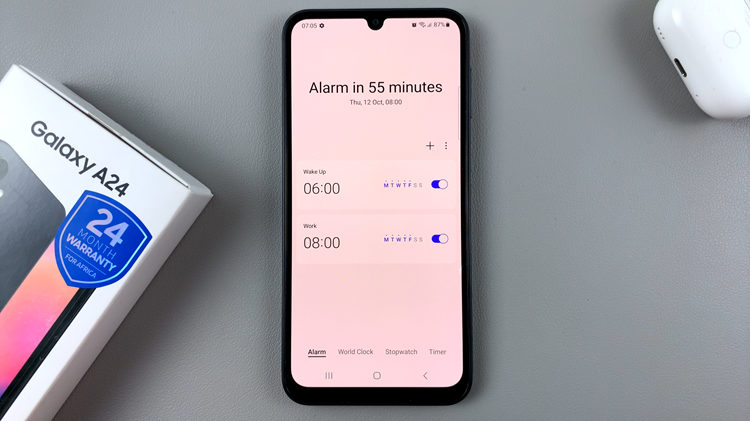 Setting alarms on the Samsung Galaxy A24 is a straightforward process, allowing you to manage your schedule efficiently and wake up on time. By following these simple steps, you can ensure that your alarm is customized to meet your specific needs, whether it's for a morning wake-up call or a reminder for an important task.