In today's fast-paced digital world, the smartphone has become an indispensable companion. Among the many choices available, the Samsung Galaxy A24 stands out as a versatile and feature-rich device, designed to cater to the diverse needs of its users.
Whether you're new to the world of smartphones or simply unboxing your new Galaxy A24, this article is your comprehensive guide to setting up your device for the very first time.
In this guide, we'll walk you through the comprehensive step-by-step process on how to set up a Samsung Galaxy A24.
Also Read: How To Set Alarm On Samsung Galaxy A24
How To Set Up Samsung Galaxy A24
Press and hold the power button, usually located on the right side of the phone. The Samsung logo will appear, and your phone will start booting up. Follow the on-screen instructions to choose your language, region, and connect to a Wi-Fi network. This will allow your device to download the latest updates during the setup process.
You'll be prompted to sign in with your Google account or create a new one. This account is essential for accessing the Google Play Store, email, and other Google services. Follow the on-screen steps to sign in or create an account.
If you're upgrading from another Android or an iPhone device, you can choose to restore your apps and settings from a previous device.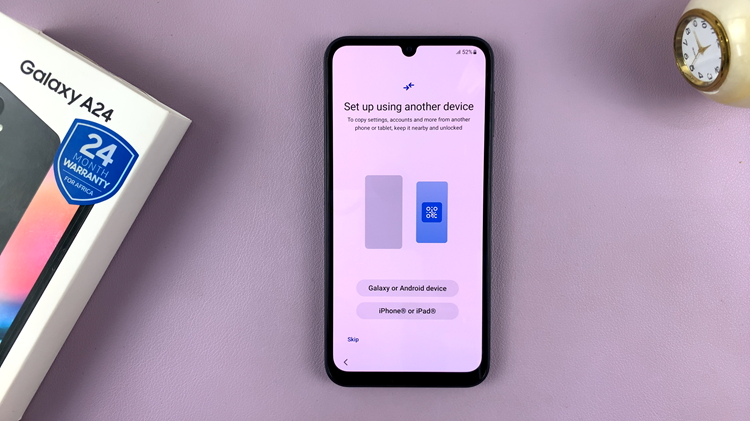 To enhance your device's security, you can set up biometric options like fingerprint recognition or facial recognition. Follow the prompts to add your fingerprints or set up facial recognition.
Customize your device by choosing your preferred wallpapers, themes, and app layouts. Set up your email accounts, social media, and any other apps you use regularly.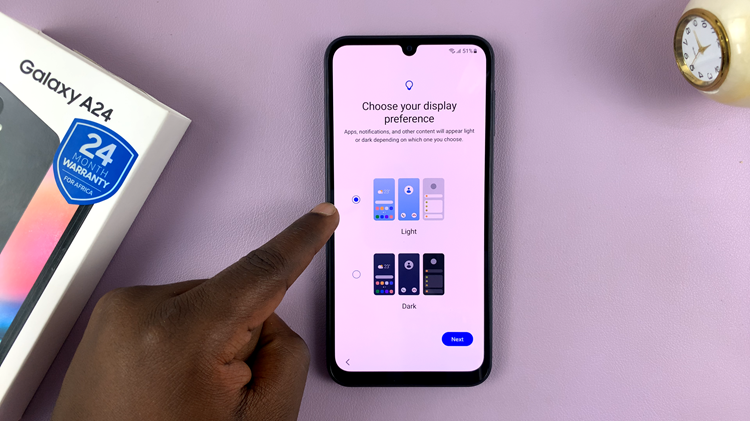 After completing the initial setup, it's a good practice to check for software updates. Go to Settings > Software update > Download and install to ensure your device is running the latest firmware.
You've successfully set up your Samsung Galaxy A24. Now you can enjoy all the features and capabilities of your new smartphone. Explore the apps, take pictures, and make the most of your device.
Watch: Samsung Galaxy A24: How To Use Hard Reset To Bypass Forgotten PIN, Password & Pattern