Having the ability to control how and when you cast content to your device is a game-changer. Google Pixel Tablet, a powerful device in its own right, offers a remarkable feature known as 'Ask Every Time'.
It gives you complete control when it comes to casting content. It also ensures that no unexpected connections disrupt your content consumption.
This article will walk you through the process on how to enable 'Ask Every Time' when casting to your Pixel tablet. Before embarking on this journey to enable 'Ask Every Time,' it's crucial to ensure that your device is docked.
Also Read: How To Set Alarm On Google Pixel Tablet
How To Enable 'Ask Every Time' When Casting To Pixel Tablet
To begin, locate the "Settings" app on your home screen. Once you've opened the Settings app, look for the 'Hub Mode' option on the left side panel. Hub Mode is where you can manage different settings related to your device's connectivity and interactions.
Within the Hub Mode section, you'll find a variety of options. Look for 'Cast settings' among these options and select it. This will take you to the settings specifically related to casting content from your device.
As you scroll down through the Cast settings, keep an eye out for the 'Allow Cast In your Profile' section. This is the area where you can fine-tune your casting preferences to suit your needs.
Within the 'Allow Cast' section, you'll find the 'Ask Every Time' option. This is the feature that will give you ultimate control over the content that gets cast to your Google Pixel Tablet. Simply tap on the 'Ask Every Time' option to turn it on.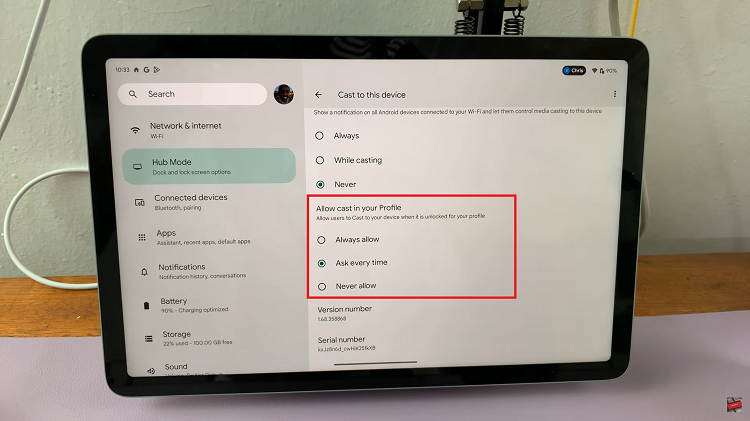 After enabling the 'Ask Every Time' option, you'll likely receive a confirmation prompt. This prompt ensures that you intended to enable this feature. Confirm your selection and embrace the newfound control you have over your casting experience.