The Always On Display (AOD) feature on Samsung Galaxy devices is a convenient way to get at-a-glance information without having to unlock your phone. It shows you the time, date, notifications, and more even when the screen is off.
However, with every innovation comes personalization preferences, and some users might want to remove certain elements from the AOD, such as the fingerprint icon.
In this article, we'll guide you on how to hide the fingerprint icon from always on display on Samsung Galaxy S23's.
Watch: How To Set Screen Lock Type To SWIPE On Samsung Galaxy S23's
To Hide Fingerprint Icon From Always On Display On Samsung S23's
Firstly, open "Settings" on your Samsung Galaxy S23 scroll down, and find the "Security and Privacy" option. Tap on it to access the security options.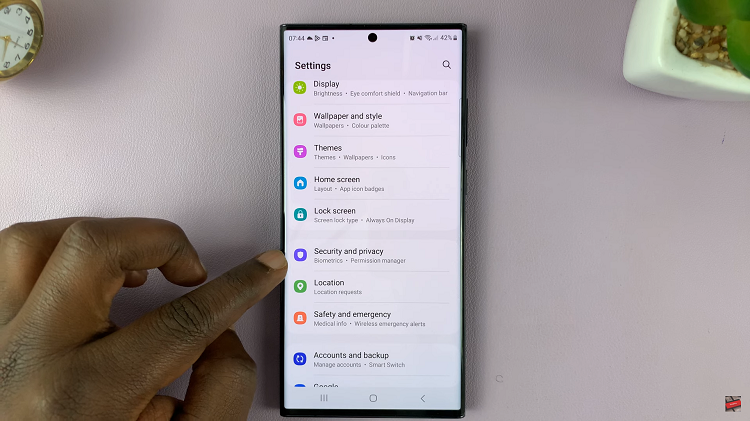 Now, within the security options, scroll down and tap on "Biometrics" and select "Fingerprint." Type in your security lock when prompted then scroll down and find the "Fingerprint always on" option. To hide the fingerprint icon, tap on the toggle switch to the OFF position.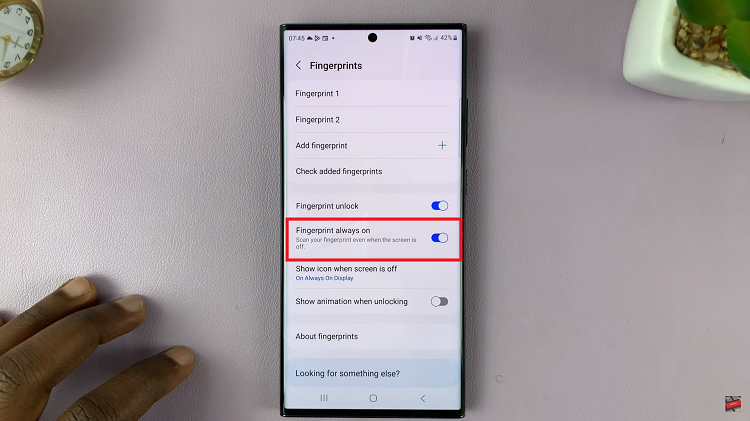 After you've saved your changes, your Always On Display should no longer show the fingerprint icon. Now you can enjoy a more streamlined AOD that displays only the information you find most relevant.
Read: How To Disable Swipe Down To Open Notifications Panel On Galaxy S23's