It is quite possible to disable the swipe-down gesture to open the notifications panel on your Samsung Galaxy S23. Whether it's the Samsung galaxy S23, S23+ and S23 Ultra.
The Samsung Galaxy S23 boasts an array of impressive features that enhance user experience. However, even the most advanced smartphones can sometimes have default settings that don't quite align with everyone's preferences.
One such setting is the swipe-down gesture that opens the notifications panel. If you've found this feature to be a tad too sensitive or intrusive, fret not – we've got you covered.
Watch: How To Disable Grayscale In Sleep Mode On Samsung Galaxy S23's
How To Disable Swipe Down To Open Notifications Panel
Begin by unlocking your Samsung Galaxy S23 and navigating to the home screen. From here, you'll want to access the device's settings. You can usually find the settings app represented by a gear icon, often located in the app drawer or directly on the home screen.
Once you're in the settings menu, scroll down and tap on Home screen. Within the home screen settings, keep an eye out for an option to Swipe Down for Notification Panel. This is the setting that governs whether the swipe-down action opens the notifications panel.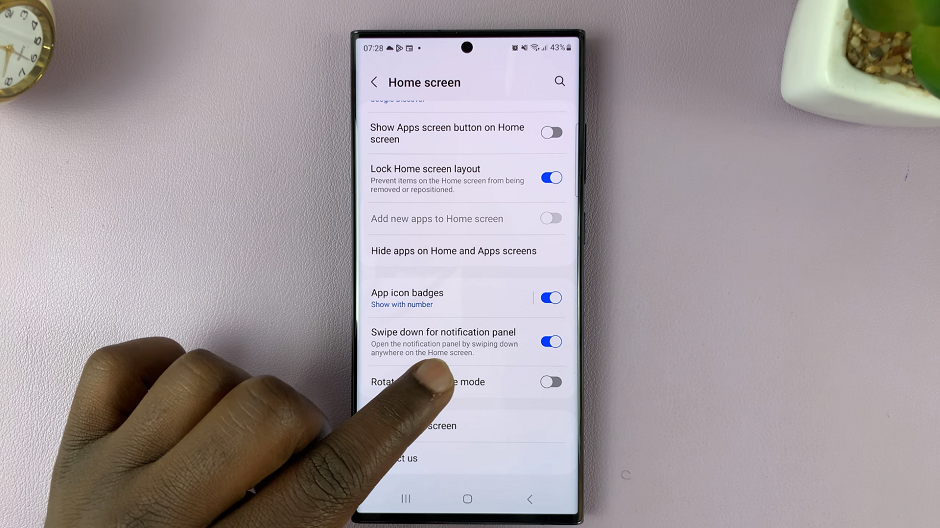 Once you've located the Swipe Down for Notification Panel setting, it's time to disable it. This action usually involves toggling a switch to turn off the option. You're effectively instructing your device to stop interpreting the swipe-down motion as a command to open the notifications panel.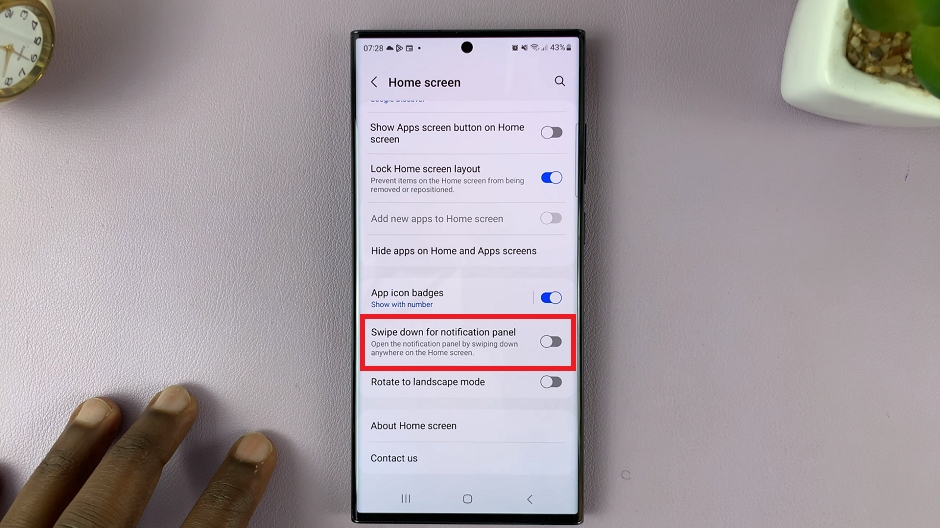 After you've disabled the swipe-down gesture for the notifications panel, your Samsung Galaxy S23 should now refrain from triggering the panel when you perform that specific gesture. Take a moment to confirm that the change has taken effect by trying out the gesture. You'll likely notice a more controlled and customized interaction with your device.
The swipe will now open the app drawer. to open the notification panel, simply swipe down from all the way at the top the screen.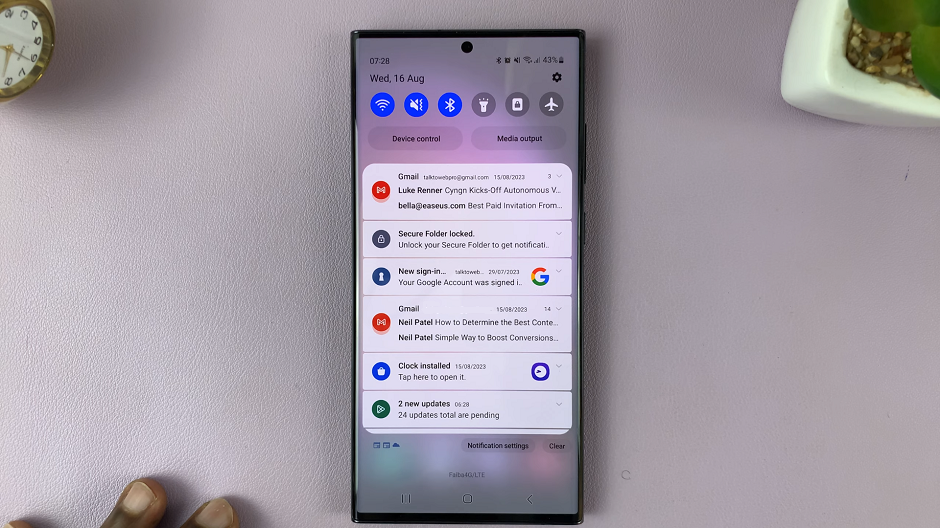 By following the steps outlined in this article, you've gained the power to disable the swipe-down gesture for opening the notifications panel. This minor adjustment can have a major impact on your daily interactions with your device, minimizing accidental notifications and enhancing your overall user experience.
As technology continues to evolve, so too does the ability to customize and fine-tune our devices. With just a few taps and toggles, you've taken a step towards making your Samsung Galaxy S23 truly yours. So go ahead – take control, disable that swipe, and enjoy a more seamless and personalized smartphone experience.
Read: How To Add and Remove Apps Screen Button On Galaxy S23's