There are plenty of websites that can give you the definition of any word and that's great.Sometimes though, you are reading a long article and you don't want to keep opening a different tab to read definitions of words. You just want quick definitions that will not distract your reading process.
The solution for this is browser extensions. The popular browsers like Chrome Firefox and Mac's Safari have extensions that will help you get definitions of words without even leaving the page you are reading.
Google Dictionary is a Chrome extension that does this job perfectly.  Drawing it's definitions from the main Google dictionary, it will define for you a word when you simply double click on it.  The extension is complete with pronunciation if you need it.  A small pop up box appears above the word you double click on with the definition.  Easy peasy!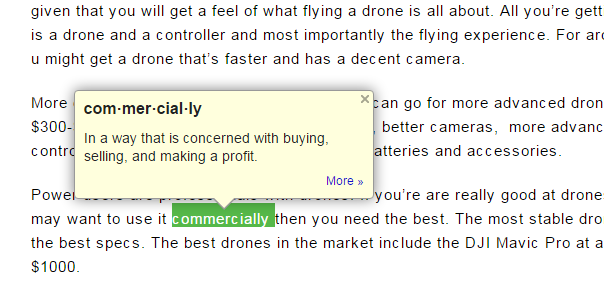 Unfortunately this extension from Google dictionary is only available for Google Chrome users.  But there are equally capable extensions for other browsers.  All you need to do is search for a dictionary extension for your browser.  I have highlighted a few of the best ones below.
Dictionary Pop-Up is a Firefox extension by dictionary.com  This extension will take a few seconds to install on your browser and works just like Google dictionary does on Chrome. Double click on a word and a small box pops with the definition. Like the Chrome extension, you have the option of listening to the pronunciation of the word.
Dictionary is a Safari browser extension. There are not many Safari extensions and this one shows that by being limited in features and ease of use.  But it will give definitions of words when you highlight or double click.
InstaWord for Opera is another one that is not as swift and as easy to use but will get the job done.  It works from the toolbar and gives a more comprehensive report on your search than the others.