There's a plethora of tools and software you can find to do some high quality video editing and trimming. But when you just want to get a clip from a long video you watched, downloaded or shot on a road trip, VLC media player can do this for you.
If you don't have VLC, install it for free from the official website. Once installed, there are two main ways to crop video into shorter clips on VLC. This mainly depends on the accuracy you need and the length of the video clip.
Method 1:
Play the video you want to trim on VLC Media player. Click on view in the VLC menu bar and select 'Advanced settings'. This will add extra controls including a record button.
You can use this record button to record a section of the video playing. As soon as you get to the point you want your clip to start, click on the record button and let the video play until where you want your clip to stop then click on the record button again.

The clip in between will be saved in the 'Videos' folder in Libraries. You can now use the clip to do whatever you wanted to do.
The main downside of this method is that you have to wait for the entire duration of the clip you want to play as VLC records. If you want a 45 minute clip out of a 3 hour video, this method might not be the best for you.  Checkout method 2.
Method 2:
Play the video in VLC and take note of the start time and stop time of the clip you want to crop out of the video. The stop time should be in seconds.(Thank me later)
Then click on 'Media' in the VLC menu bar and select 'Convert/Save'. You can also get there by pressing CRTL+R keyboard shortcut.
Click 'Add'  button and load the video you want the clip from. Tick the 'Show more options' check box.  You'll see extra options.  Enter the start time of your clip in the Start time text box.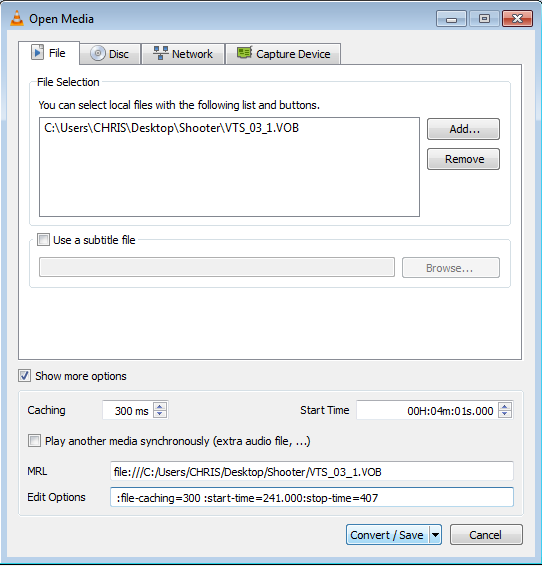 You'll immediately see the time added in seconds in the 'edit options' text box.  But there's no stop time. You'll have to add it manually.  Add (:stop-time=***)  without the quotes where *** will be the stop time in seconds.
Then click on Convert/Save button.  Select where you want to save your cropped video and start the process. VLC Media player will crop any video format it can play. The speed depends on your computer speed.