Most hotels today have hospitality television sets in the rooms. The bigger the hotel, the larger the TV screen and the more advanced it is. The problem is, most of the time you'll leave the hotel without watching the TV unless there's cable which is not always guaranteed.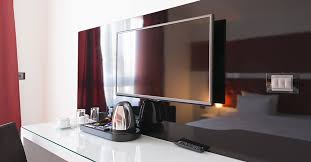 Even with cable you might not get anything to watch especially if you have traveled to a different country or continent. The best way to make use of these hotel TVs is to stream your own media onto the TV. There might be plenty of stuff to watch on your USB stick, YouTube or Netflix but the laptop or smartphone screen just doesn't cut it.
Use Your USB Flash Drive:
When you get to your hotel room, look out for USB ports on the TV.  Most television sets today have USB ports. You can plug in your very portable USB stick into the port and hope the TV will accept your USB stick file system as well as the video formats inside.
This way, you can watch movies and other video on the hotel's big screen TV. If you're a frequent traveller,  you can purchase a 1TB flash drive and carry all your entertainment media in it.
Use Smart TV Apps:
If you're lucky enough to have a smart TV in your hotel room, dig in to find streaming apps like YouTube and Netflix. Hoping the hotel Wifi is fast enough (which isn't usually the case). YouTube and Netflix have a wide range of entertainment media you can enjoy on your hotel's big screen tv.
Cast Your Android Device Screen Onto The TV:
Check if the TV allows casting. Casting feature allows you to mirror your smartphone's screen onto the TV. A combination of this and the hotel's wifi will give you maximum entertainment on the hotel TV. Once you can mirror your screen, you can enjoy all the apps that allow screen casting like YouTube and Netflix.
Carry Casting Devices:
You can carry your own casting devices like the Google Chrome cast, Amazon's Fire TV Stick or the Roku Streaming Stick. The hotel TV does not need to be a smart TV for this. If there's a HDMI port, you're all set. Simply plug the Chromecast or any other streaming stick into the TV's HDMI port and connect to the hotel Wifi.
Then connect your smartphone or laptop to the same Wifi and start mirroring the screen onto the TV. Now you can watch all your favorite Netflix shows or YouTube videos on the hotel TV.
Also watch: Xiaomi Mi Box S Review!