Before I start discussing these video downloaders,  you should know that some websites have policies that prohibit users from downloading videos uploaded to their websites.
As convenient as it is to download a video onto your computer for re-watching,  some of these videos are copyrighted and it is therefore illegal to download and distribute them.
For example:  Downloading a YouTube video is prohibited unless it's your own YouTube video.
So while you are trying out these tools, read the user agreement policies of the video website you want to download from and proceed at your own risk. Here are the free tools you can use to download videos from the web.
There are three main types of video downloaders on the internet.  Applications,  Online tools and Browser plugins. Applications are just software you download and install on your computer to download videos.  Online tools are websites with the download mechanism in the background.  All you need to do is provide the video url and the download will be prepared for you without installing anything.  Browser extensions are installed in the browser and when you start watching a video they will prompt you to download.
Applications:
This is arguably the best video downloder software you can find,  if you are a Windows user.  This software allows you to download video in almost any format you want.  Download speeds are the fastest you can get.  They claim they can download videos in 4K Ultra HD and do it in a very short time.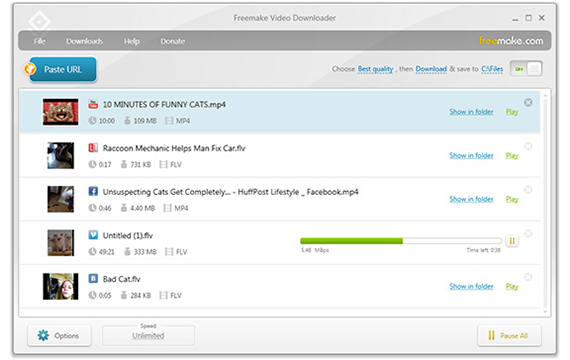 You can download more that one video at the same time. Freemake also allows users to send the downloads straight to a cloud storage service if they wish to.  This software has very many options for the user and it is what makes it among the best , if not the best software on the web for downloading videos.
As expected, freemake will throw in some bundled up programs like antivirus and a forced change to your search engine; Ensure you choose to perform a 'custom Install' to avoid unwanted changes.
For Mac users,  Video Grabber will grab almost any kind of video from the internet for you.  The application is huge but it will do a good job.  Download videos in your desired format and also search for videos via the app.
Online Tools:
There are a couple of good online tools that you can use to download a video if you just provide the url.  The good thing with online tools,  it doesn't matter what platform you're on.
KeepVid  is the best online tool so far.  It supports 28 video sites including all the big guns. Probably the fastest video downloading tool and the option to choose which format you download in.
ClipConverter.cc is also an online tool that goes the extra mile.  It allows you to choose the section of the video you want to download in case you don't ant to download the entire video.
There are plenty more but these two will get the job done so well,  you will not need the others.
Browser Extensions:
Browser extensions are enhancement to your browser that allow you to download videos faster and more conveniently by skipping the step above.  You don't need to open a new tab or window,  the extension will download the video for you.
Video DownloadHelper is an extension available for free to both Chrome and Firefox users.  Although the free version will not let you choose the format to download in, you will still get a good video download in the original quality.
See:  Get High Quality WhiteBoard Explainer Videos for Only $5