You've been playing around with the idea of starting a YouTube channel for a while and now you think it's time! You're not early, but also you're not late.
Creating a YouTube channel is a simple process and even more importantly, it's free. This article will teach complete newbies, previous channel holders, mobile users, e.t.c.
What You Need To Create a YouTube channel
Besides the burning need to create content, all you need to create a YouTube channel is a computer/smartphone, and internet connection. With those in check you can start. It's really not that complicated.
Google Account
To have a YouTube channel, you need a YouTube account. A YouTube account is basically a Google/Gmail account to put it simply. If you have a Google account, it means you have an account for all of Google's services including YouTube, Gmail, Google maps e.t.c.
So to make a new YouTube channel, we will either use your Existing google account or you can create a new one. Creating a new Google account should take you a few minutes.
Go To YouTube.com and Sign in with your google account.
First YouTube Channel
If you have never created a YouTube channel before, this is for you. This is also for people have have preferred to create a brand new Google account just for the YouTube channel.
Simply click on your profile icon in the top right corner and select 'Create a Channel'. In the pop up Window that follows, give your channel a name and click on 'CREATE CHANNEL'.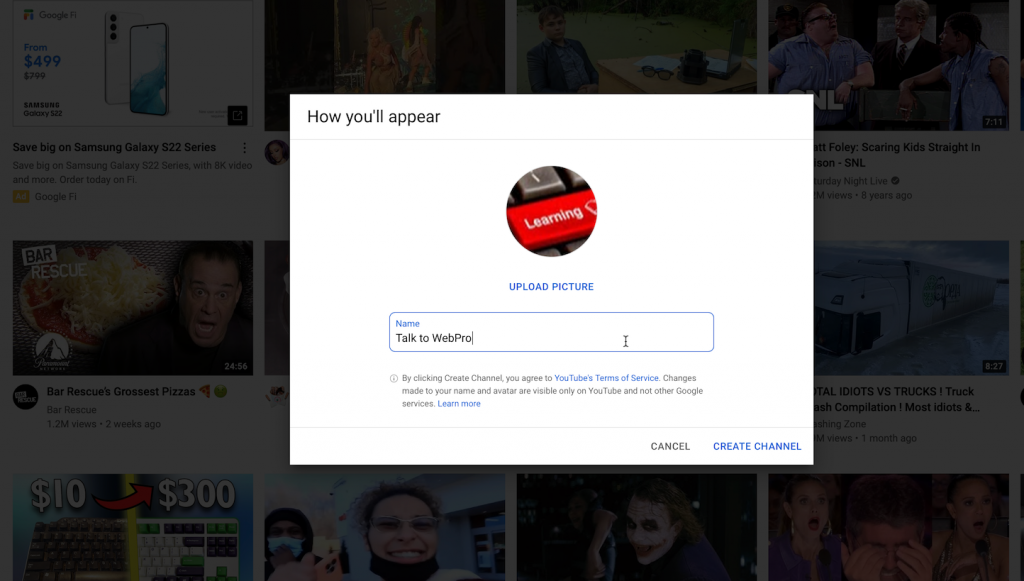 Your YouTube channel has now been created. You can go ahead and customize the channel with a banner image, a profile picture, a description, you can add some links to the channel e.t.c. You can also start uploading videos right away. It's literally as simple as that.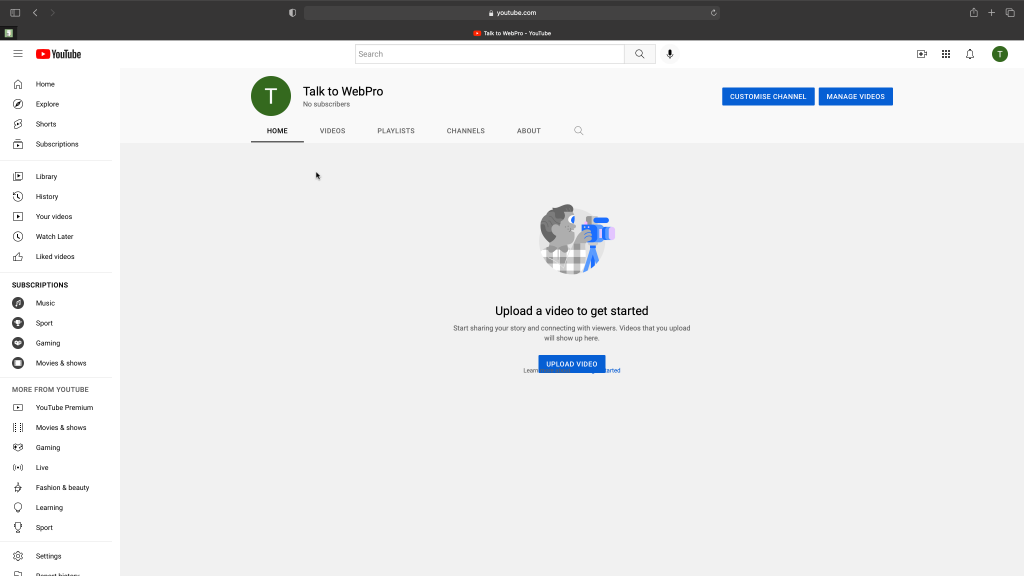 You have a brand new YouTube channel and all you need to do is make it better. You can see your channel by going to Youtube, clicking on the profile icon in the upper right side and selecting 'Your Channel'.
You can also see your stats and your Your channel's back-end info in the YouTube studio. This is where you manage everything in your YouTube channel. To open your YouTube studio, go to YouTube.com (and sign in) then click on the profile icon and select 'YouTube Studio'.
How To Create Another YouTube Channel
You can have more than one YouTube channel on the same YouTube account. I've done it before. This is not complicated but it's a slightly different procedure if you already have a channel on the YouTube account.
Go to youtube.com (and sign in). Then go to youtube.com/account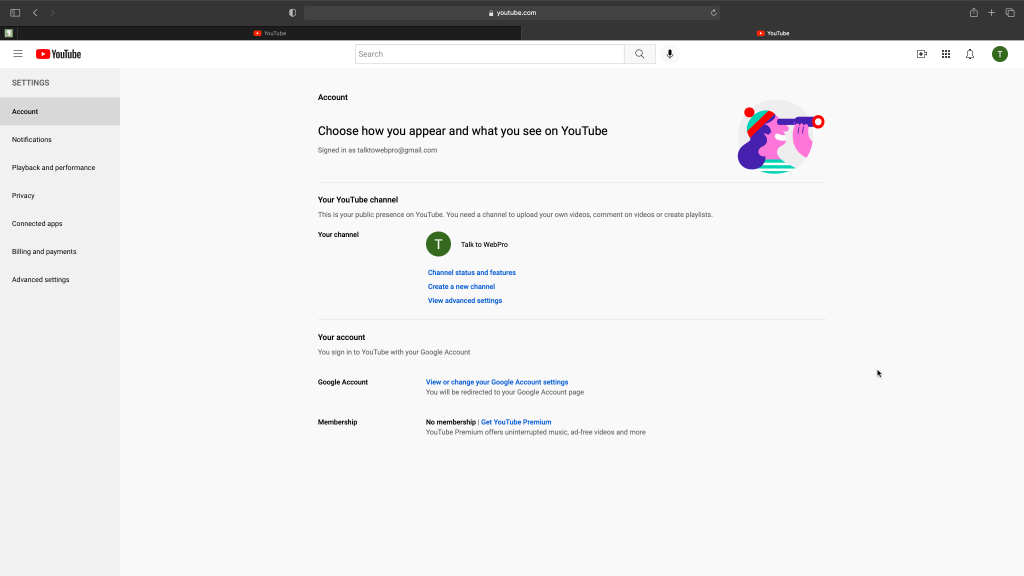 Click on 'Create a New channel'. This will take you through the channel creation process discussed above once again. Give your new channel a name and create it. You can go ahead and customize the new channel they way you want it.
To switch between the two channels, click on the profile icon in the top right, then click on 'Switch Accounts' and select the youtube channel you want to use.
Each YouTube channel is its own entity with its own channel ID, videos, stats, watch history, search history, youtube studio, stream key e.t.c. Just make sure you remember to switch between the two accordingly. You can even add a third fourth…….as many channels as you want on the same YouTube account.
How To Create a YouTube Channel On Phone / Tablet
Using the YouTube application on your iPhone, iPad, Android phone or tablet, you can create a YouTube account on mobile. Simply sign in to the YouTube app, then tap on the profile icon in the upper right corner.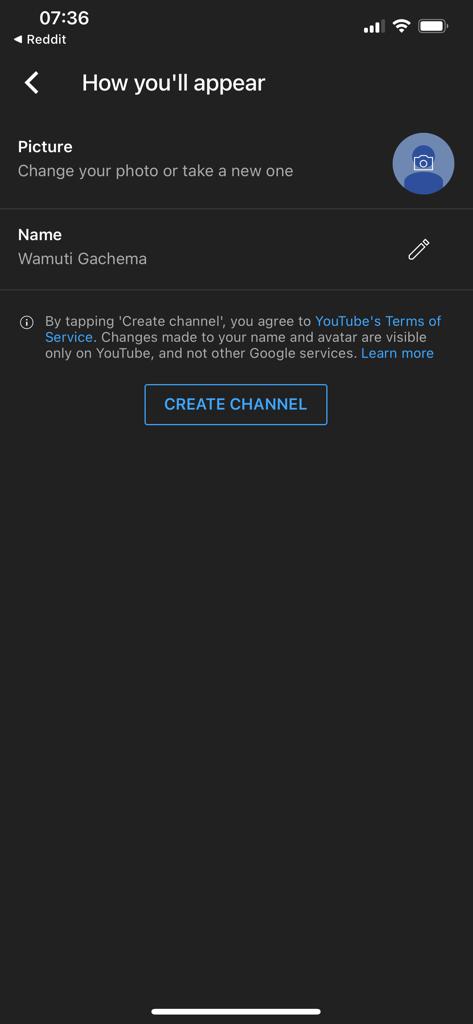 Select 'Your Channel'. Since you have no channel, you'll be prompted to create one. All you need to do is add a profile icon and a name for your new YouTube channel. Then tap on 'CREATE CHANNEL'
Watch: How To Clear YouTube History