When you create a new YouTube channel, YouTube will assign your Youtube channel a unique URL that basically contains the YouTube domain and your channel ID. Your YouTube channel ID is a string of random alphanumeric characters that don't say anything about the contents of the channel.
You may want to change your YouTube URL to a custom one if you are looking for brand consistency or for your channel to stand out. A custom YouTube channel URL.
Can You Create a Custom YouTube URL?
For you to become eligible for a custom URL, you need to have at least 100 subscribers, your YouTube channel needs to be at least one month old, you need to upload a photo as your channel icon and you need to upload channel art.
Once you are eligible for a custom URL, you will get an email notification, there will be a notice in your Advanced Account settings plus you may also get a notification in your Creator Studio dashboard. You need to be sure of the custom URL you want since once you create it, you cannot edit it.
How To Change Your YouTube URL | Create Custom URL
Sign in to your YouTube account and navigate to your Youtube studio page by clicking on your profile icon and selecting 'YouTube Studio'.
On the YouTube Studio page, select 'Customize'. from the left hand side panel. On the Customize page, click on 'Basic Info' and that will take you to the page with your YouTube channel's basic information.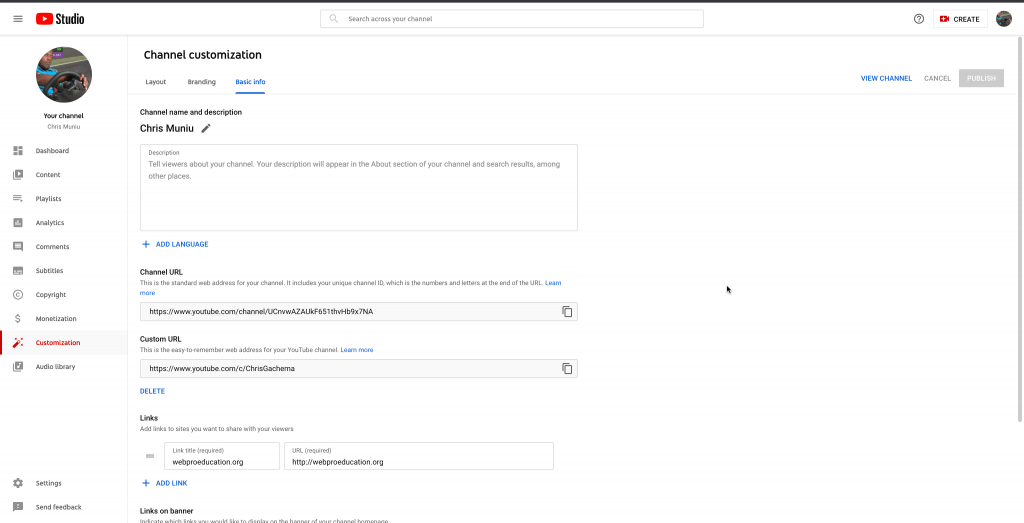 Under Channel URL, click Set a custom URL for your channel. You can choose the suggested custom URL based on your channel name or add extra letters or numbers to make your custom URL unique. Click PUBLISH, then Click CONFIRM to confirm your custom URL.
If you had already created a custom YouTube channel URL before, you'll see it there and you'll not be able to change it unfortunately.