In today's world, losing your contacts list is worse than losing your smartphone. If you lose your phone and all the important contacts in it, your businesses and hustle could come to a grinding halt;  at least for some time.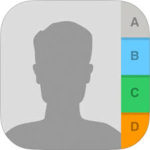 Backing up your contacts and other data on your cell phone is always a good habit. When you back up your contacts, you don't need to worry about losing your phone or acquiring a new one. Good back up solutions will automatically restore your contacts on a new phone.
There are different ways you can back up you contacts. This mainly depends on what device you are using and what you intend to do with the back up. The best back up practice for me, is the continuous back up.
With a continuous back up,  you' don't need to be saving a copy of your new contacts since you last backed up. All contacts will be backed up in real time.
Back Up iPhone Contacts as You Save:
iPhone and Android users have Apple ID and Google accounts running their smartphones respectively. You can have contacts backed up to iCloud and Google contacts as you save them.
On iPhone, tap on the settings icon and scroll to 'iCloud'. If you haven't logged in to iCloud, you'll be prompted to. You can log in with your Apple ID. Slide "Contacts" to the "On" position. When "Contacts" is first enabled, your iPhone contacts will immediately be synced with your iCloud account. Any new contacts you add will synchronize across all of your connected devices.
The contacts can be accessed from any phone and on the iCloud website at any time.
Back Up Android Contacts
For Android users, chances are,  you have already logged in to your phone with your Google account. The Google account provides a very safe back up for your contacts. It's a Google product called Google contacts.
You can start by copying all the contacts in your phone memory and sim memory into your Google account. Open the contacts App.  Tap on the menu in the upper right side and select 'Import/Export'.  Copy contacts from your Phone or Sim into your google account.
Choose Google contacts to be displayed by default in the contacts app. From now on,  you'll be saving your contacts to your Google account directly. Every time you are saving a contact on an Android phone,  you have several options.  You can choose to save the contact in your phone,  Sim,  Google account,  e.t.c. Choose your Google account. And leave it as the default.
All your contacts will be saved in your Google account and you can access them from your PC at contacts.google.com. This will nullify the need of performing periodic back ups of your contacts.