IMEI number is a unique 15 digit serial number on every mobile phone. IMEI stands for International Mobile Equipment Identity. This number is used to find information about a phone. If your phone is lost, you'll need to report to the authorities using the IMEI number for tracking.
The IMEI number is right there on the phone and should be saved somewhere accessible in case the phone is lost or stolen. Dialling *#06* will display the IMEI number of any phone. It can also be found on the battery if the phone has a removable case. In your phone's 'About Phone' information, you will also find the IMEI number.
Lost Phone:
If your Android phone is lost or stolen, then you cant get the IMEI number fro the settings or by dialling *#06#. First of all, look for the packaging you bought the phone in. If it's not available or too far to find, get to the nearest computer and sign in to your Google account.
Sign in to the Google account you were using on the phone before it got lost/stolen. Then go to the google.com/settings page. Click on the Android icon and you will see a list of all the Android devices connected to your Google account.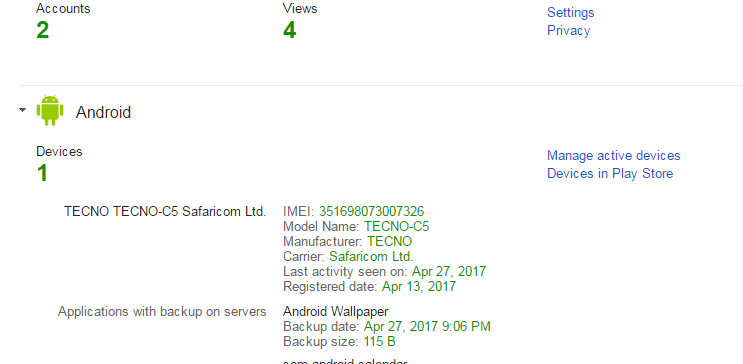 Identify your lost phone and record it's IMEI number. You can now use this IMEI number to report about the missing phone.