More often than not you have multiple apps that can perform the same function on your Android device and you will always be prompted to use one of them when you tap on a shortcut.  e.g. If you have more that one browser on your device,  you will be prompted to choose one when you tap on a link.
If you don't want to keep getting prompted, you can select one of the apps for a particular action as the default app.  In older versions of Android, there was no obvious way of setting, removing and changing default apps.
Although there was a workaround, some people preferred to use third party applications from the app store to manage their default apps.
With Android 6 marshmallow,  managing the default apps on your Android device has never been easier.  This Android version comes with its own built in default app manager.  You can set and change the default apps for any action right from your settings.  How cool is that?
How To Use The Default App Manager in Android 6 :
Tap on your Android menu and select 'Settings'.  On the settings page,  tap on 'Apps'  or 'Applications'.
Tap on the menu in the upper right corner and select 'Default Apps'.  Select which action you want to choose a default app for. (usually browser,  phone or SMS).  Then select the default app.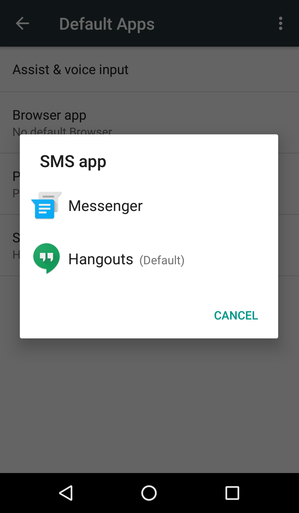 It's a pretty straight forward feature. One of the 'under the hood' features that Google has been working hard on to make the Android platform better and better every year.  If you have Android 6 Marshmallow,  go ahead and give this feature a shot.  Let us know in the comments.