Instagram is always adding new features to the already very robust and useful Image sharing platform. IGTV was already a huge step forward in trying to compete with YouTube in the online video space but it didn't quite pick up like we expected it to.
Now Instagram has something new and this is exciting! You can now add music to your Instagram stories without any copyright infringement implications.
This feature allow you to choose from thousands of songs in its library and add them to your Insta stories; whether they are images or videos. So you can easily choose the song or track that fits the mood of your story.
 How To Add Music To Instagram Story With Sticker:
To make sure you have this feature,  update your Instagram app to the latest version. Then once you've taken a photo or video, tap the "Stickers" button at the top of the screen. Look for the 'Music'  sticker and select it.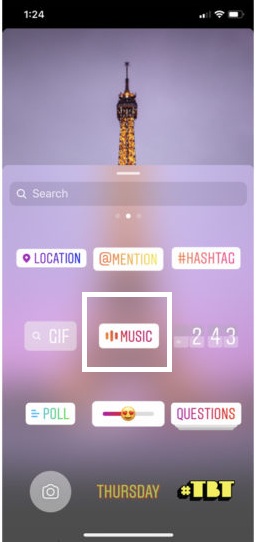 This will open a library of thousands of songs. Select the song you want on your story.  You can even play a preview before adding it to your story.  You are allowed to choose the exact part of the song you want in your story.
You can also choose a song before capturing your video or photo. Just swipe to the new "Music" caption under the record mode when you're in the Instagram Stories camera. Then choose the song you want to go with your Story.
How To Add Music To Instagram Story Without Sticker:
This is a relatively new feature and it's rolling out in phases to users across the world. Chances are,  you have updated your app but you still can't find the feature. While you wait for it to be available to you, you can use third party software to add music to your videos or pics before posting them to your stories.
These will work but you might get copyright infringement notifications and penalties. If you can,  wait a few weeks until the update with the Music sticker is available for you.
Also Read: How To Download Instagram Photos and Videos