In this gadget era, there are very many computers and devices around us, all of which you can use to log in to your Facebook account. It's therefore very easy to leave your Facebook account logged in on a device you didn't intend to.
Maybe a borrowed laptop or tab or a computer at a cyber cafe you left in a hurry. All these situations leave your Facebook account and all the information in it vulnerable to prying eyes.
Fortunately, Facebook has a way of solving this problem. You can log out your Facebook account on any device remotely. As soon as you realize you forgot to log out of your account somewhere, you can find the nearest computer wherever you are and log out all other logged in sessions of your account.
How To Log out of Facebook Remotely  :
Sign in to your Facebook account preferably on a desktop computer. Navigate to your Security settings page. At the bottom of that page,  click on the 'Edit' button of 'Where You're Logged In'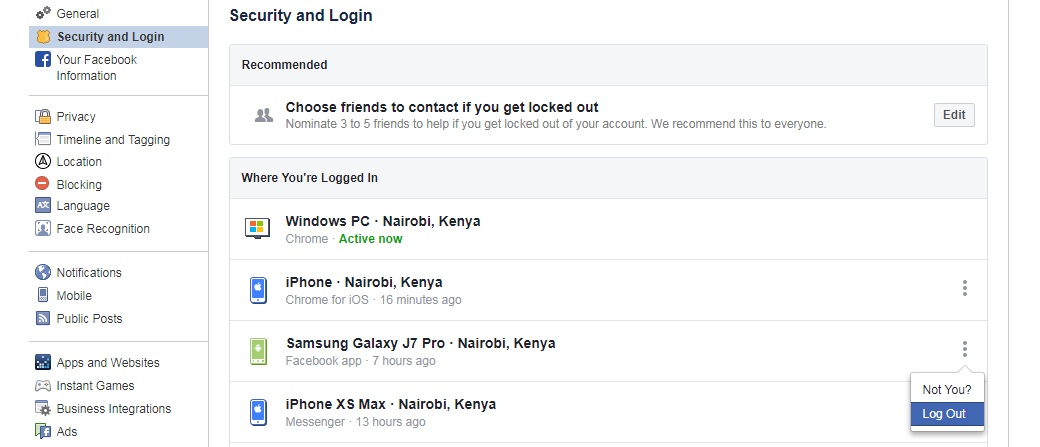 You will see a list of all the active sessions of your Facebook account. You will see the approximate area, the device type and the date and time of each session. It's easy to identify where you forgot to log out. Even the Facebook app and messenger sessions will be listed.
To log out of any session, click on the 'End Activity' link next to the session. That particular session will be remotely logged out.
Extra Safety Pointers!
If you saved your password on the browser, then someone else might still be able to log in to your account.
If you don't see the session you are looking for in the list, then Facebook might be taking sometime to update the record.
If you have any of these problems or are unsure of anything, the most effective and sure way of making sure nobody accesses your Facebook account is to Change your password.
When you change your facebook password, all sessions logged with the old password will require the new password to stay logged in.
Also Watch: How To Log Out of Facebook Messenger On Android