Amazon is a great place to shop just because of how easy it is to browse through, search for products pay and have them shipped to you. If you really want something and you're low on cash, the natural thing would be to put the purchase on a credit card.
But this often comes with exorbitant interest rates from your bank which subsequently makes the purchase more expensive. Amazon has a solution for this. You can buy selected products on a 5 month Amazon payment plan with 0% interest.
While the price remains exactly the same, the burden to pay is spread out in five equal monthly installments. If you've been buying products on Amazon for a while, then you might have already received an invitation Email from Amazon.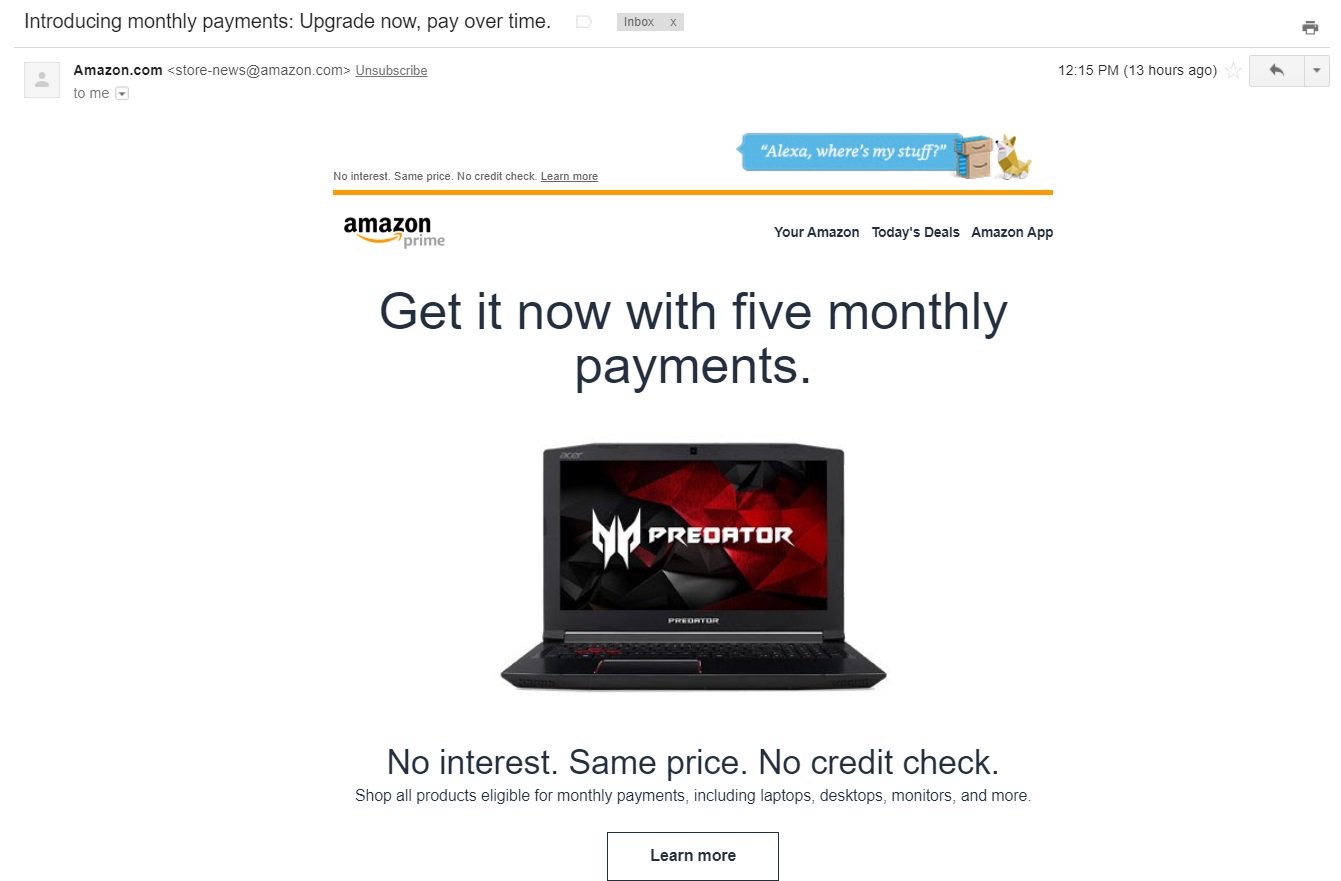 image credit: www.destructoid.com
It's not clear how many people Amazon is going to invite to this program but they laid down the basic qualification criteria which lock out a lot of people who use amazon. But it's still early days and I definitely expect the service to be available to more people with time.
The new Amazon payment plan is targeting pricey products especially in the Computers(See On amazon)
, laptops(See On amazon),  tablets(See On Amazon) and related categories. So now you don't have to be intimidated when you see a $2000 gaming PC(See On Amazon) for sale. If you're a responsible Amazon shopper, you might have the opportunity to pay $400 for the next 5 months. The product will be shipped as soon as you make the first installment. It's up to you to make sure there's money in your credit/debit card for the automatic monthly payments.
With a service like this, Amazon is obviously taking a big risk and no wonder there is a very strict qualification criteria and T.O.S. The main ones being:
You must be a resident of the United States.
Your Amazon account must have been active for at least one year. (The more the better)
You must have a good shopping and payment history
You must have a valid credit/debit card linked to your amazon account.
Even with qualification, not all the products are available for Amazon 5 monthly payments plan.
You get the idea; it's not for everyone. Here is a full list of the Monthly Payments Terms & Conditions for your troubles.
Also Read: Here's Why You Need a Laptop Stand!