There is no doubt that the growth of laptop usage in recent-times is enormous, and has subsequently sparked a growing need for a laptop stands. The conversation has now moved from 'Why You Need a Laptop Stand' to 'What Laptop Stand is best for me?'
Different people use their laptops differently and therefore they need different kinds of laptop stands. And whoever you think you are and what you want from a laptop stand, there is one for you.
Whether you're looking for sturdiness, portability, aesthetics or even adjust-ability there is one for you. In this particular segment I'll be looking at the best adjustable laptop stands for you.
What is an adjustable laptop stand?
Now, what is an adjustable laptop stand? Laptop stands already create a better Ergonomic laptop set up as the are. An adjustable laptop stand is one whose height you can vary to fit your exact needs.
This is obviously much better that simply buying a laptop stand that has a fixed height to which it lifts your laptop. If you prefer exact Ergonomics, then you need an adjustable laptop stand.
These laptop computer stands have a lever with which you can adjust the height to which the laptop is lifted to suit you. These levers can either be manual or motorized; Of course at different prices.
Why do you need an adjustable stand?
You already know why you need any basic laptop stand. But here are reasons you might specifically need a laptop stand whose height is adjustable.
If you're very particular about your Ergonomics and you just don't want to buy a laptop stand that simple improves. If you want to be in total control of the height at which your laptop sits, then you need a laptop stand.
People who have abnormal height might also require an adjustable laptop stand. If you're taller or shorter than most people, you should consider this option to avoid buying a stand that either fixes your laptop too high or too low.
If you share your laptop stand with other people, chances are you're not all the same height. So the need for an adjustable laptop stand in this case is a no brainer.
Difference between adjustable and fixed laptop stands?
Fixed laptop stands ill raise your laptop to a particular height and that's just about it. They improve the Ergonomics of the laptop set up a great deal. But since the height is not adjustable, you can not tweak the height to suit your exact exact needs like you can with adjustable laptop stands.
Adjustable laptop stands are also more expensive than the sturdy fixed laptop stands. This is mainly because of the extra mechanics involved i making them.
Fixed laptop stands generally are more durable than the adjustable ones. This is obviously because the adjustable laptop stand as more moving parts as opposed to the sturdy fixed structure of the fixed laptop stands.
List Of The Best Adjustable Laptop Stands
Here are some of the best adjustable laptop stands we picked out for you. Considering price, portability, design and general versatility of the laptop stands.
Tiny Tower Laptop Stand
The tiny tower laptop stand is the ultimate high end desktop laptop stand. It's a stylish stand made from a combination of aluminum and engineering grade plastic composites ensuring that it is strong and Stable.
The name might make you think it's a tiny laptop stand but that's far from the truth. It's actually one of the larger laptop stands we have reviewed in this piece. Minimum height is about 7″  and it will raise your laptop up to 10.2″ above the surface it's placed on.
The stand height is adjusted by the push of a button. It moves to 7 different heights between the minimum and the maximum.
Even as huge as this laptop stand  looks,  it can be folded almost flat and slipped into a carrying case for easy and convenient portability.  This stands not only checks the boxes for functionality, adjust-ability and portability, it also stands out due to the premium material it's built with and the general aesthetics.
It's pricier than most adjustable laptop stands for sure. If money isn't your object, then you need to check this out.
Soudance Adjustable Ventilated Laptop Stand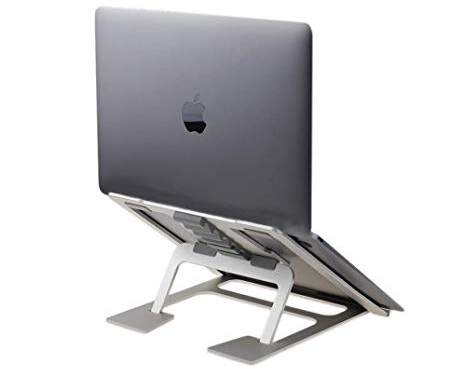 No doubt. this is a high quality product. It prides itself has one of the best adjustable laptop stands. This is a stand that can suit any laptop size. It is a must-have laptop stand. Let's look at the features that condition Soudance Adjustable Ventilated Laptop Stand to be among the best adjustable laptop stands:
Ergonomics: This is very comfortable for every laptop user.it enhances reading capability. Also, protect your neck from pain
The rubber pads protect your laptop from scratches and damage.
Soudance laptop stands are adjustable, movable and foldable.
It is very portable.it can be moved from one place to the other.
It ventilated laptop stand enhance laptop performance.it ensures the laptop is cool at all times to avert overheating.
Rain Design iLevel 2
This is the best laptop stand money can buy according to a poll conducted in the office. The Rain Design iLevel 2 checks most of the boxes for the pillars of a good laptop stand. It's a well built, sturdy aluminium laptop stand. At first glance you'd think it's made for Mac books because of the color scheme but it's usable with just about any laptop out there.
It makes it to this list because of it's adjustability among the other qualities it has. It's slightly cheaper than the other two. But it presents a portability challenge because of it's sturdy structure.
SMONET Desk Riser Height-Adjustable Stand
This is another one that's not portable but has a high level of adjustability. It's a sturdy metallic frame which automatically indicates durability. It's big enough to carry a dual monitor set up.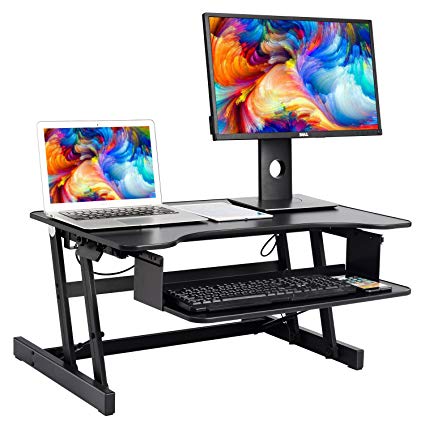 It's mostly designed to create a standing desk set up on an already sit oriented desk. So it also comes with a keyboard/mouse plate holder.  If you want a standing set up on your sitting desk,  this one is for you.