It's not a secret that laptops are growing in popularity. These portable computers have become so powerful and advanced that they are replacing desktop computers as full time work stations in our offices and homes; hence the growing need for a laptop stand.
A laptop stand is an essential accessory for anyone who uses a laptop for many hours. A laptop stand will help you avoid neck pains and back pains and head aches associated with using laptops for long hours.
Why You Need A Laptop Stand!
In the general design of a laptop, the screen and the keyboard are attached to each other in this dictates how you sit when using it. Think about how you sit when you are using a laptop. Because the screen and the keyboard/mouse are so close together, you either have to hunch forward or crane your neck to use it.
It's an Ergonomic nightmare and will most definitely result in back pains and neck strain if used for prolonged periods of time. ………Read more
Choosing A Laptop Stand To Buy:
There exists different types of laptop stands for different people in different situations and circumstances. We went out of our way to check out the best laptop stands for you depending on what works best for you.
Among the factors to consider are functionality and design. Some are fixed, some are adjustable in height, some swivel on the base,  some are portable and some just look good!
If different people with different heights use the same laptop stand, then you should get one with an adjustable height.  If you need to carry the laptop stand everywhere you go with your laptop, or just between your office and home,  then you should look at portable laptop stands.
A laptop stand also needs to look presentable because it will be sitting on your desk for as long as you need to use your laptop. The price of a laptop stand will also play a key role in deciding which one to buy.
The Best Laptop Stand [Overall; Editors Pick!]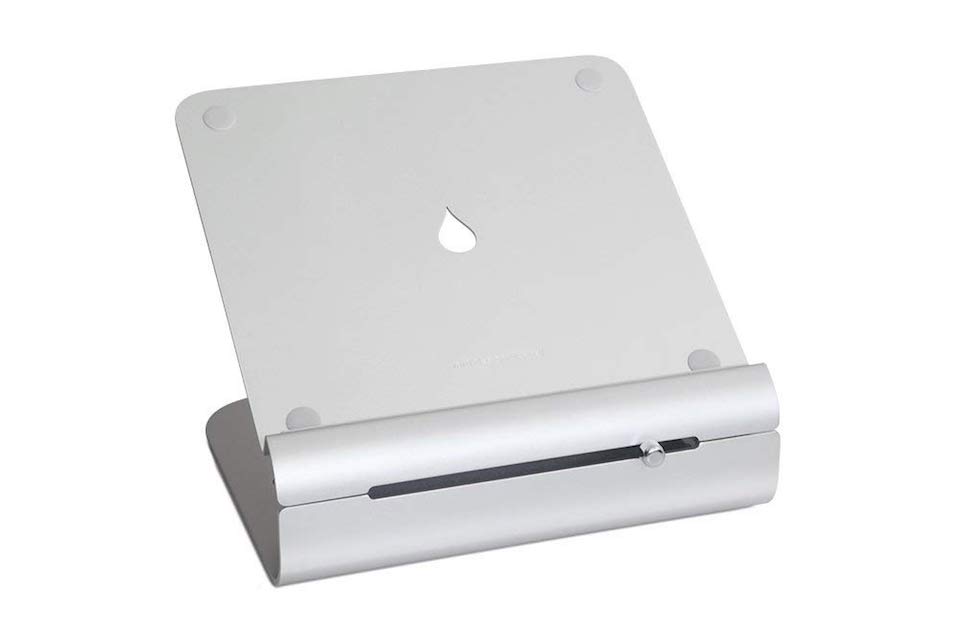 This is the best laptop stand money can buy. The Rain Design iLevel 2  checks most of the boxes for the pillars of a good laptop stand. It's a well built, sturdy aluminium laptop stand. At first glance you'd think it's made for Mac books because of the color scheme but it's usable with just about any laptop out there.
It's very easy to set up and start using. One if it's most admirable features is the height adjustment knob that will tilt the laptop platform upwards when pushed to the right. The knob adjusts your laptop between 6 and 7.5 inches above your desk. (of course this will vary slightly from laptop to laptop). Pushing the knob right and left helps you find the perfect height for you.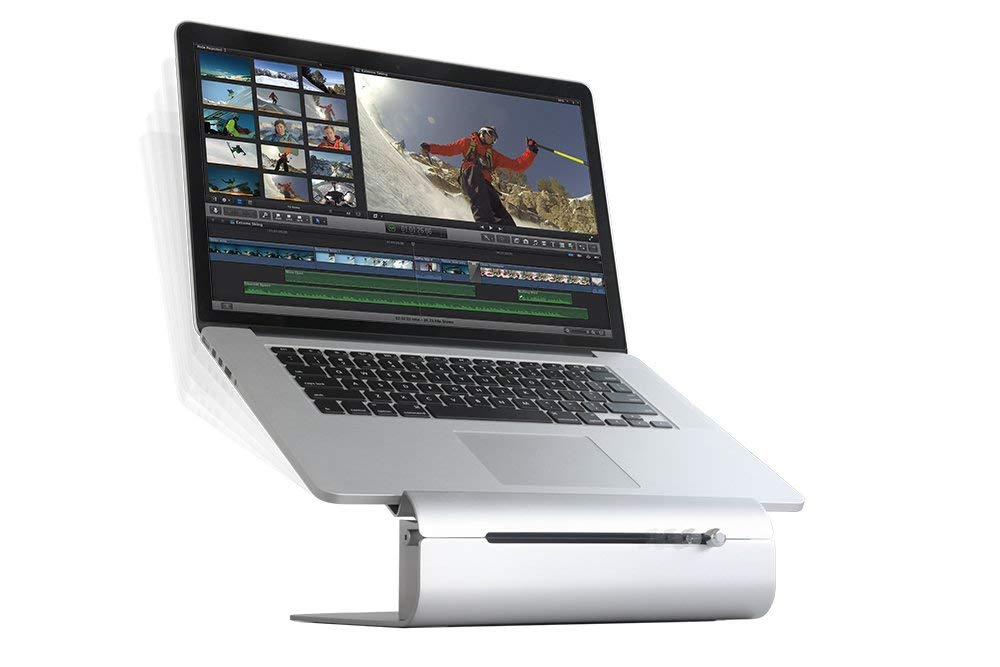 There are rubber pads at the bottom of the stand to protect your desk/table from scratches as well as on the platform to protect your laptop. The aluminium material that's made the laptop stand helps to dissipate heat from your laptop while you use it.
The only drawback we noticed was slight wobble when the heavy 15″ laptops were placed on it. The wobble resonated mostly from slight wobbling of the desk itself though but it could still hold even the heaviest laptop.
The Best Portable Laptop Stand:
Even for all the good things we said about the best laptop stand, it's not exactly designed to be one you can easily carry around in your back pack or laptop bag. If you move around different work places e.g. between your work office and your home office, then you might need a portable laptop stand.
Portable stands serve the purpose of a regular laptop stand but go the extra mile of being able to fold and fit into your laptop bag or laptop backpack.  There is a wide array of portable laptop stands we looked at but this is the one that won our hearts.
Roost Laptop Stand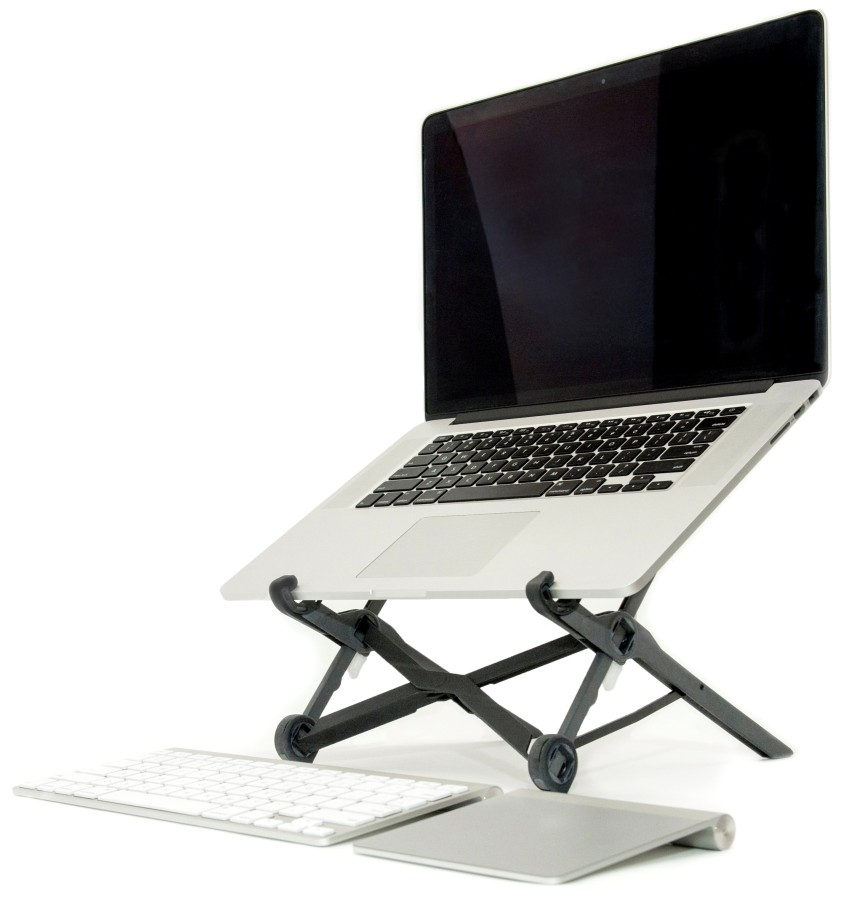 The Roost laptop stand (See On Amazon) combines the qualities of a good laptop stand with portability. is specifically designed to be easily carried around in your laptop bag. It's quite easy to open it up and start using; and it's equally easy to fold it up into the size of two snicker bars.
The stand weighs just a third of a pound which is great for portability but it might have you questioning it's sturdiness and durability. But it does carry even the 5 pound 15″ laptops steadily and firmly. The four legs have rubber pads at the bottom to minimize sliding and scratching the surface it's placed on. The laptop grips also have rubber coating to prevent the laptop from sliding off.
Adjusting the height of this stand is a two handed task. All you need to do is press the white latches with your index fingers and either gently press it down or lift it up. This can be done with the laptop on board and the range of height is between 7¾ and 9½ inches above the desk. So clearly this option also favors taller people.
The Roost laptop stand is a robust accessory that will hold any laptop you can throw at it. So if you frequently move with your laptop and you'd like to carry your ergonomic set up with you, this is the best laptop stand for you. The only drawback is that it's comparatively pricey. There are obviously cheaper alternatives out there but this is the best portable stand we found.
The Best Fixed Laptop Stand:
If you prefer sturdiness above all other qualities in a laptop stand, then we also have a pick for you. The best sturdy laptop stand that money can buy.
Rain Design mStand360 Laptop Stand (

See On amazon

)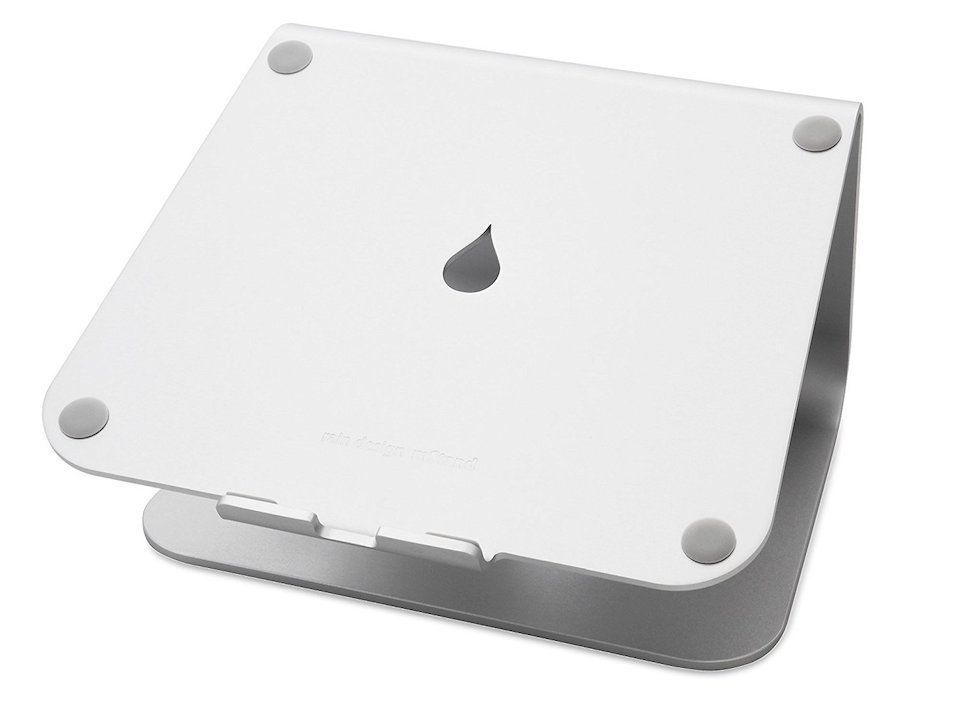 It's another one from Rain Design but this time there is no adjusting the height. The mStand raises the back end of a laptop to a fixed 5¾ inches off the desk which should work well with most standard desks.
The whole stand is made out of a single piece of aluminium which is why this stand is very sturdy and rigid. It also gives it a neat minimalist design that's great for almost any desk or office setup. Also originally designed for Apple Mac books, this laptop stand can work with just about any laptop.
It has a hole at the front that should help with cable management especially if you use a wired keyboard and mouse together with the stand. It comes in three colors; silver, gold and space grey if that matters to you.
The aluminium platform has rubber pads in the four corners to protect your laptop from scratches and also at the bottom of the stand to protect your desk. The aluminium body also acts as a heat sink by helping to dissipate the heat coming from your laptop if you use it for long hours.
The bottom of the stand can swivel a full 360 degrees in case you want the laptop to face a different direction or you want to show your screen to others. But it remains stable and safe on the surface it's placed on due to the rubber padding at the bottom.
This is the one that stands out in all the fixed laptop stands our team surveyed. It's a sturdy, firm, fixed, functional and relatively cheaper laptop stand than the ones's I've discussed above. The only downside is that you might buy it and find out it's not sitting at the exact ergonomic height you wanted.
The Best Laptop Stand Under $20
The cheapest laptop stands costs $0. That's the DIY laptop stand you can create in your office or home with old books stacked together to raise your laptop's screen to the desired height. Of course you'll still need to buy an extra keyboard and mouse. Alternatively, you could go for the best budget laptop stand we found.
 AmazonBasics Ventilated Adjustable Laptop Stand (

See On Amazon

)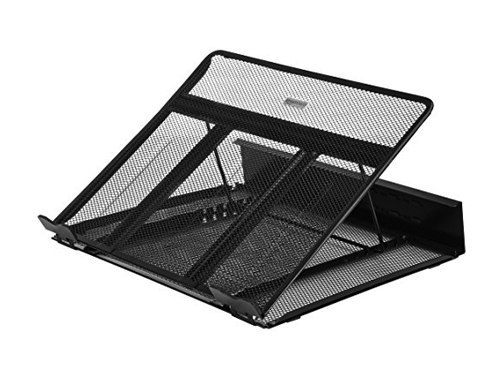 This is an Amazon's choice laptop stand that will set you back only $19.99. It's obviously not trying to blow all the bells and whistles of a high end laptop stand, but it does check out as a fully functional daily use laptop stand.
The platform that holds your laptop is a mesh. It's not pretty but it does  ensure plenty of air flow all around your laptop. The whole thing is made of metal so you can expect sturdiness and durability.
The stand is adjustable in height from around 2″ to 7.5″ which should be convenient for most people.  Also, different people can use the laptop stand with no issues.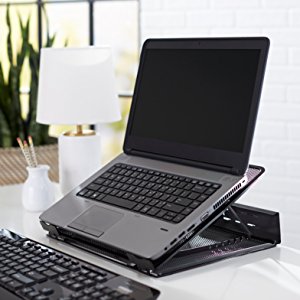 It also has plenty of room at the back coupled with a cable organizer to keep the unsightly cables off your desk. The stand is also portable because it gets slim at minimum height although not small enough to fit in a laptop bag.
This stand stood out for us in a long list of Laptop stands under $20 on Amazon. It seems to subtly check the pillars of a good laptop stand that matter.
The Best Adjustable Laptop Stand:
When it comes to adjusting the height of your laptop, you have many adjustable laptop stands that can get the job done but there is one that stands out from the rest because of it's exceptional design and adjust-ability.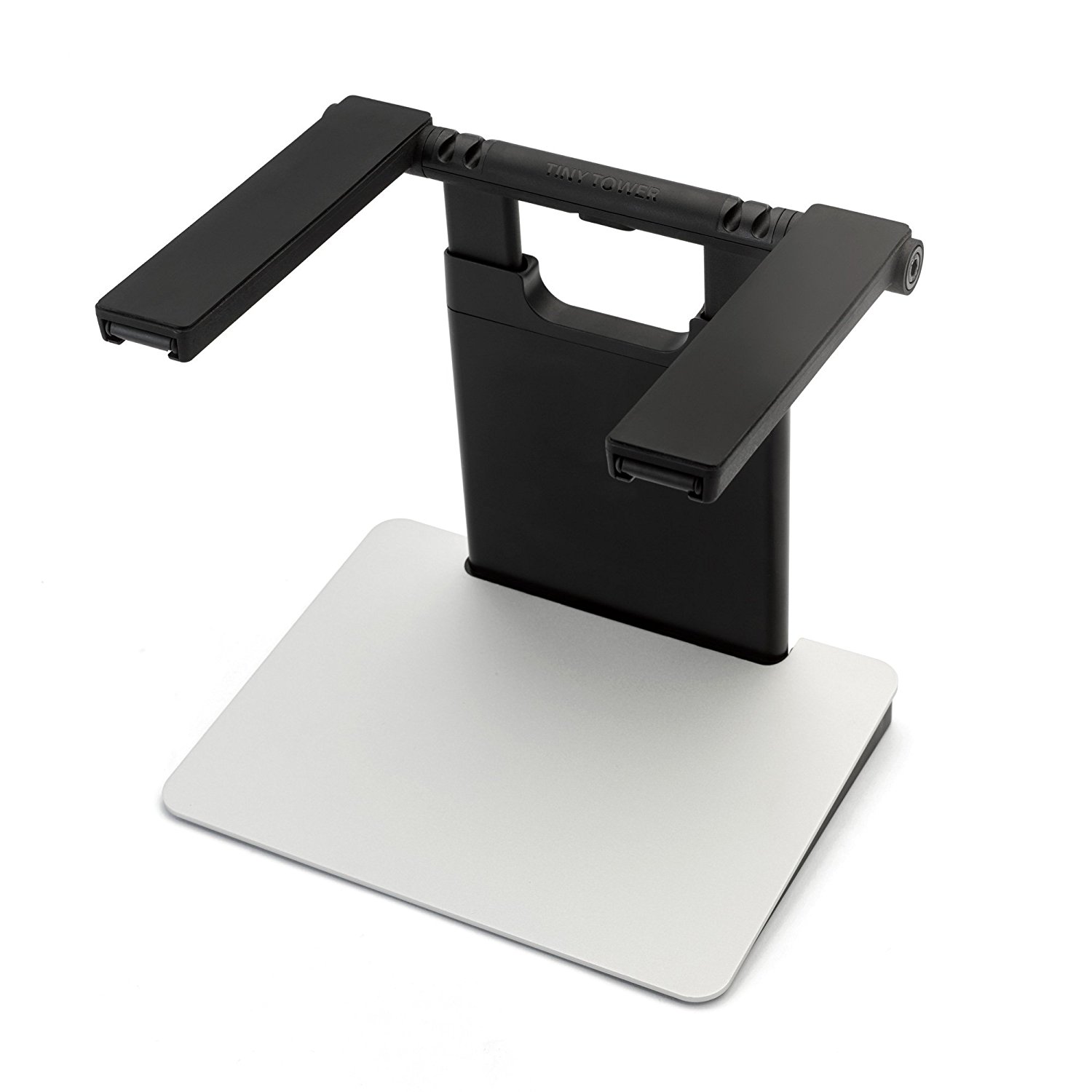 The tiny tower laptop stand is the ultimate high end desktop laptop stand. It's a stylish stand made from a combination of aluminum and engineering grade plastic composites ensuring that it is strong and Stable.
The name might make you think it's a tiny laptop stand but that's far from the truth. It's actually one of the larger laptop stands we have reviewed in this piece. Minimum height is about 7″  and it will raise your laptop up to 10.2″ above the surface it's placed on.
The stand height is adjusted by the push of a button. It moves to 7 different heights between the minimum and the maximum.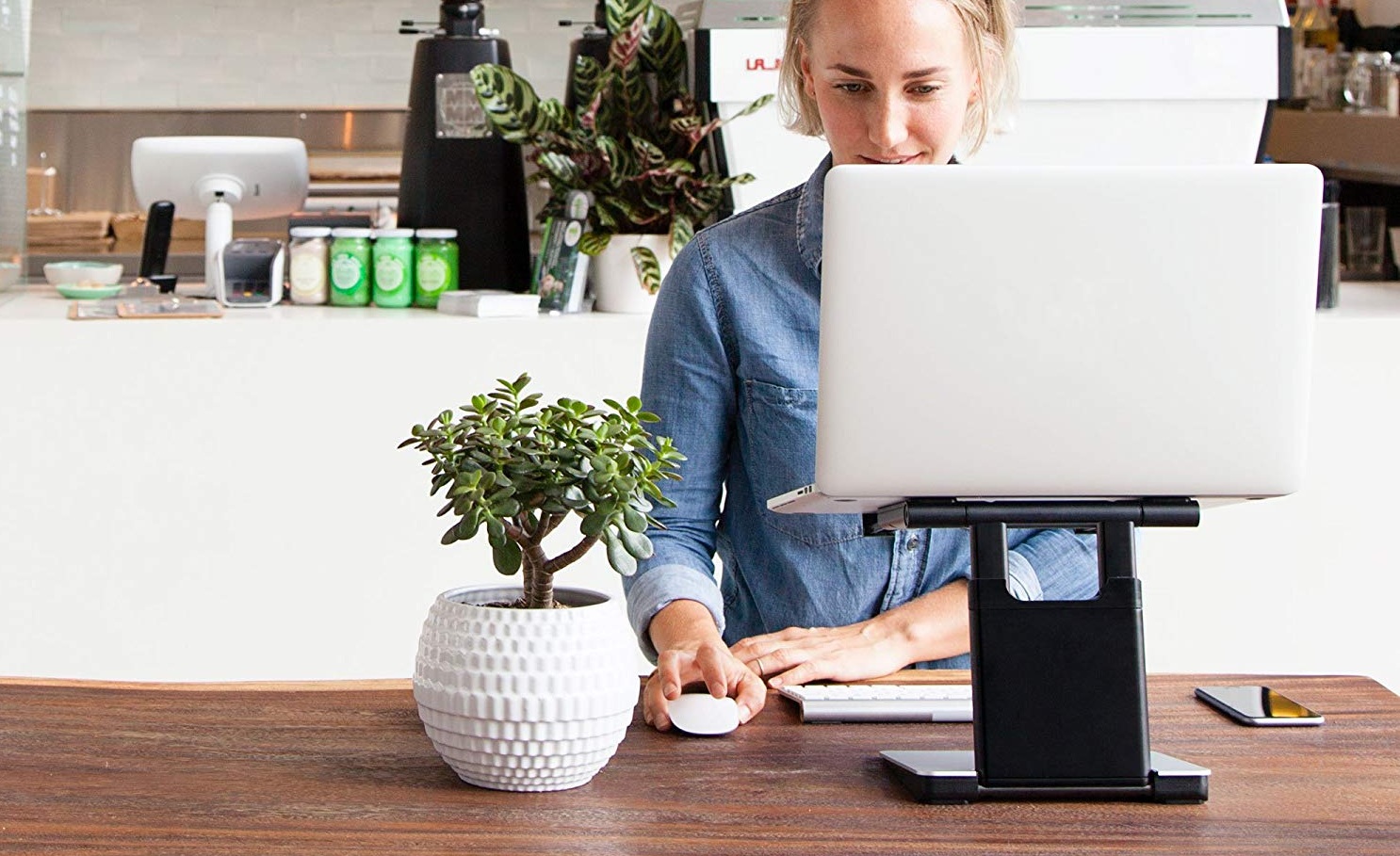 Even as huge as this laptop stand  looks,  it can be folded almost flat and slipped into a carrying case for easy and convenient portability.  This stands not only checks the boxes for functionality, adjust-ability and portability, it also stands out due to the premium material it's built with and the general aesthetics.
It's pricier than most adjustable laptop stands for sure.  If money isn't your object, then you need to chek this out.
Best Laptop Stand For Your Bed:
One of the comforts we have had with portable computers and the internet age is the ability to work from home. Some people take this a step further and work from their beds. If you're one of these people or you just want to watch a movie from your laptop in bed, then this is your section.
There are a lot of factors to consider when using your laptop in your bed. You should already know by now that you should not place your laptop on your bed because this will cover the ventilation which are usually on the sides near the bottom and cause your laptop yo over heat.
The bed is also not the the most ergonomic working position so there are very high chances  you'll be straining your back or neck.  Fortunately there are plenty of laptop stands designed to be used on the bed.
We looked at plenty of laptop stands for bed and we singled out one that we considered was the best in this category.
Adjustable Laptop Bed Table (

See On Amazon

)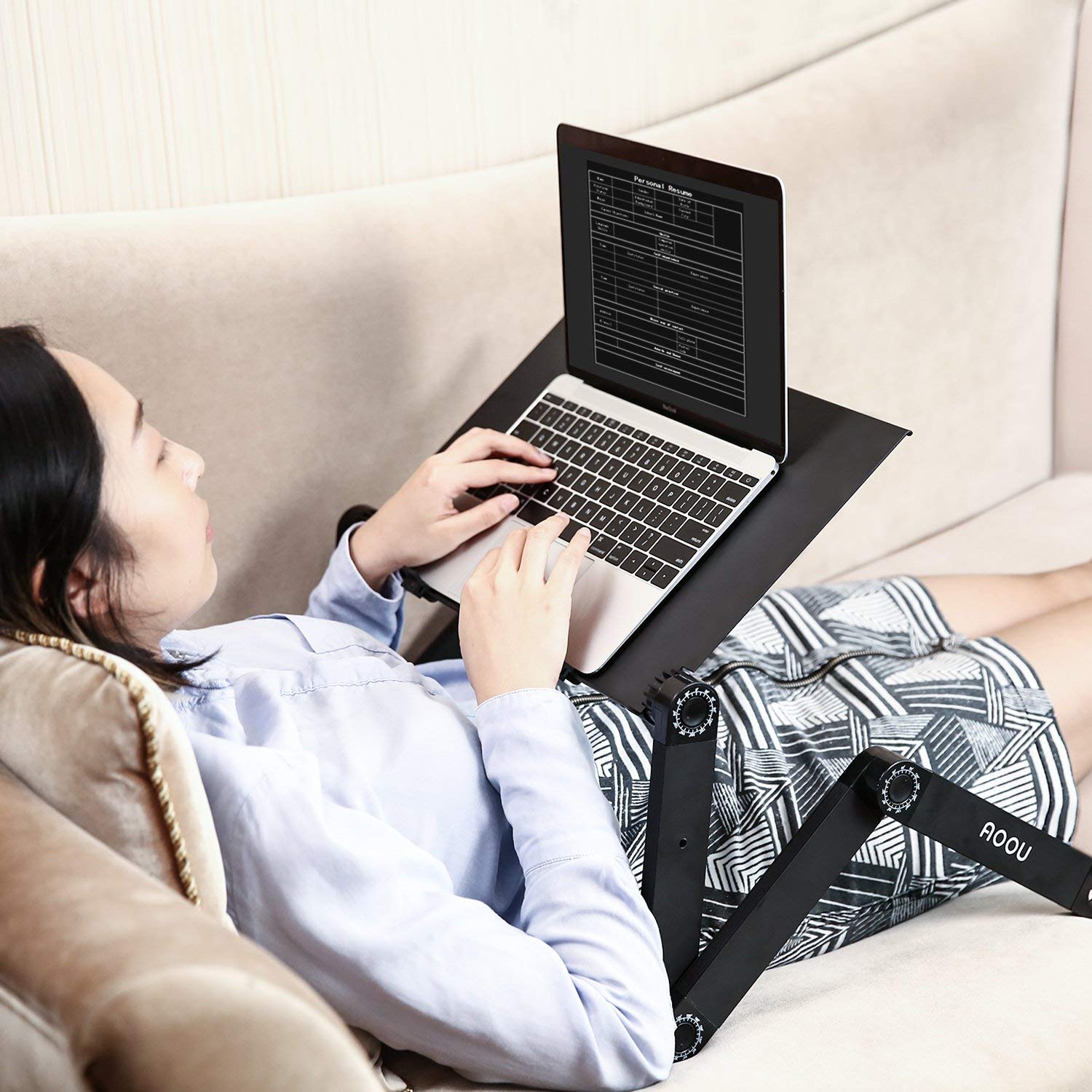 This bed laptop stand makes it to our top spot mainly because of its versatility. It can be used as a food table, a tablet stand, book holder, writing desk and of course a laptop stand. It has fully adjustable legs that allow it to work for different people in different postures and also be easily carried around.
The aluminium tray where your laptop sits is strong and sturdy enough to carry any laptop comfortably. The aluminium platform also has two cooling fans to dissipate heat from beneath the laptop and from your groin.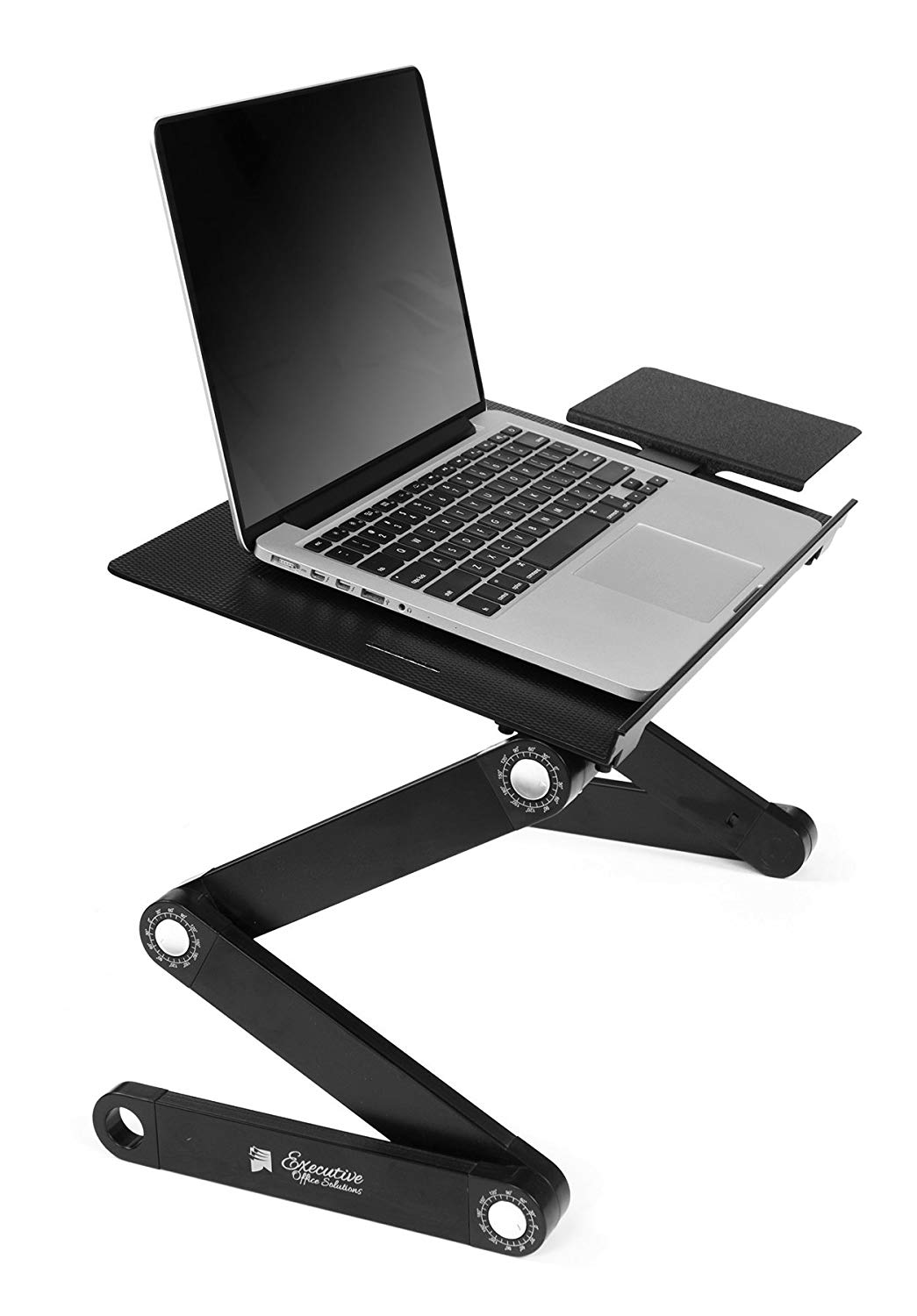 It can also be used on other surfaces that are not necessarily your bed or couch. Its multi- fold-able leg stands make it very flexible and usable by almost anyone in any situation.  It has a dedicated mouse pad that can also rotate fully to make you comfortable.