Late last year, Facebook launched Messenger lite app which is a stripped down basic version of the official Facebook messenger app. The reasons for launching this app are similar to the reasons they made Facebook Lite.
So let's take a look at What Facebook did with this app and how it compares to the original messenger app. Should you download it? Is it better? Is it safer? Is it available in my country? Will it work on my phone?
When the app first launched,  it was only available in a few countries like Kenya, but by now it has probable been made available in more countries. If the app is not available in your country,  you can install it manually by downloading the APK file from a trusted source like APK Mirror.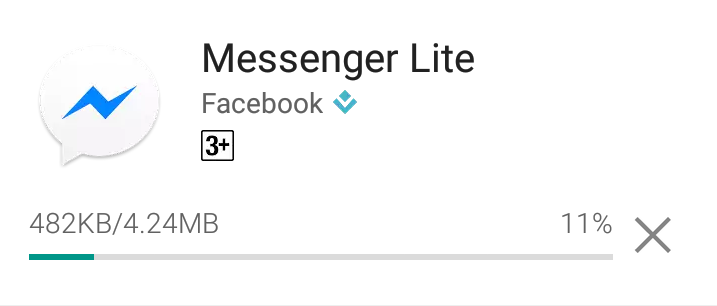 Memory:
You will see light weight nature of the app as soon as you start downloading it. The app itself is just 4.24MB compared to more than 50MB for the original messenger app. Once installed, the messenger lite app uses a total of 14MB of RAM when running. The original messenger app uses around 150MB of RAM when running in the background and 200MB when you're using it
In terms of memory, Facebook did a good job with this one. If your smartphone has been running slow or hanging because of memory hogging apps like Facebook messenger, you can switch to Messenger lite.
Data:
Like Facebook Lite, Messenger Lite is made for relatively slower devices in areas with relatively slow internet connection. So the Facebook messenger app will perform it's main functions (which is sending and receiving messages from Facebook contacts ) smoothly even on a 2G network.
So apart from occupying less space in your memory card and using up less RAM, this app works in the poorest of internet connections.
Design:
The interface of Messenger Lite doesn't look very different from the original app. Everything is where you expect it to be. Because it's a stripped down basic version,  you won't see some of the features like the horizontal bar that shows people who are online and available.
Functionality:
The main function of the messenger app is to send and receive messages. In Messenger Lite, you will do that without the flare you're used to in Facebook messenger.
The annoying yet useful notifications that pop up on your home screen are not there in Facebook lite. You will get your notification in your device's notification bar when the app runs in the background.
The app doesn't show the Facebook friend who are online, which in my opinion, is a feature they should add. They also omitted a 'delete message' option which I think will be corrected soon in an update.
You can mute conversations and block people using the Messenger lite app.  The 'View Profile' option will open the profile in your default browser window.
Conclusion:
Like in the Facebook lite app, the team that put together Messenger lite have done a great job. This app can be used by anyone regardless of the capabilities of your smartphone or your internet connection.
Currently the app has many loose ends which I hope will be corrected in the coming days.  Brace yourselves for several updates.  If you're looking to save space on your phone,  you can use this app instead of the original one.
https://play.google.com/store/apps/details?id=com.facebook.mlite