In this step-by-step guide, we will walk you through the process of enabling or disabling Face ID for Wallet and Apple Pay, empowering you to take control of your digital security.
Face ID has revolutionized the way we authenticate payments and access our digital wallets on iPhones. With its seamless and secure biometric authentication, Face ID provides convenience and peace of mind. However, there may be instances where you want to customize your iPhone's settings or switch to an alternative authentication method.
Remember, Face ID is a highly secure and convenient method for accessing your digital wallet and making payments, ensuring that your personal information remains protected. Should you ever change your mind, you can easily toggle Face ID for Wallet and Apple Pay on or off using the same steps outlined in this guide.
Watch this: How To Turn Camera Flash ON / OFF On iPhone | Set iPhone Camera Flash To Auto
Turn Face ID For Wallet and Apple Pay ON or OFF
Start by locating and tapping on the Settings app on your iPhone's home screen. It resembles a gear icon.
Scroll down and select Face ID & Passcode from the list of options. You will be prompted to enter your passcode to proceed.
Within the Face ID & Passcode settings, you will find various options related to Face ID usage. Look for the section labeled Use Face ID For or a similar option.
Under the Use Face ID For section, locate the options related to Wallet and Apple Pay. To turn on Face ID for these features, ensure the respective toggles are switched to the On position.
Conversely, if you wish to turn off for this option, switch the toggles to the Off position. Confirm your choice by tapping on Continue.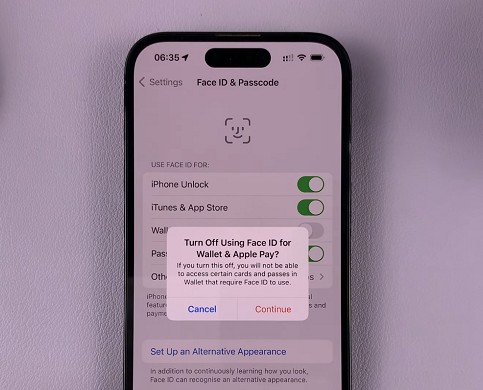 Once you have made the desired adjustments, exit the Settings app. Your settings for will be updated accordingly.
Whether you want to enhance convenience or switch to an alternative authentication method, the Face ID & Passcode settings provide the flexibility to do so.