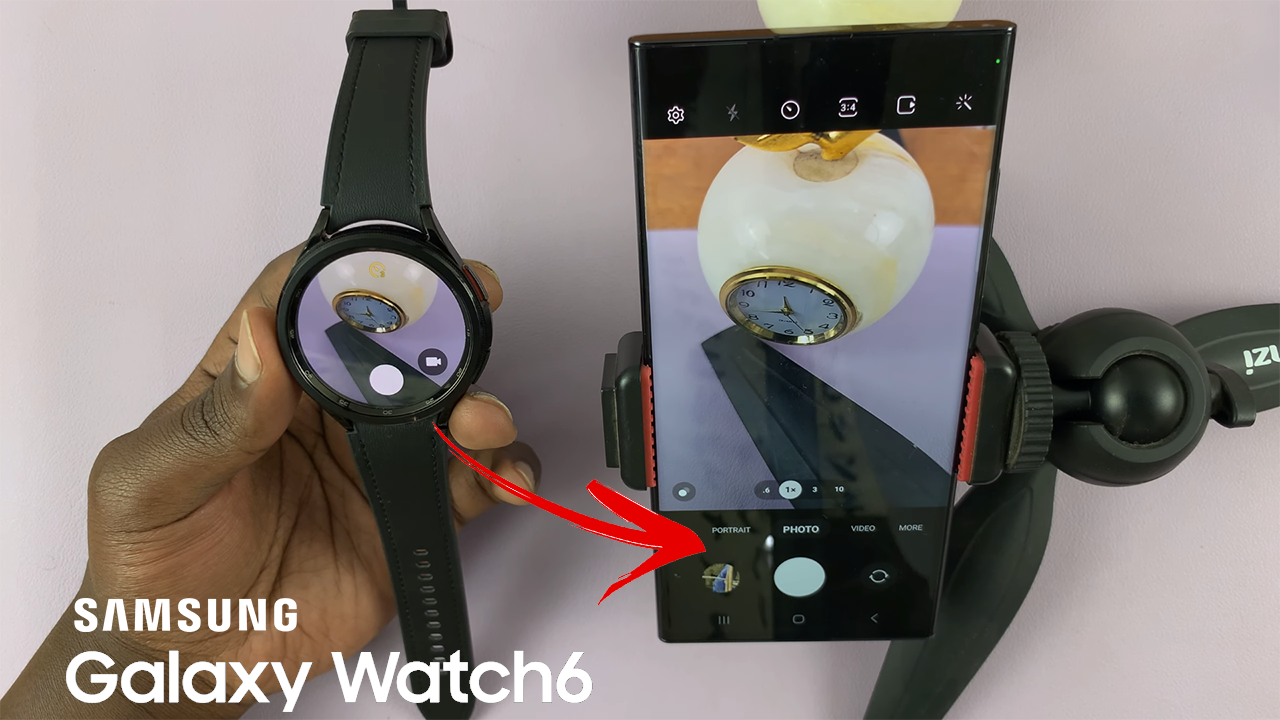 In this article, we'll guide you through the process of using your Samsung Galaxy Watch 6 or 6 Classic as a remote control for capturing stunning photos.
In the world of wearable technology, the Samsung Galaxy Watch 6 and 6 Classic have emerged as powerful devices that offer more than just fitness tracking and notifications.
With their advanced features, they've also become an impressive tool for photography enthusiasts. Harness the power of your Galaxy Watch as a remote camera control.
Watch: How To Make Lock Screen Pattern Invisible On Samsung Galaxy Watch 6 / 6 Classic
Take Photos With Samsung Galaxy Watch 6/6 Classic
The first step to take photos with your Samsung Galaxy Watch 6/6 Classic is establishing a seamless connection with your smartphone. Ensure that both devices are paired via Bluetooth, and that the Galaxy Wearable app is installed on your phone.
Swipe up from the watch face to reveal the apps screen menu. Navigate to the Camera Controller app on your Galaxy Watch 6/6 Classic. It should already be pre-installed.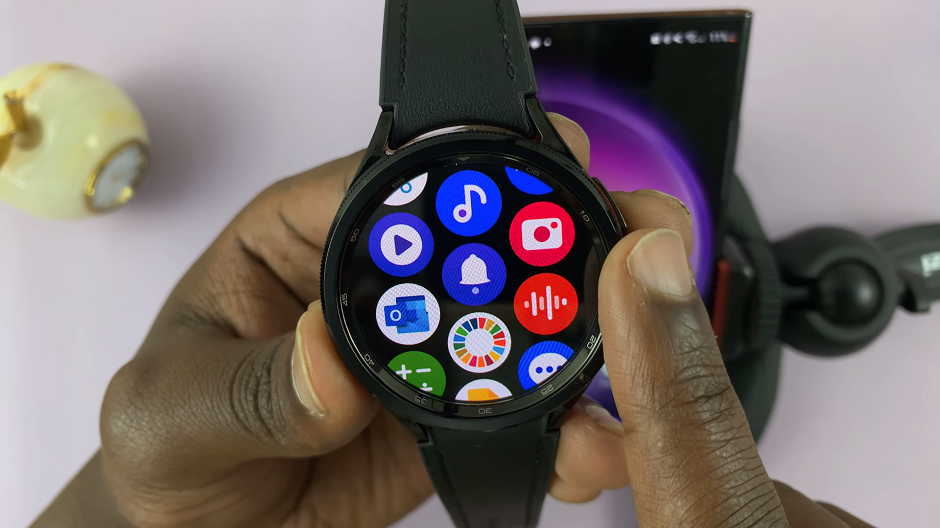 If it is your first time, you should be prompted to give permissions to allow the camera controller to find, connect to and determine the relative position of nearby devices. Tap on Allow.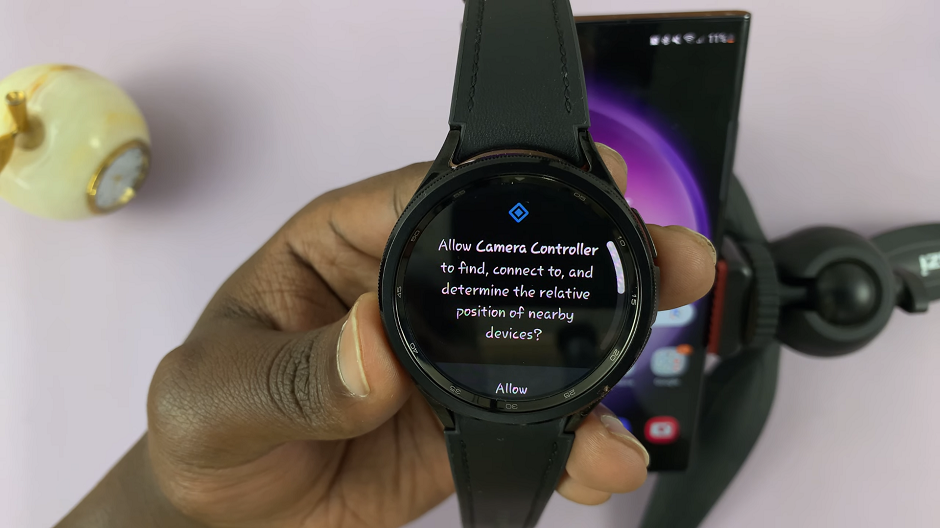 This will then open the camera app on your phone. This will display a simplified interface with a shutter button, allowing you to capture photos with a tap on your wrist.
Position the subject that you want to capture in front of the phone's camera, to frame your shot. Tap on the shutter button on the watch to capture a photo.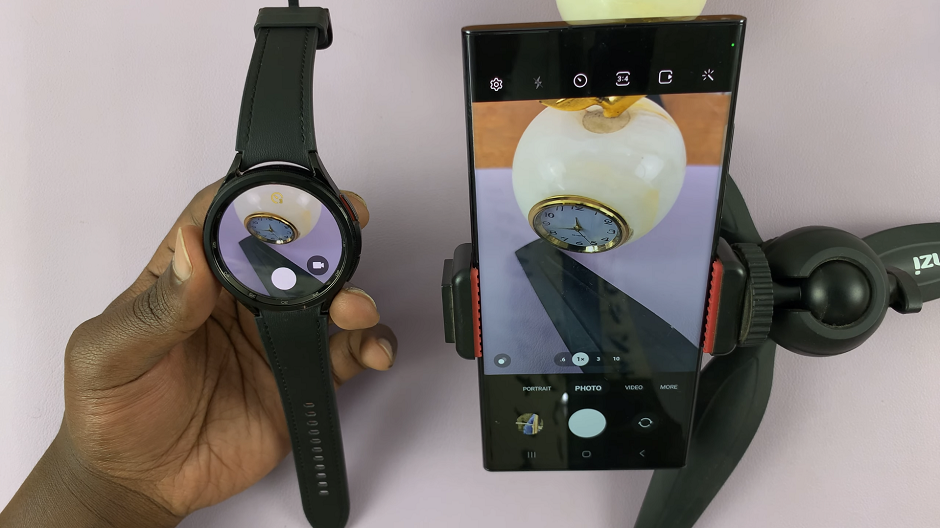 To record a video, tap on the video icon on the watch to switch to video mode. Record, pause and stop the video from the watch.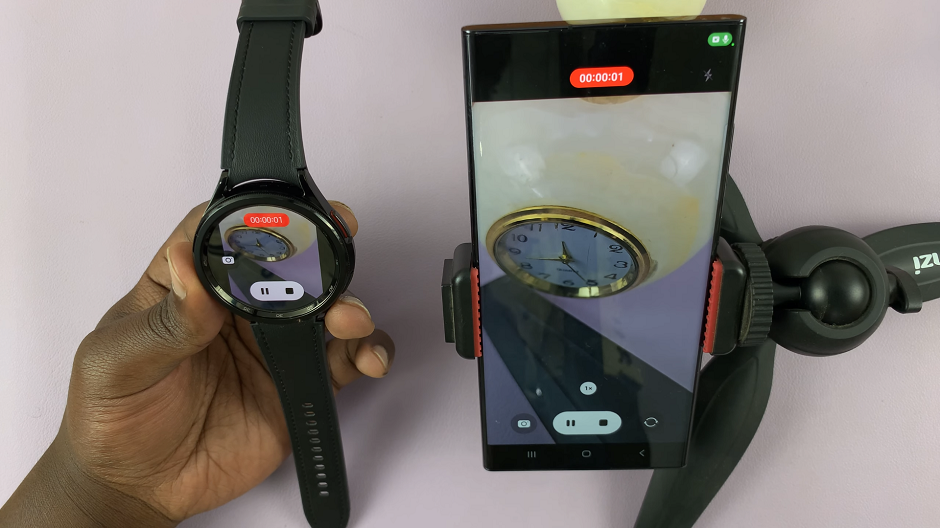 To switch the camera from front to back, you need to do this on the phone.
If the camera timer is on, there will be a 3second countdown before the photo is captured. You will know that the timer is enabled if the timer logo has a 3 and is yellow in color.
You can turn the timer off from the watch screen if you don't require it. Simply tap on the timer icon. It will change from yellow to white.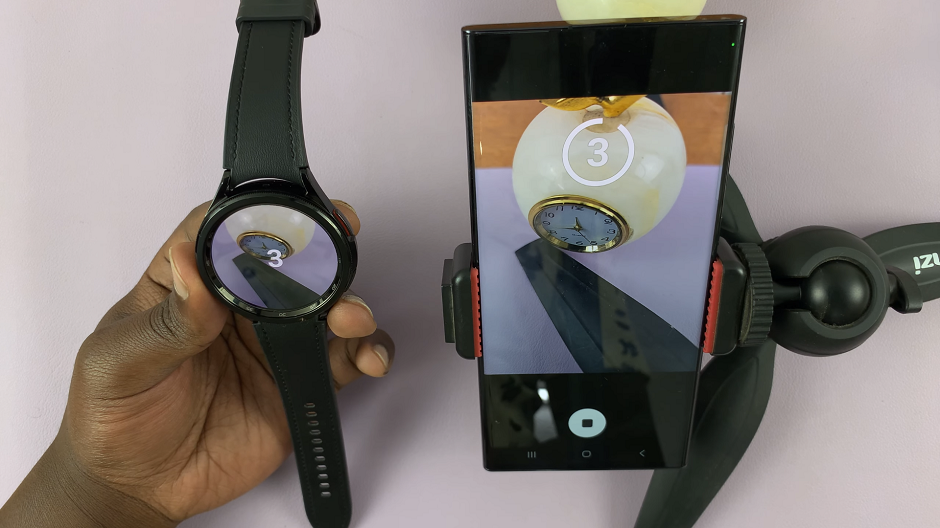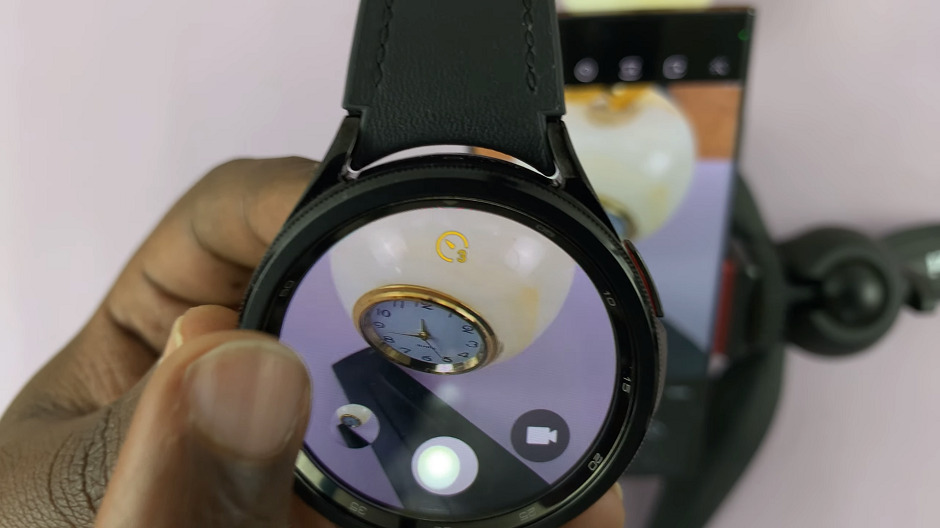 You can view the photos that you have taken from the watch. However, you will need to view the videos from the phone itself.
Creative Angles and Composition Techniques
Using a remote camera control opens up a world of creative possibilities. Consider these tips for capturing unique and compelling photos:
Experiment with Angles: Try shooting from high or low angles to add depth and perspective to your photos.
Use Natural Lighting: Whenever possible, opt for natural light. It tends to produce more vibrant and authentic-looking images.
Compose Thoughtfully: Apply basic composition rules like the rule of thirds, leading lines, and framing to create visually appealing shots.
Troubleshooting Common Issues
If you encounter any difficulties while using your Galaxy Watch as a remote camera control, consider the following troubleshooting steps:
Ensure Both Devices Are Connected: Double-check that your Galaxy Watch and smartphone are still connected via Bluetooth.
Update Firmware: Ensure that both your watch and phone have the latest software updates installed.
Restart Your Devices: Sometimes, a simple restart can resolve minor connectivity issues.
With these steps, you're well on your way to mastering the art of remote photography using your Samsung Galaxy Watch 6 or 6 Classic. Whether you're capturing selfies, group shots, or stunning landscapes, your watch can now be your trusty remote companion.
So, grab your Galaxy Watch, head out, and start snapping those picture-perfect moments!
Read: How To Turn ON Silent Mode On Samsung Galaxy Watch 6/6 Classic