Samsung's shiny new Galaxy S23 series is one of the best smartphones so far in 2023. And it's likely going to be one of the more popular models too. Taking a screenshot is quite an essential feature of today's smartphones. There are a couple of ways you can take a screenshot of the Samsung Galaxy S23.
One way to take a screenshot is using the Palm Swipe feature that comes with the phone. This allows the user to capture a screenshot using their palm. Follow the steps below to screenshot with palm swipe on Samsung Galaxy S23.
Watch: How To Mute Incoming Calls On Samsung Galaxy S23
Screenshot With Palm Swipe On Samsung Galaxy S23
The method applies across the entire Samsung Galaxy S23 lineup; Samsung Galaxy S23, Samsung Galaxy S23+, and Samsung Galaxy S23 Ultra.
This is a method that Samsung has had available for quite some time. But essentially, you can use your palm to swipe across the screen and grab an image. To use this feature, it needs to be enabled from the phone's settings.
Firstly, go to 'Settings', then scroll down and tap 'Advanced Features'. Next, on the Advanced Features menu, tap on 'Motion and Gestures', then tap on the toggle icon next to 'Palm swipe to capture' to enable this feature. At this point, swipe from left to right or right to left, and a screenshot will be captured.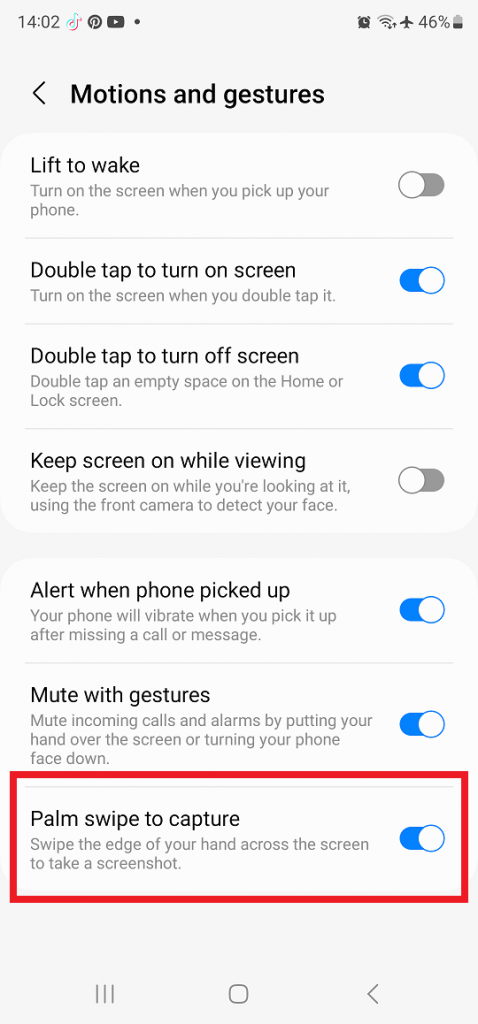 Afterward, the screenshot will be saved on the device. You can access it from your phone's Gallery. And that's how to screenshot with palm swipe on Samsung Galaxy S23. Let us know in the comment section if you have any questions or suggestions. If you found the article helpful, consider sharing it with your friends.
Read: How To Take One-Handed Screenshots On Samsung Galaxy A14