Once you get your new Samsung Galaxy S23, you'd like to install applications and games that you'll be using on a daily basis. Most Android phones have Google Play Store whereby users can find the application they'd like and install it.
There are other ways you can install applications on Samsung Galaxy S23. You can either use the Samsung Galaxy Store or download apps from websites. Keep in mind that you need to sign into your Samsung account to install apps from Galaxy Store.
The same applies to Google Play Store. You need to sign in using your Google account to successfully download and install apps from the Google Store. Below are the steps on how to install apps on Samsung Galaxy S23.
Watch: How To Take Scrolling Screenshots On Samsung Galaxy A14
Install Apps On Samsung Galaxy S23
The Google Play Store and Galaxy Store is the recommended way to install apps on your Galaxy S23. However, as mentioned above, you need to sign in using the required account to install the applications.
Firstly, launch Google Play Store or Galaxy Store on your phone. Next, tap on the search icon/bar and type in the application you'd like to install. From the search result, find the application that you desired and tap on it.
At this point, you'll see details regarding the application, i.e. the size of the app, reviews, and the app version. You can read these details if you'd like to know more about the application. Next, tap on 'Install' on the app and the download will begin. Wait on the application to be installed and once done, you can tap on 'Open' to launch the application.
Install APK Apps
These are applications or games that are not from the store. The phone identifies them as malicious malware and before you install it, you're required to allow some permissions. Normally, these applications are downloaded from websites and any other source.
Firstly, you need to allow permissions on your device to allow the installation of APK (third-party) applications. Go to 'Settings' then scroll down and tap on 'Security & privacy'. Scroll down and tap on 'Install unknown apps'. At this point, choose the application you'd like to use to install these apps from.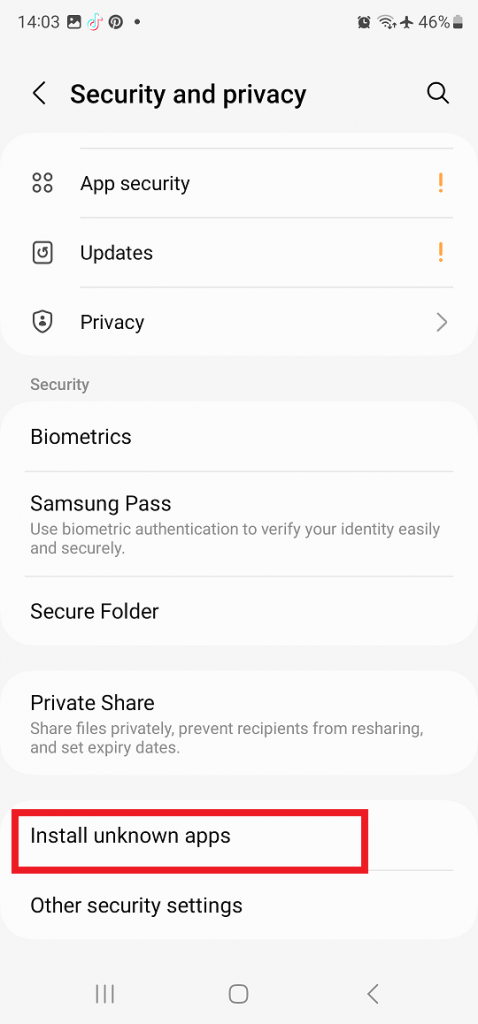 Once selected, download the APK application using the application that you selected. After the download is complete, find the application and install it on your device. Keep in mind that these APK apps might put your phone at risk since they're unsafe.
That's all on how to install apps on Samsung Galaxy S23. Let us know in the comment section if you have any questions or suggestions. If you found the article helpful, consider sharing it with your friends.
Read: How To Set Custom App Notifications On Samsung Galaxy A14