Changing the name of your device might look like an inconsequential thing. So, why are we showing you how to rename your Google Pixel Tablet?
The Google Pixel Tablet is a versatile and powerful device that caters to a wide range of users. From students and professionals to tech enthusiasts and casual users, the tablet offers a seamless experience for all.
One handy feature that often goes unnoticed is the ability to rename your Google Pixel Tablet. Renaming your device can be helpful in distinguishing it from other devices linked to your Google account and adds a touch of personalization.
Watch: How To Turn OFF Alarm On Apple Watch 8 / Ultra / 7 / 6 / 5 – Switch Off Apple Watch Alarm
Change Pixel Tablet Name
To begin renaming your Google Pixel Tablet, you need to access the device's Settings menu. Locate the Settings app on your tablet, which is represented by a gear icon. You can usually find it on your home screen or in the app drawer. Once you find it, tap on the Settings app to open it.
Within the Settings menu, you'll find a list of various options related to your Google Pixel Tablet's configuration. Look for the option labeled About tablet from the left-hand side panel. The exact naming may vary slightly depending on the tablet's model and the Android version it runs on. Tap on this option to proceed.
In the About tablet section, you'll see relevant information about your Google Pixel Tablet, such as the device model, Android version, and more. Here, you'll also find the current name of your tablet, which is typically set as a default name by the manufacturer.
To rename your Google Pixel Tablet, tap on Device name. A pop-up window will appear, allowing you to edit the name. Choose a new name that reflects your personality or any identifier that makes it easy for you to recognize your tablet.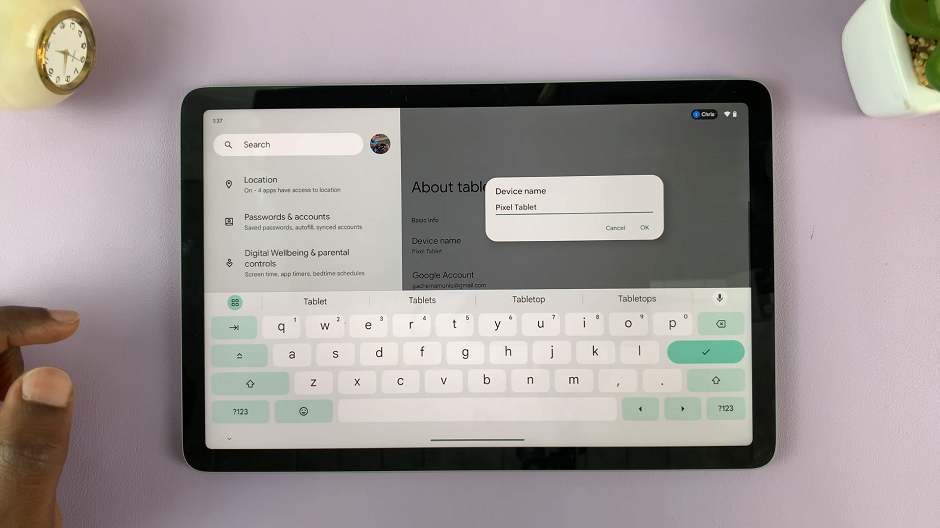 After entering the desired name, double-check for any spelling errors or typos. Once you are satisfied with the new name, tap OK to confirm the changes. Your Google Pixel Tablet will now be updated with the new name.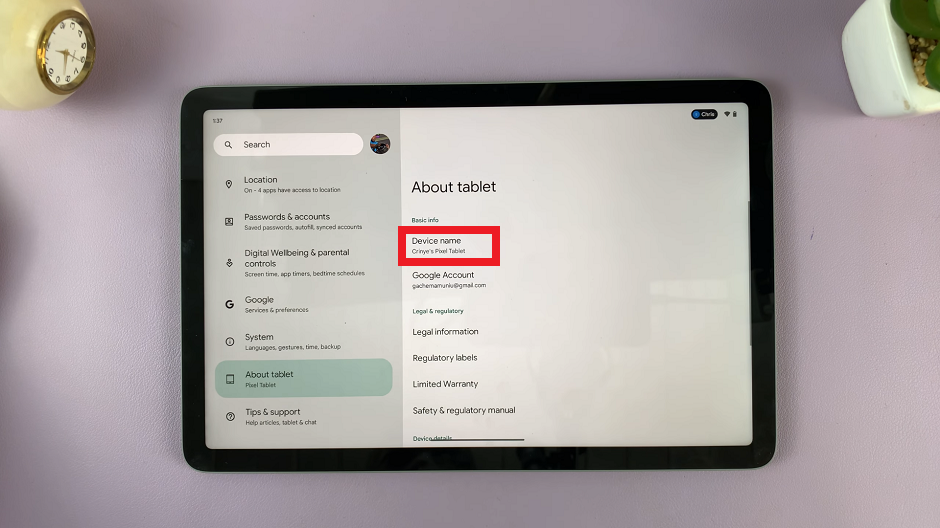 A pop-up should appear to notify you that the name change will apply across any Bluetooth, Hotspot and Wi-Fi settings. Tap OK, as this was the intent.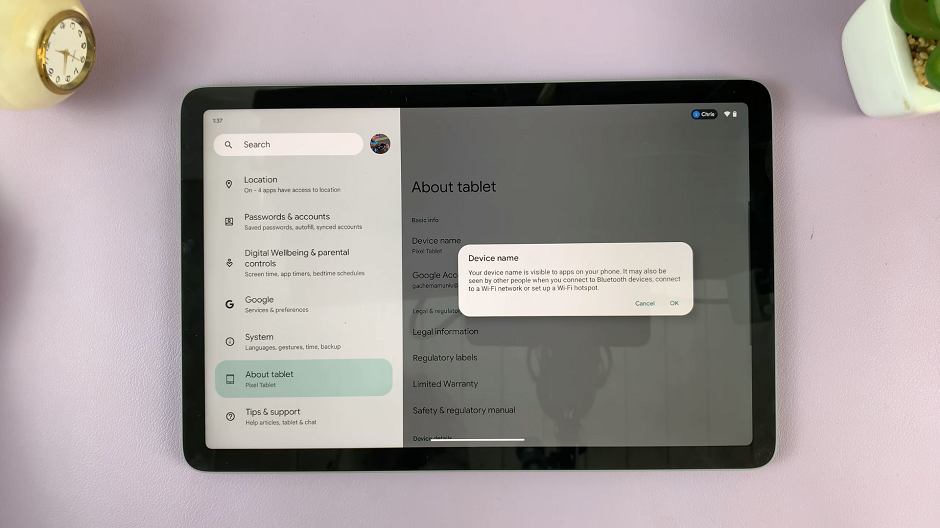 Tips for Choosing a Suitable Name
When renaming your Google Pixel Tablet, consider the following tips to pick a suitable name:
Keep it unique: Avoid common names to ensure easy identification, especially if you have multiple devices.
Be descriptive: If you use multiple tablets for different purposes, consider including a brief description in the name (e.g., "Work Tablet," "Entertainment Tablet," "Kids' Tablet").
Personal touch: Add your name or initials to give the device a personalized touch.
Family-friendly: If the tablet is shared among family members, choose a name that everyone can relate to.
Renaming your Google Pixel Tablet is a simple yet effective way to personalize your device and make it stand out among others. Whether you want to reflect your personality or maintain a clear distinction between multiple devices, following the five steps mentioned above will help you achieve the desired result.
So go ahead and give your Google Pixel Tablet a name that truly represents you! Enjoy the newfound sense of ownership and easily manage your device within your Google account.
Read More: How To Send Text Messages On Apple Watch