Apple Watch is a powerful wearable device that serves as your personal assistant, fitness tracker, and so much more. It's a convenient way to stay connected and organized throughout your day.
One of its useful features is the alarm function, which helps you wake up on time or set reminders for important events.
However, there are moments when you want to turn off the alarm quickly, be it on a lazy Sunday morning or during a meeting. In this article, we'll guide you through the simple steps to turn off the alarm on your Apple Watch.
Read: How To Reset Home Screen Layout On Apple Watch
Switch Off Apple Watch Alarm
To shutdown your Apple Watch, you can employ two methods. You can make use of the Alarms app or Siri on your Apple Watch.
The Apple Watch allows you to set multiple alarms, each with its unique time, sound, and repeat options.
Disable Individual Alarms with Alarms App
To turn off a specific alarm:
Once you're in the Alarms app, you'll see a list of all your active alarms.
Find the alarm you want to turn off and tap on the toggle switch next to it. The toggle should change from green (active) to white (inactive), indicating that the alarm is now turned off.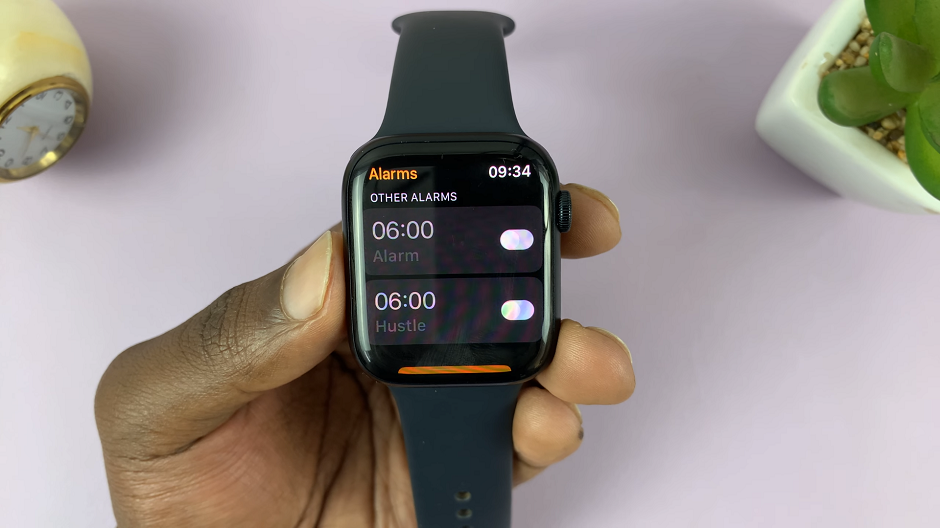 If you want to delete the alarm entirely, tap on it, scroll to the bottom, and tap the Delete button that appears.
Use Siri to Turn Off Alarms
If you're a fan of hands-free interactions, you can ask Siri to turn off your alarms for you. Just raise your wrist or press and hold the Digital Crown (the round button on the side of your Apple Watch) to activate Siri.
And then, say something like, Hey Siri, turn off my 7 AM alarm. Siri will confirm the action and disable the specified alarm.
Managing alarms on your Apple Watch is a breeze with these straightforward methods. Whether you want to turn off an alarm permanently, or use Siri for voice commands, you can now customize your wake-up experience effortlessly.
Now, you can enjoy the benefits of the Apple Watch's alarm feature while ensuring you maintain control over your daily schedule.
Watch: How To Use Fitness App On iPhone Without Apple Watch 8 / Ultra / 7 / 6 / 5