In today's fast-paced world, our tablets have become indispensable tools for communication, productivity, and entertainment. However, as much as we rely on them, there's one aspect that tends to cause anxiety – battery life.
The fear of running out of power can be particularly stressful when we're on the move or in the middle of an important task. To alleviate this concern and ensure that your Samsung Galaxy S9 tablet's battery remains healthy and long-lasting, you can take proactive steps to limit its maximum charge.
In this guide, we'll walk you through the step-by-step process on how to protect the battery by limiting max charge on Samsung Galaxy S9 tablet.
Also Read: How To Reset Network Settings On Samsung Galaxy S9 Tablet
How To Protect Battery By Limiting Max Charge On Samsung Galaxy S9 Tablet
The first step is to open the "Settings" app. Once you're inside the Settings app, scroll down and select "Battery and Device Care." Within the "Battery and Device Care" menu, tap on the "Battery" option. This will take you to a screen displaying your battery's current status, including the percentage remaining and estimated usage time.
To limit the maximum charge of your Samsung Galaxy S9 tablet, you'll need to scroll down the battery information screen and look for the "More Battery Settings" option. Now, you should see the "Protect Battery" option. You'll find a toggle switch next to it. Tap on the toggle to turn it on. When this feature is enabled, your Samsung Galaxy S9 tablet will limit its maximum charge to help protect the battery's health.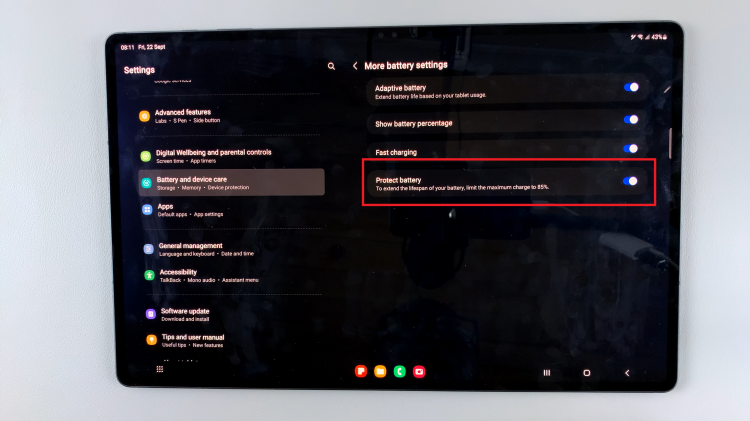 By limiting the maximum charge on your Samsung Galaxy S9 tablet, you're taking a proactive step to protect your device's battery life and ensure its long-term efficiency. These built-in features make it easy to manage your device's power consumption while also extending the overall lifespan of the battery.
Watch: How To Recover Deleted Contacts On Samsung Galaxy S9 Tablet