The Samsung Galaxy Tab S9, S9+, and S9 Ultra are powerful tablets known for their stunning displays, multitasking capabilities, and customizable user experience. One of the features that you can personalize on these devices is the placement of navigation buttons.
By default, the navigation buttons are usually at the bottom center of the screen. However, if you prefer to have them on the right or left side, you can easily do so through the tablet's settings.
In this guide, we'll walk you through the steps to move the navigation buttons to the right or left on your Samsung Galaxy Tab S9 series tablet.
Watch: How To Enable Hard Fall Detection On Samsung Galaxy Watch 6
To Move Navigation Buttons To Right /Left On Samsung Galaxy Tab S9
Firstly, swipe down from the top of your tablet's screen to reveal the notification panel. In the top right corner, you'll spot the gear-shaped "Settings" icon. Give it a tap to open the Settings menu. Alternatively, tap on Settings from the app drawer.
Within the Settings menu, scroll down until you find the "Display" option. Tap on it to access the Display settings. Inside the Display settings, locate the section labeled "Navigation Bar." Tap on it to proceed.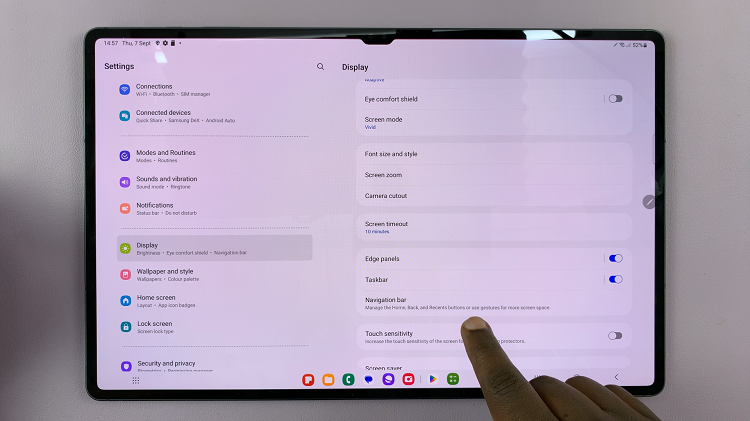 Within the Navigation Bar settings, you'll encounter various options related to navigation button customization. Specifically, look for the "Button Position" option and tap it to open the layout selection menu.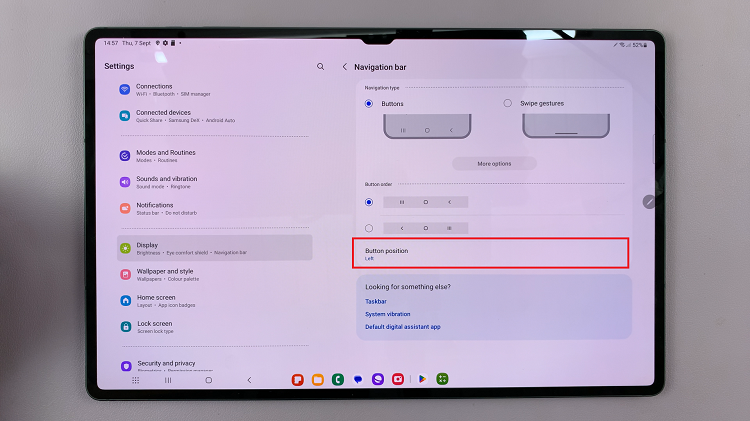 Make your selection by tapping on your preferred position, and you'll witness an immediate shift in the placement of the navigation buttons. Once you've settled on your preferred navigation button position, finalize the process by exiting the Settings menu.
And that's how to go about it. Let us know in the comment section below if you have any questions or suggestions. Feel free to share this information with someone who needs it.