One crucial aspect of any smartphone's functionality is ensuring that it displays the correct time and adheres to the appropriate regional settings.
Whether you're traveling internationally or simply wish to adjust your device to a different time zone, knowing how to manually change the region and time zone on your Samsung Galaxy S23 is a valuable skill.
In this comprehensive guide, we will walk you through the step-by-step process of manually change the region and time zone on your Samsung Galaxy S23.
Also Read: How To Show Today's Calendar Schedule On Always ON Display On Galaxy S23
How To Manually Change Region and Time Zone On Samsung Galaxy S23
Begin by locating the "Settings" app icon, which resembles a gear, and tap on it to open the Settings menu. Once you're in the Settings menu, scroll down and select the "General Management" option. Under the General Management section, look and tap on "Date & Time."
By default, your Samsung Galaxy S23 is set to automatically update its time zone based on your location. To manually change the time zone, you'll need to turn off this automatic feature. You can do this by tapping on the toggle switch next to "Automatic Time Zone" to switch it off. After disabling the automatic time zone, an option labeled "Select Time Zone" will become visible.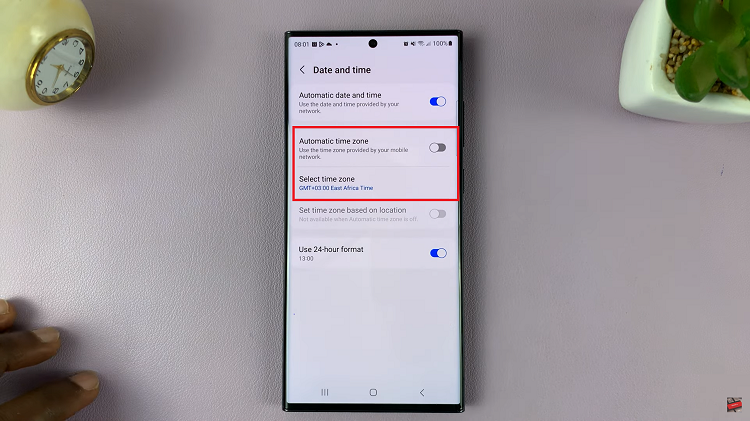 Tap on it to proceed. You'll have the opportunity to change your region and, if applicable, your time zone. If you're changing your region, select the desired region from the list provided. Some regions, like Australia, may have multiple time zones, so if needed, select the specific time zone within that region.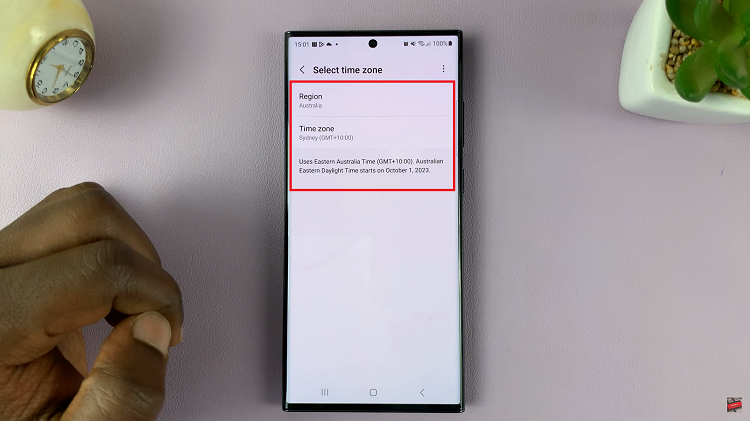 By following these simple steps, you can easily change the region and time zone manually, making your smartphone work precisely as you want it to, whether you're at home or traveling abroad.
Watch: How To Change Time Zone Of Roaming Clock On Samsung Galaxy S23, S23+, S23 Ultra