Now that you have created your YouTube channel and added the necessary links, you might be thinking you want to remove some links. You can use YouTube Studio to achieve this.
There are two ways to go about this. You can either decide to remove the links from your channel banner page or permanently delete them from your YouTube channel.
Following are easy and simple steps to remove a website link to your channel. Once removed, they will not be visible under the channel about page on your YouTube channel.
How to Remove a Website Link From YouTube Channel
You need to follow these simple and easy steps to remove the website link from your page. Two ways to go about this; either permanent removal of the link or hiding the link not to appear on the channel banner.
Hiding Links From the Channel Banner
Log in to YouTube Studio.
Select Customization settings from the left vertical panel.
Under the Customization page, select Basic Information.
Scroll down to the Links part. This will show you the links that are on your channel.
Select Links on Banner. A drop-down menu will appear. To hide the links from the channel banner, select None.
Click on Publish to save changes.
Once you go back to your channel page, the links will have disappeared from your channel banner, but they are still visible when you click on the About tab.
Removing Link Permanently from YouTube Channel
Log in to YouTube Studio.
On the left vertical menu, select Customization.
Select Basic Information under the customization page.
Scroll down to Links
Under the Links, hover your mouse on the link that you want to delete. You will see the bin icon at the end of the link.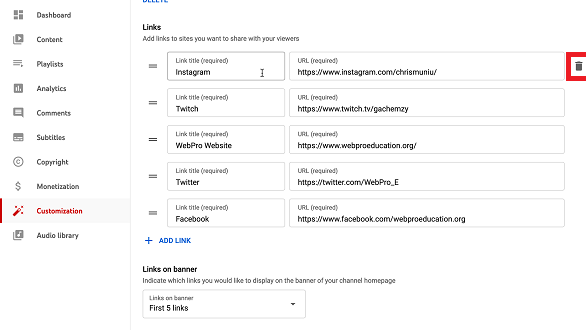 Click on the bin icon and the link will be deleted.
Select Publish to confirm the changes.
Go back to your YouTube channel page and the link will disappear.
That's basically how to go about it. Let me know in the comments section if you were able to remove the link. Watch on how to add them back.