The Samsung Galaxy S23 boasts a remarkable feature known as the Always On Display (AOD), which allows you to access important information at a glance, without the need to unlock your phone.
One of the most valuable applications of this feature is the ability to showcase your today's calendar schedule right on the AOD screen.
In this article, we will guide you through the process on how to show the calendar schedule on Always On Display on your Samsung Galaxy S23. Ensuring that you can effortlessly keep tabs on your daily appointments and events with just a quick glance at your device.
Also Read: How To Enable / Disable Screen Off Memos On Samsung Galaxy S23 Ultra S Pen
How To Show Today's Calendar Schedule On Always ON Display On Galaxy S23
Begin by opening the "Settings" app, usually represented by a gear icon. Within the Settings menu, scroll through the available options until you find "Lock Screen." Tap on it to access the Lock Screen settings. Under the Lock Screen settings, you'll find various customization options. Look for "Always On Display" and tap on it to enter its settings.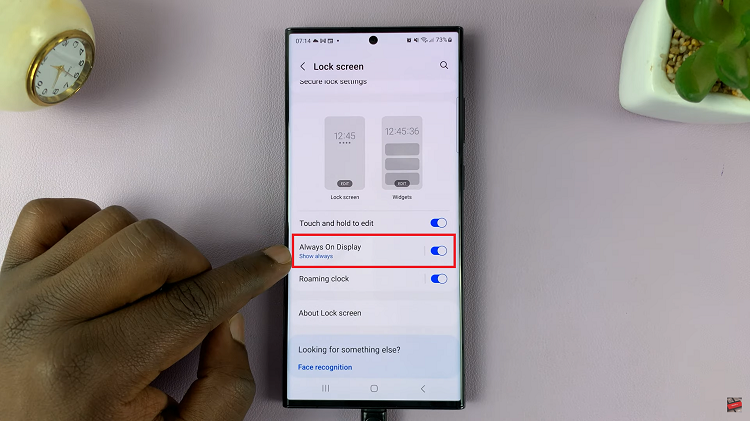 In the Always On Display settings, you'll see a toggle switch to enable or disable this feature. Make sure it's switched on by tapping the toggle next to it. Now that you've enabled AOD, you can customize its appearance. Tap on "Clock Style" to access a variety of clock display options.
Within the Clock Style menu, you'll find different clock styles to choose from. These styles determine how your AOD will appear on your screen. Scroll through the options until you find the one that provides you with the day's schedule. This may be displayed as a widget or an additional information area on the AOD.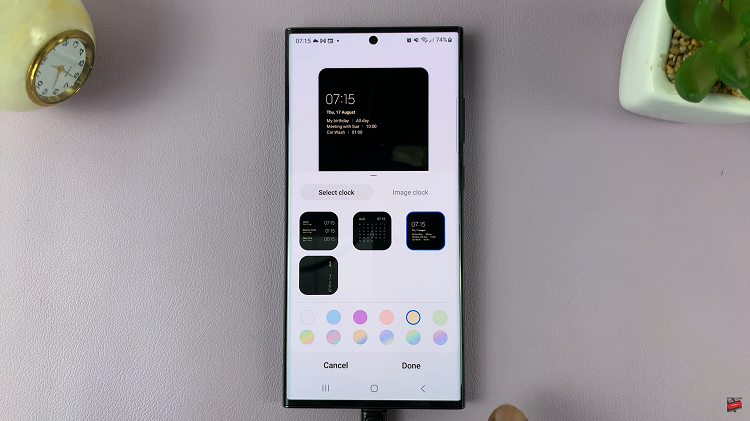 After selecting the clock style that displays the day's schedule, tap "Done" or a similar option to confirm your choice and save the changes.
Once you've completed these steps, your Samsung Galaxy S23 will display today's calendar schedule on the Always On Display. As long as you have events or appointments scheduled for the day, this information will be readily available without needing to unlock your phone.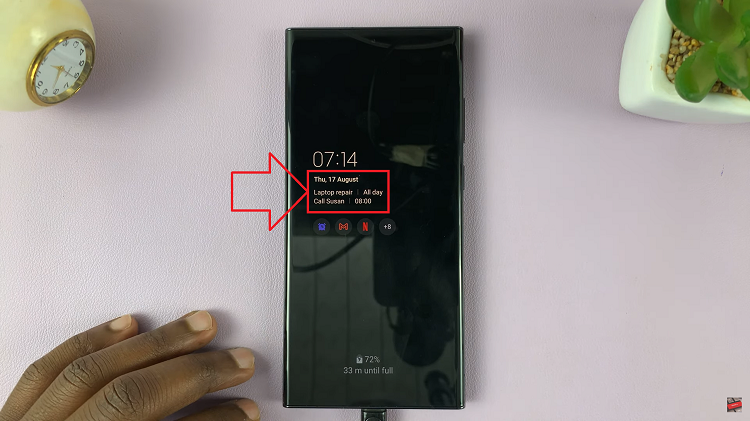 The Samsung Galaxy S23's Always On Display feature makes it easier than ever to stay organized and informed. By following these simple steps, you can ensure that your AOD displays today's calendar schedule, helping you stay on top of your daily appointments and tasks with just a glance at your phone's screen.
Watch: How To Manually Change Region and Time Zone On Samsung Galaxy S23, S23+, S23 Ultra